Dana White Happy with TUF Brazil Ratings, Discusses Spoilers Being Revealed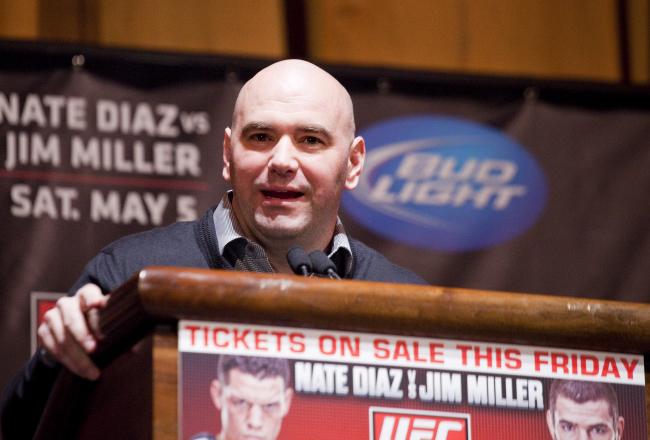 Michael Nagle/Getty Images
It's been an interesting week for the UFC's operations in Brazil.
The debut episode of The Ultimate Fighter: Brazil, which aired Sunday night on Globo TV across the country, pulled in a strong 12 million viewers. That number underscores the extreme popularity of the sport and the promotion in the South American country, and it firmly cements Brazil as the current mecca of mixed martial arts.
It's not all roses, however. The R7 Network is a major competitor for Globo TV in Brazil, and they weren't happy when the UFC decided to sign a deal with Globo. In response, they released the names of what are alleged to be the finalists for the entire season of The Ultimate Fighter: Brazil.
That's the kind of thing that would get a major network in a lot of trouble in the United States. Imagine if The Ultimate Fighter on FX were still a taped show. What would happen if Spike TV released the finalists for the show on their own website?
I used to visit the Ultimate Fighter gym on a regular basis when the show was on Spike, mostly in the early days of filming the show. Before I ever stepped foot in the place, I was required to sign a non-disclosure agreement that said I wouldn't reveal anything I learned until after the broadcast of the show.
If I broke that non-disclosure agreement? I'd be sued for a lot more money than I'll likely ever be worth.
But White says Brazil is not like the United States when it comes to things like this (via MMAWeekly.com):
I don't know if you saw this but another channel, another channel we were talking to, then went out and said these are the finalists in The Ultimate Fighter, and tried to like sabotage the whole show. The crazy thing is if you went out and did that, you think you're hurting the UFC? You think you're hurting Globo? Globo's the top network in the country. You're hurting the kids, the contestants of the show. That's who you're hurting, the guys in the competition.
Wanderlei Silva tweeted that the spoilers for the show were inaccurate. But regardless, White has a point: the only thing R7 did by revealing the finalists is lessen interest in the actual show itself, and that hurts the fighters on the show.
This article is
What is the duplicate article?
Why is this article offensive?
Where is this article plagiarized from?
Why is this article poorly edited?