English Premier League: Patrick Vieira, Alex Ferguson Trade Barbs over Referees
March 29, 2012

The noisy neighbors are getting noisier, and the title race is becoming more of a cat-fight by the day.
Here's the skinny: Patrick Vieira, a former Arsenal player who now serves as a football development executive for Manchester City, recently claimed Manchester United benefit unfairly from refereeing decisions when they play at Old Trafford.
United manager Sir Alex Ferguson, of course, responded in a way only he can.
Together, the latest exchange shows how bitter the race for the English Premier League title has become. Already rivals, United and City are now taking their longstanding feud to hilariously ridiculous heights.
The latest bickering began after United beat Fulham 1-0 on Monday.
Towards the end of that match, Fulham had a penalty appeal waved away by the referee.
Controversy ensued, and Vieira shared his thoughts with the BBC.
"When United play at home they get some advantage that other teams don't get," Vieira said. "I think when you go to United, Madrid, Barcelona or Milan, when the referees referee these kind of games, it's always difficult to go against these kind of teams.

"This is the way it is. It's something the teams who are used to winning get all the time. We need to win games so we have this advantage in the future."
Last week, Vieira also called United "desperate" for bringing Paul Scholes out of retirement.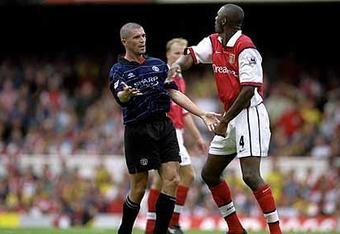 This, however, was different. City quickly banned the reporter, and Vieira called the BBC report "a serious and cynical misrepresentation."
Enter Sir Alex, who reminded Vieira that Mario Balotelli escaped a red card for his stamp on Tottenham's Scott Parker in City's win at the Etihad Stadium in January.
That was true, but it was also beside Vieira's point. No matter. Fergie had another trademark zinger waiting.
"Maybe smaller clubs feel that," he said, "but someone said some years ago that we get lots of penalties. It is only averaging out at three a year."
Bravo, Sir Alex. When you're on the defensive, what better way to hurt your opponent than by belittling them as a small club?
Pouty Paddy and Sir Alex can talk all they want about who the refs really like, but let's be honest here, shall we?
Vieira doesn't like Manchester United, and Ferguson doesn't really like anyone. And, anyway, we all know what this is about.