John Groce to Illinois: Illini Made Obvious Choice by Hiring Former Ohio Coach
March 29, 2012

Dilip Vishwanat/Getty Images
With the Illinois Fighting Illini men's basketball team ready to introduce its new head coach on Thursday in the form of former Ohio Bobcats head man John Groce, there is sure to be plenty of analysis with regards to whether he's the right man for the job. At this point, though, he was clearly the school's best option.
According to Shannon Ryan of the Chicago Tribune, Illinois and Groce have officially reached a contract agreement, in a piece of news that could be classified as the worst-kept secret ever.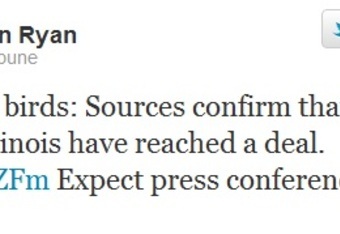 Illinois has largely suffered through mediocrity since winning 37 games and losing in the national championship game in 2004-05. While not all of that was the fault of former head coach Bruce Weber, the head coach captains the entire ship in the college game, so it was inevitable that he would take the fall at some point.
Since that magical season, the Illini have made the NCAA tournament four times but have never advanced further than the round of 32. They also missed the tourney completely three times with the latest coming this past season in embarrassing fashion.
Illinois started off 10-0 and was ranked in the top 25, but things soon went downhill. The Illini went on to lose 15 of their next 22 games as they went a mere 6-12 in Big Ten play and were bounced by Iowa in the first round of the Big Ten conference.
It's difficult to say why Illinois crumbled this season as it could have been a myriad of things, but complacency certainly comes to mind. Weber seemed to get a bit too comfy in his position after that 37-win season, and the Illini were never anything close to a national championship threat from that point forward.
If there is one thing that Groce isn't, it's complacent. The energetic 40-year-old has only been a head coach at any level for the past four seasons, and it hasn't taken him long to make a major impact. In four seasons at Ohio, Groce led the Bobcats to two MAC championships and an overall record of 85-56. Once Ohio made the NCAA tournament, though, that wasn't enough.
In 2009-10, the Bobcats upset Georgetown in the round of 64 in order to advance to the round of 32. That type of victory is normally enough for a coach of a mid-major program, but Groce clearly wanted more. He got it this season as the Bobcats went 29-8 and made it all the way to the Sweet 16 as they knocked off Michigan and South Florida in the Big Dance.
The Bobcats even pushed the mighty North Carolina Tar Heels to the brink of elimination in the Sweet 16 as it took overtime for UNC to finally dispatch of pesky Ohio. There is no question that Groce's teams at Ohio had talent, but they performed well above expectations when it mattered most, and that is why Illinois needs him.
For the past several seasons the Illini have been the polar opposite of the Bobcats, as they have underachieved and let down their fans time after time. Groce has proven during his short time as a head coach at the collegiate level that he can get the job done as an underdog, and that is precisely what Illinois has become in the Big Ten.
The Illini aren't ever going to fly under the radar to the extent that Ohio did, but with Ohio State, Michigan State, Michigan, Wisconsin, Purdue and other teams to contend with, Illinois is a bit of an afterthought. If Groce's success at Ohio is any indication, though, that won't last for much longer.
There might be some splashier hires out there, but it's tough to imagine that there is a faster rising coach, perhaps with the exception of VCU's Shaka Smart. Illinois is hoping that Groce's success hasn't been a mirage, and I'm willing to bet that it's going to carry over.