Kentucky vs. Louisville: John Calipari Will Triumph over Rival Rick Pitino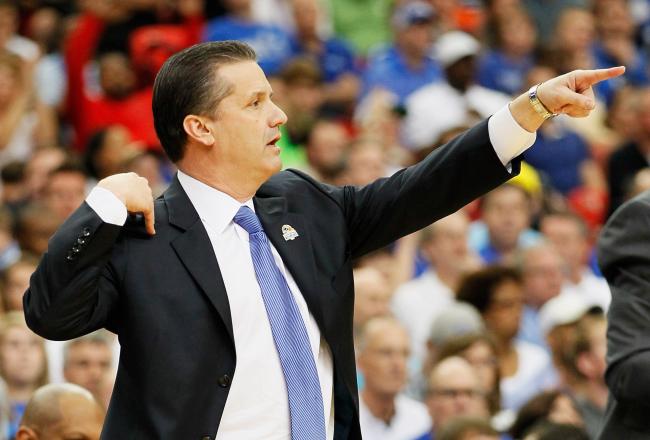 Kevin C. Cox/Getty Images
Saturday's first-time Final Four matchup between Louisville and Kentucky will not only feature a clash between in-state rivals—on the forefront of Saturday's matchup will be the rivalry between longtime rivals Rick Pitino and John Calipari.
Only one of them can win, and Saturday, odds are that Calipari will beat the guy who helped to build the foundation he now stands upon.

Pitino became the head coach at Kentucky in 1989 as the school recovered from Eddie Sutton's recruiting scandal and faced NCAA probation. He led the Wildcats to the Final Four in 1993 and won the championship in 1996.
The Wildcats returned to the title game the next year but lost to Arizona, and after that, Pitino moved on to the NBA, but when he wasn't as successful as he'd hoped with the Knicks and the Celtics, he returned to the college stage in March 2001 to coach Louisville, following Denny Crum's retirement.

Calipari, meanwhile, coached UMass from 1988-1996, leading them to five consecutive NCAA tournament appearances and a Final Four appearance that was later vacated by the NCAA because it discovered that star Marcus Camby had accepted money from agents.
Like Pitino, Calipari moved on to the pros, taking a position at the helm of the New Jersey Nets in 1996. Though he achieved marginal success in the early going, he was fired after a disappointing 1998-99 season. From there, it was on to Memphis, where 38 of his 214 wins were vacated due to NCAA sanctions, along with the entire 2007-08 season, when the Tigers lost to Kansas in the title game. Calipari took over at Kentucky in March 2009.

Much has been said about the rivalry between the coaches that has developed throughout their journeys to greatness. There is no love lost between these two. In Wednesday's Wall Street Journal, Rachel Bachman and Ben Cohen wrote:
Along the way the two coaches have sideswiped each other enough to leave dents and paint. Pitino, 59, has said that he helped Calipari, 53, get hired at Massachusetts, his first head-coaching job. Calipari doesn't remember it that way. Last fall Calipari contrasted the state of Kentucky with others by saying the Wildcats had no in-state competition. Pitino retorted: "I ignore the jealous, I ignore the malicious, I ignore the ignorant and I ignore the paranoid."

"We don't send each other Christmas cards," Calipari said recently. Said Pitino of the coming showdown: "There will be people at Kentucky that will have a nervous breakdown if they lose to us."
In the olden days, Pitino called Kentucky the "Roman Empire of college basketball," and he was right. But when he said it, he probably didn't realize he'd have to take Kentucky down in order to get to the title game in 2012.

Kentucky features more talent on its roster than the other three teams in the Final Four have combined, but that applies to Louisville in particular, which—as a No. 4 seed—is the surprise of this crop of teams. Kentucky has two players that are bound to be the No. 1 and 2 picks in the NBA draft (if they go pro), whereas Louisville is unlikely to have a single pick in this year's first round.
Kentucky lost to just two teams this year (Indiana in December and Vanderbilt in the SEC championship in March), while Louisville has had far less dominant of a season, though it emerged victorious from the Big East tournament. Kentucky features the nation's 10th-best offense in field-goal percentage and ranks 20th in the NCAA in rebounding; Louisville, though it ranks 27th in rebounding, ranks 225th in field-goal percentage.

Both these teams are talented; they wouldn't be here if they weren't. Both these coaches have proven they have the ability to recruit the right players to get them to this point.

But the players on Calipari's roster are just a different caliber from the ones on Pitino's, and they'll carry him right back to where he was in the season that's been erased from the history books in 2007-08.
This article is
What is the duplicate article?
Why is this article offensive?
Where is this article plagiarized from?
Why is this article poorly edited?