Detroit Red Wings: Not All Blame Can Go on Ty Conklin for His Woes This Season
March 29, 2012

Bruce Bennett/Getty Images
With all due respect to Ty Conklin, he's not the goalie he was in the 2008-09 season.
Then again, the Detroit Red Wings have fallen apart defensively as well since Jimmy Howard's dynamite start to the season.
Detroit is sixth in the league in terms of fewest goals given up, but that would not appear to be the case if one looks at its last 20 games.
Detroit is 3-7-2 in its last 12 games and have (with the exception of the home game against Columbus) struggled to score offensively.
A few games have seen the Red Wings put up more than two goals, but in the games that Detroit did put up more than two goals and still lost, it was usually a case of "too little, too late."
Last night's loss to Columbus was a perfect example.
Too little, too late, but it was also a wake-up call of sorts.
Detroit's loose mentality cost it two points in a perfectly winnable game tonight against the last-place Columbus Blue Jackets.
If you missed the highlights, they are viewable here. I can't say that goaltender Ty Conklin was stellar in his efforts tonight, but to his credit, neither were his defense.
Conklin was recalled on an emergency basis before the game against the New York Rangers, and he looked stellar in the game, giving up a goal in regulation and another one in overtime.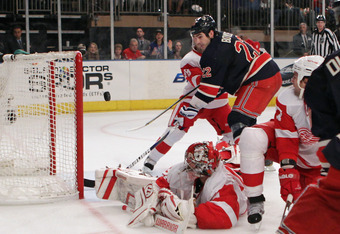 Bruce Bennett/Getty Images
He picked up a valuable point for the Red Wings in that game, before picking up wins against Carolina and Columbus.
Now his performance against Carolina was nothing worth remembering, being down 4-1 at one point on only 24 shots faced.
Going into the game against the last-place Columbus Blue Jackets, with Columbus starting an emergency goalie in Allen York, Ty Conklin might have had a reason to expect to pick up his third-straight win last night.
But last night's game against Columbus was just a slap in the face for Conklin.
The Red Wings were lackadaisical with their puck control, and that caused the puck to take some funny bounces.
Funny thing about those funny bounces. They all ended up in the back of Conklin's net, and the Red Wings lost 4-2.
For being sent down to the minors for most of the season, Conklin has responded fairly well in his return, making saves that he should make, and the occasional one that he shouldn't make.
As for last night's affair against Columbus, after watching the highlights, one should be under the opinion that Conklin is ready to resume duties as a backup goalie once Jimmy Howard returns.
It may be a short span of time to judge Conklin on, but with Joey MacDonald being out with back spasms the past week or so, Conklin should get the nod if the playoffs started today.
For more article updates, Follow @isaacesmith91