Floyd Mayweather Has No Regrets Knocking out Victor Ortiz
March 29, 2012
In September of 2011, Floyd Mayweather captured the WBC welterweight championship with a left-right salvo to floor and knockout Victor Ortiz. Some observers felt his route to the title was unsportsmanlike; however, the Grand Rapids native has no regrets whatsoever about the outcome.
Original quotes reported by MLive.com.
"He didn't say box," Mayweather said of Cortez. "He signaled to fight. It's just go. Every fighter knows the signal. We're professionals, not amateurs. He signaled to fight and, of course, this is a legendary, Hall of Fame referee."
The aforementioned drama happened in the closing seconds of the fourth round. Ortiz, for no apparent reason (maybe frustration), lunged at "Money," whom he had cornered at the time, and flagrantly head-butted him in the face.
Following the infraction, Joe Cortez halted proceedings to deduct a point from Ortiz, who, whilst this was going on, hugged and profusely apologized to Mayweather and continued to do so when Cortez indicated the fight to commence.
Ortiz, supposedly oblivious to the command, allowed Mayweather to capitalize on his boxing faux pas —the old boxing adage of "protect yourself at all times," and it cost him dearly.
Conversely, Mayweather, who had followed the letter to the book, was hung out to dry by the press and others for the alleged sucker punch.
That said, the fight wasn't ruled a no-contest and neither was Money disqualified; however, the debate still rages on, with some labeling the five-division titlist a cheat and whatnot.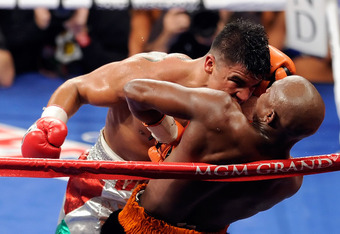 Meanwhile, not long afterwards, Ortiz said that he had intended to break Mayweather's nose with the head butt.
"I was trying to break his nose, 100 percent."
Though Mayweather believes the reason why "Vicious" resorted to such rough-house tactics was because he was looking for a way out of the fight.
"Yeah, he was."

"I feel the fighter was a beaten fighter," he said. "As you can see, I was throwing combinations that same round. Both eyes were getting black."
Furthermore, the injury sustained by Ortiz's forehead has since left an indelible scar under Mayweather's lip (where his lower teeth penetrated the skin), a reminder of that fateful night.
"You can't tell it much, the doctor did a good job," Mayweather said. "It almost went all the way through. I thought it went through. But it all comes with the territory, part of boxing."
Mayweather (42-0, 26 KOs) is scheduled to contest Miguel Cotto's WBA super welterweight title on Cinco de Mayo, while Ortiz (29-3-2, 22 KOs) is set for a rematch with Andre Berto on June 23.
For additional information, follow Nedu Obi on Twitter.