Tiger Woods Masters: Win at Arnold Palmer Will Do Wonders for PGA at Augusta
March 29, 2012

Sam Greenwood/Getty Images
The Tiger Woods saga is tailor-made for television soap operas and made-for-TV movies.
Once a golfer who had it all, Woods lost it all just as quickly, and is now trying to claw his way back—I tell you, this story has everything: an out-of-the-blue climb to the top, early success, a scandal and injury that threatened to doom our protagonist and a story of repentance, a mea culpa to set this journey up for that trademark bittersweet ending.
When Woods won the Arnold Palmer Invitational over the weekend, he completed the segment of his story formulaically known as rock bottom: the valley, the drought, that storybook chapter of disaster that began No. 27, 2009 when Woods crashed his Escalade.
We saw a high profile and costly divorce, the publication of a series of wild affairs and the side story of a former caddie who planned to write a book before using a racial slur to defame Woods during a Shanghai roast.
And finally, to end that miserable chapter of the Tiger Woods chronicle, former coach Hank Haney has published his own tell-all novel, which went public just this week.
Now a new chapter is set to begin for Woods—that portion of uncertainty when Woods, pulling himself up by the bootstraps, tries to show the world—and himself—that he has come full circle.
You've seen Part 1, and now here's the sequel.
Enter the Masters: television's newest reality show, dramatic comedy and Aesop fable all wrapped into one green jacket-laden package.
When Woods takes the course at Augusta, he will find himself a 3.25-to-1 favorite to win it all, though Woods will hardly be the only golfer there. Youngster Rory McIlroy will look to carve out his own story after becoming the youngest golfer since Bobby Jones to win the U.S. Open last year.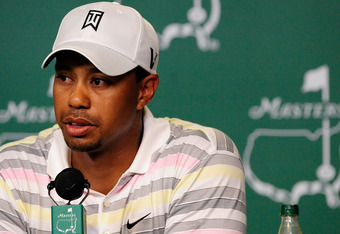 Pool/Getty Images
Woods will be pursued by inspirational-story hopeful Phil Mickelson who, at 41 years of age, is looking for his fourth Masters win after collecting his 40th career PGA Tour victory at the 2012 ATT Pebble Beach National Pro-Am, good enough for ninth all-time in PGA history. If that's not a good enough line for Mickelson, go ahead and add a World Golf Hall of Fame induction, which he received last November.
This story isn't traditional in the sense that Woods is neither fighting off a band of villains nor is he any degree of a crime fighter or superhero.
This is the story of Tiger Woods' redemption, and is the highest rated program on the PGA's lineup.
Now that Woods has won his first PGA title 923 days after his last victory—the Sept. 2009 BMW Championship—the golf world is buzzing with anticipation, speculation and excitement.
Grammy and Golden Globe Award winner Bette Midler tweeted it best: "Is Tiger Woods out of the woods??"
Golf still needs Tiger Woods, there is no doubt about that. Whether he sticks around to watch McIlroy win the 2012 Masters or whether Woods is able to secure his fifth green jacket, the most important thing for the PGA is to have Tiger in the headlines at Augusta.
On the whole, Woods' presence in a tournament increases ratings. Without the suspense surrounding a potential Woods triumph, golf suffers. In 2011, television ratings for the U.S. Open fell 26 percent compared to 2010 figures. Woods had been injured and did not play the 2011 event in Bethesda, Maryland.
So as golf prepares to write the next chapter of the Woods adventure, its viewing audience has its own varied—and lucrative—opinions.
He's been branded "inspirational" by fellow golf pros, and a morally bankrupt failure by others. There exists several groups in the golf world—one wishing Tiger well, and others that would relish another Woods flop.
Either way, it sure is must-see TV.