WrestleMania 28: How to Make Money from Sunday's Event
March 28, 2012
Let me start by saying straight off the bat, that I realise that WWE (and all of pro wrestling for that matter) is scripted entertainment.
Despite this, two betting sites have now revealed odds for this Sunday's WrestleMania event in Miami, and it certainly makes for some interesting viewing.
Having read Drake Oz's article (good work, mate!) which broke the news on B/R, I saw a lot of negative reaction and comment regarding this issue, however.
While I appreciate that all of Sunday's outcomes are predetermined, there is still a skill and logic to guessing the decisions of WWE Creative, especially when it comes to the company's showcase event.
I think by now we all now have a pretty good idea of the outcome of at least five of the eight planned matches, so for my money, it only makes sense to have a cheeky accumulator bet just to spice things up that bit more.
Currently Bovada.Iv and PaddyPower.com have listed odds for WrestleMania under the category of "Novelty Bets," and for those of you who don't find the idea of Maria Menounos & K2 vs. Beth & Eve overly exciting, it may be a bit more bearable with money on the line.
So, without further ado, here are the odds provided by PaddyPower, for WrestleMania XXVIII*;
Once in a Lifetime
John Cena (8/11) vs. The Rock (evens)
Hell in a Cell
The Undertaker (1/7) vs. Triple H (4/1)
WWE Championship
CM Punk (4/7) vs. Chris Jericho (5/4)
World Heavyweight Championship
Daniel Bryan (5/2) vs. Sheamus (1/4)
Intercontinental Championship
Cody Rhodes (11/10) vs. Big Show (4/6)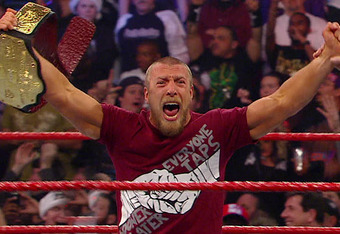 Randy Orton (1/4) vs. Kane (5/2)
12-Man Tag Match for Control of Raw and SmackDown
Team Johnny (4/9) vs. Team Teddy (13/8)
Maria Menounos & Kelly Kelly (1/3) vs. Beth Phoenix & Eve Torres (2/1)
If you're not really up on your betting odds, it's really easy to understand. The number on the right side of the fraction is your stake, and the number on the left is the potential return on that stake if the outcome occurs.
Put simply, if you place £11 on Cena at 8/11, you would win £8. You would also get your stake returned, meaning for an £11 bet you would receive £19 in the event of a Cena win.
This, however, is not where you make your money on Sunday (not easily anyway).
Instead, it may well be worth an accumulator bet on a number of outcomes, which in turn multiplies the odds of any single outcome exponentially.
To give an example of this, if you were to place £10 on the Rock and Cody Rhodes to win as a multiple or accumulator, you would win £10 x 2 (evens) x 11/10 = roughly £40. The same would apply if you were to include Daniel Bryan £10 x 2 (evens) x 11/10 x 5/2 = roughly £90.
Anyway, that's enough Basil Exposition for now.
Even with the smallest stake, there is great potential if you correctly predict which way each Wrestlemania match will go.
Backing Cena, 'Taker, Punk, Sheamus, Rhodes, Orton, Team Johnny and Maria & Kelly will give you odds of roughly 15/1 with Paddy Power on Sunday.
I'll once again emphasise that I realise that sports entertainment such as the WWE is fixed, but the eight outcomes above seem pretty reasonable to me.
For the price of a beer, you could effectively win the cost of 'Mania on Sunday, just by picking who will win each match.
If you're an experienced bettor (or not, just research it) you could even safeguard your bet by picking six or seven of your selections to win out of eight - where you get paid even if there is a curve ball or two thrown in by Creative in Miami.
Whilst I appreciate the reservations of many to bet on a predetermined event, personally I will be having a silly fiver on Sunday, as I think many of the matches are near-on dead certs already.
Hey, if you get it right it pays for the night as well. Win-win if you ask me.
Thanks for reading!
Please feel free to leave any comments and/or suggestions below.
*Odds accurate as of 23:30 GMT