Louisville vs. Kentucky: Cardinals' Momentum Won't Top Wildcats' Size
March 28, 2012

Kevin C. Cox/Getty Images
The Louisville Cardinals have had a nice run in the 2012 NCAA Tournament, but that journey will come to an end Saturday at the hands of the Kentucky Wildcats.
When the Cardinals and Wildcats first met on Dec. 31, 2011, Kentucky put up 69 points to Louisville's 62 thanks to forward Michael Kidd-Gilchrist's 24-point, 19-rebound performance. Kidd-Gilchrist was so huge for the Wildcats during that game, he spent just one minute on the bench and 39 of 40 possible minutes on the floor.
Since then, the freshman phenom hasn't disappointed, most recently putting up 24 points and 10 rebounds against Indiana in the Sweet 16 and 19 points and five boards versus Baylor in the Elite Eight.
Of course, Kidd-Gilchrist has been playing second-fiddle to his co-rookie stud, forward Anthony Davis whose 18-point, 11-rebound marks against Baylor were only eclipsed by a bumped knee that had Kentucky fans heading for the hills with worry that their star 6-foot-10 big man was seriously injured.
Fortunately for the Wildcats, Davis is expected to be fine and he should be his usual self come game-time this Saturday.
For Louisville, junior Peyton Siva has been huge with assists and guard Russ Smith has provided much-needed support coming off the bench, though freshman Chane Behanan remains their key contributor, with a 17-point, seven-rebound performance against Florida during the West Region championship against Florida last weekend.
The Cardinals have been running off momentum and spirit to this point, propelling them past No. 1 seed Michigan State and aiding in a teacher-versus-master scrum between coaches Rick Pitino and apprentice Billy Donovan of Florida.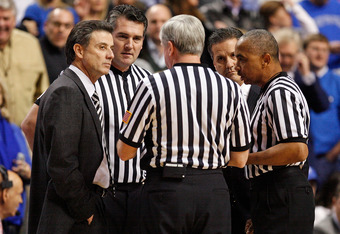 Andy Lyons/Getty Images
Pitino's upstart squad is feisty enough to remain competitive with nearly any team they face, but the Cardinals are poised to run into a roadblock against Kentucky.
Other than 6-foot-11 sophomore center Gorgui Dieng, the Cardinals do not prominently feature any player taller than 6-foot-8, while the Wildcats list five players over that mark.
Meanwhile on the weight side of things, the Cardinals average 203 pounds per player, whereas the Wildcats average 212 pounds, an average significantly dragged down by freshman guard Brian Long, who at 5-foot-9 weighs just 150 pounds.
Here are the raw stat match-ups: 
| | | | |
| --- | --- | --- | --- |
|   | No. 4 Louisville | No. 1 Kentucky | Advantage |
| Points per Game | 68 | 78 | Kentucky |
| Rebounds per Game | 38 | 39 | Kentucky |
| Assists per Game | 13 | 13 | Tie |
| Field Goal Pct | 42.5 | 49.2 | Kentucky |
| Turnovers per Game | 14 | 11 | Kentucky |
| Steals per Game | 9 | 6 | Louisville |
| Blocks per Game | 5 | 9 | Kentucky |
Not surprisingly, No. 1 Kentucky leads No. 4 Louisville in nearly all categories, while the Cardinals hold the advantage in steals. By comparison, Kentucky also holds an advantage over the Michigan State Spartans in nearly all categories, so had the Spartans matched up against the Wildcats, Kentucky would still have been the favorite. 
By game's end, the Wildcats will use their proven advantage to defeat Pitino's team for the second time this season.
It's not that the Cardinals will flame out—expect Louisville to give everything its got in New Orleans this weekend. Instead, the Cardinals will simply find themselves toe-to-toe against the No. 1 NCAA basketball team in the country.
From their bigger size and superior strength to their impressive season statistics, the Kentucky Wildcats hold such a tremendous advantage over Louisville, and the Cardinals will have to pull off a miracle to advance to the National Championship game on Monday.
Then again, isn't the impossible what sports are all about?
If anyone can pull it off, it's Rick Pitino. The Louisville head coach holds a 4-0 post-season record against Kentucky coach John Calipari, though Calipari holds the 8-7 upper hand all-time.
Still, how's this for a role reversal: When Pitino was coaching Kentucky, he won four and lost one against Calipari, though Pitino's only loss was during the 1995-96 season, which ended with a Pitino victory when the two coaches met again during the Final Four.
Speaking of the 1995-96 Wildcats, that team was 34-2 with a perfect 16-0 record in the SEC. Upon defeating Syracuse in the final game of the season, Kentucky won the National Championship with a roster of several key untouchables from Derek Anderson to Antoine Walker. 
The 2011-12 Wildcats are owners of a 36-2 record and have also run the conference table, finishing 16-0 in the SEC.
By this standard, the Wildcats are destined for postseason glory. Whether or not this results in a National Championship, the Wildcats are in prime position to defeat Louisville en route to the title game.