MLB Predictions 2012: 10 Players Who Will Snap out of Rough Springs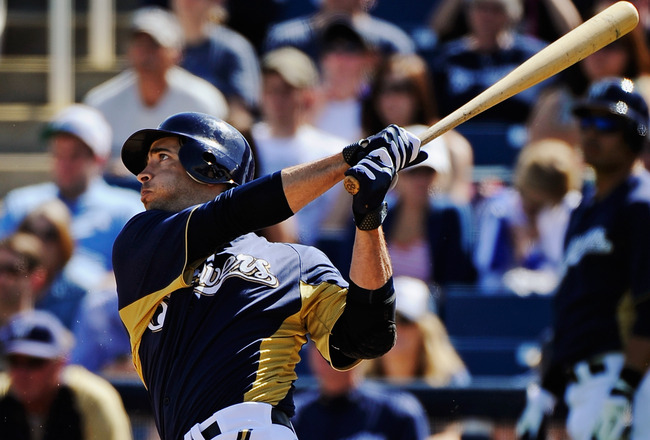 Kevork Djansezian/Getty Images
As spring training winds down, fans and owners are starting to get a better feel for what their team is shaping up to be. Some big names haven't performed, but you can count on them to step up their game in the regular season.
Clubs have played their 20-plus games and are filling out their roster for Opening Day. Some players, however, haven't had the best spring, and numbers are down for these ten players.
But have no fear.
These players will shake their spring slump and live up to expectations in the regular season.
Whether you're keeping tabs on your favorite players or looking for fantasy baseball advice, Bleacher Report is the place to be.
Here are 10 players who will shake their slow spring starts.
Daniel Bard, BOS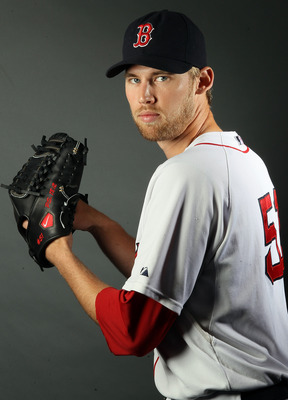 Elsa/Getty Images
Daniel Bard is in a precarious situation. He's being considered as a starting pitcher for the Boston Red Sox, but that shift would put him outside his comfort zone as one of the best set-up pitchers in the nation.
To the dismay of Red Sox Nation, Bard's shift to the starting rotation hasn't been smooth. He has four starts under his belt but has a 7.23 ERA through 18.2 innings, and he's given up 15 earned runs. Yikes.
My assumption is Bobby Valentine hasn't seen enough to give Bard a starting role. If that is the case, he should be a great set-up man for Andrew Bailey, provided the newly acquired closer stays healthy.
There's potential here for Bard in the bullpen, but if he joins the starting rotation, be wary.
Brandon Beachy, ATL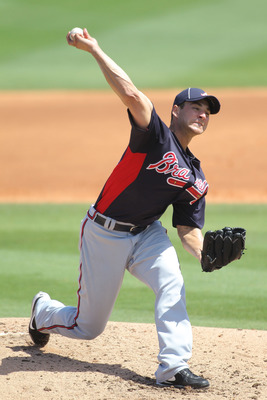 Marc Serota/Getty Images
Last spring, Brandon Beachy was dominant. His ERA was below 1.00 (0.90) and he held batters to a .167 batting average.
This spring has been quite the opposite. Beachy has a 6.43 ERA and has given up eight more runs in six less innings. Opponents' batting average has increased to .296 in his four starts.
Fortunately for Braves fans, these trends shouldn't continue throughout the season. There will be growing pains with such a young pitcher, and this spring certainly falls into that category.
Emilio Bonifacio, MIA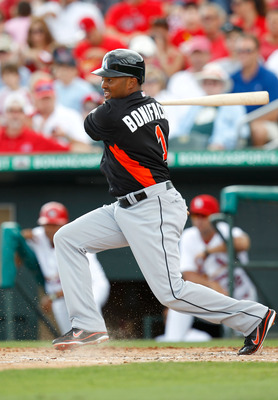 Sarah Glenn/Getty Images
Emilio Bonifacio is set to play a key role in the new-look Miami Marlins. He broke out last year when star shortstop Hanley Ramirez struggled, and he should continue to shine.
He hasn't quite shown his 2011 capabilities during spring training. With an average of .178 and no home runs to go with one RBI, Bonifacio doesn't look like the .296 hitter we saw just last summer.
During the regular season, he should step up his play. His numbers may look bad this spring, but he isn't a power hitter, nor is he known for driving in runs. He's shown his speed this spring with three stolen bases—and he's yet to be caught.
Look for Bonifacio to continue his excellent play for the Marlins' infield this season.
Ryan Braun, MIL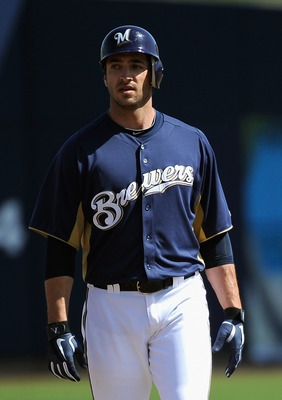 Kevork Djansezian/Getty Images
Ryan Braun has been one of the most talked about baseball players this off-season. I'm not here to talk about his use of performance-enhancing drugs. I'm here to tell you that he will play just fine this regular season.
Braun's abysmal spring may be due to the added pressure and attention. Who knows. He's got seven strikeouts and only four hits this spring, not exactly NL MVP-type numbers.
But his .143 average in spring will not carry over to the regular season. He'll be floating around .300 all year as he gets back to form in the regular season for the Brew Crew.
Robinson Cano, NYY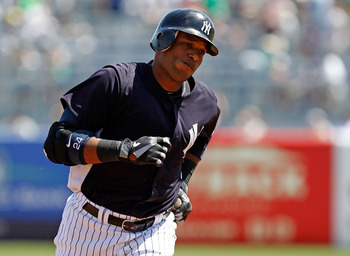 J. Meric/Getty Images
The 29-year-old Robinson Cano will be one of the best second basemen in baseball. That's a given.
His slow starts in spring aren't exactly expected, however.
This spring, Cano boasts a .196 average with eight strikeouts to only nine hits, hardly worthy of his spot near the top of every fantasy baseball draft.
The good news is that Cano wasn't that much better last spring—he posted a .236 average with six strikeouts, and look at how that translated to the regular season.
Roy Halladay, PHI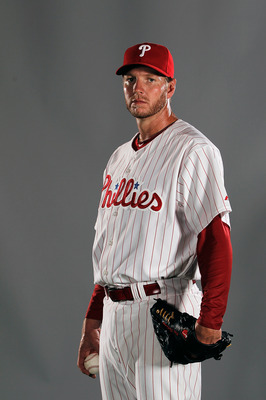 Jonathan Ferrey/Getty Images
Roy Halladay is like Brandon Beachy in that both were incredible in the spring of 2011 and haven't reproduced anywhere near those numbers this time around.
Halladay's 5.40 ERA this year pales in comparison to spring of 2011 where he only gave up one earned run through five starts, en route to an ERA of 0.42.
It goes without saying that Halladay will be one of the best pitchers in baseball this season, regardless of what he does during spring training.
Jason Heyward, ATL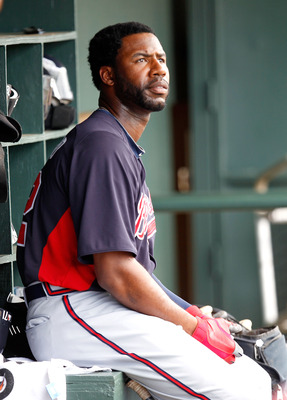 Sarah Glenn/Getty Images
This may be a bold prediction, considering Jason Heyward's career statistics aren't that far off from his numbers this spring. However, with a better lineup around him and another year of experience (he's only 22), he should improve.
His batting average for his career is .255, not far off his meager average of .190 this spring. However, strikeouts are still high—18 through 63 at-bats.
A good sign is that he has shown his power this spring. He's got two homers and eight RBI, nearly doubling his output from last spring.
If he can stay healthy this year, he should have a great statistical year.
Mark Reynolds, BAL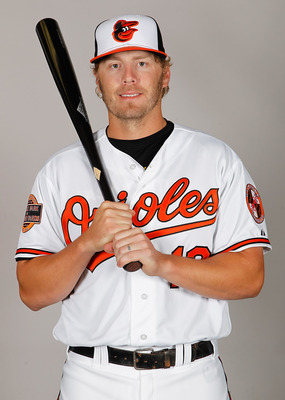 J. Meric/Getty Images
You don't expect Mark Reynolds to hit for average. Anything above .200 would be great.
This spring, however, his batting average is an abominable .158 and he hasn't hit for power, bashing just one home run in 38 at bats.
But like everyone else on this list, there is good news. Reynolds only hit one home run last spring (in 69 at bats) and his average wasn't great then either (.232). He went on to hit 37 homers in the regular season.
A surprising statistic for Reynolds has been his ability to draw walks. He's walked nine times and has only eight strikeouts, compared to six and 23 last year, respectively. An increased on-base percentage will only improve Reynolds' value.
Pablo Sandoval, SF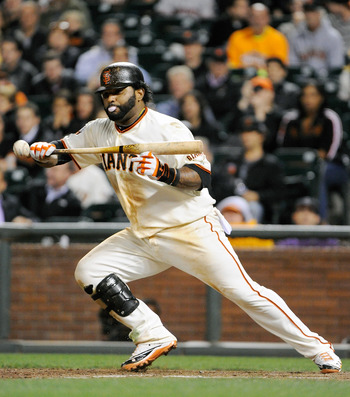 Thearon W. Henderson/Getty Images
Pablo Sandoval can blow a bubble while laying down a bunt. That's impressive.
His .241 batting average this spring, not so much.
Giants fans may be shocked to see Sandoval—a career .307 hitter—have such a low average. But Giants fans and fantasy owners alike shouldn't worry about his poor spring showing.
For one, Sandoval has shown more pop this spring. He's got three home runs and nine RBI in 58 at bats. Expect him to keep up those power numbers and increase his batting average in the regular season.
Carlos Santana, CLE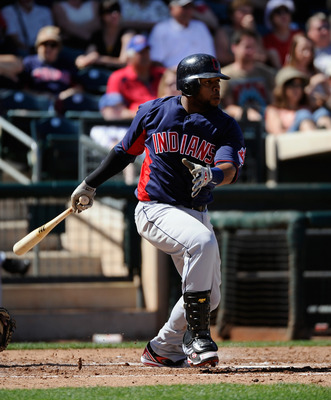 Kevork Djansezian/Getty Images
ESPN projects Carlos Santana to be the second-best catcher in the league next year. High praise warrants high expectations, and he has been far from matching projected numbers this spring.
Santana, to put it simply, hasn't been lucky this spring. His .167 average is inadequate—but he has three home runs and has shown great improvement in keeping the bat on his shoulders. He's struck out three times compared to six walks, which is a positive sign.
Indians fans need not worry; the 25-year-old Santana will be great during the regular season.
Keep Reading