NCAA Basketball: Who Will No. 1 Recruit Shabazz Muhammad Choose?
March 28, 2012

In two weeks, the No. 1 high school basketball prospect in the nation, Shabazz Muhammad, will unveil his long-awaited decision on where he will be attending college this fall.
For quite a while, the list of suitors the 6'6", 215-pound wing from Bishop Gorman High School here in Las Vegas was considering was a pretty solid six—UNLV, Kansas, UCLA, Kentucky, USC and Duke—with USC, where his father Ron Holmes was a four-year letterman from 1981 to 1985, getting very little publicity.
Today, the list seems to have shrunk to three schools, according to Dave Telep of ESPN.com—UCLA, Kentucky and Duke—something that restless natives here in Sin City won't be happy to hear, or probably even believe until Muhammad makes his official announcement on April 10.
There's much to digest and infer from all the Muhammad speculation, but I think the 18-year-old has already made up his mind. So let's look at the real possibilities.
According to Seat Williams on ESPN 1100 radio in Las Vegas, Muhammad's father has said he wants his son to play in Las Vegas, but UNLV first-year coach Dave Rice, brother of Muhammad's high school coach Grant Rice, doesn't seem like a "one-and-done" type guy,  especially when he's just starting to try to rebuild the Runnin' Rebels program.
And apparently, UNLV's not on Muhammad's latest "short list."
Perennial power Duke could really use Muhammad, especially after getting bounced from the NCAA Tournament last week by Lehigh. But Durham, N.C., is a long way from Las Vegas, and Muhammad will likely want to play with some other big-name freshmen recruits, something UCLA and Kentucky may have more than the Blue Devils.
So Duke will have to remain the big wild card for Rivals.com's No. 1-rated recruit.
UCLA has a strong recruiting class, including Kyle Anderson Jr., a guard some are comparing to future Los Angeles Dodgers owner Magic Johnson. Anderson's dad, Kyle Anderson Sr., in an exclusive interview with SNY.tv on Monday, said he thought the Bruins were Muhammad's choice, citing the family's desire to return to Los Angeles, where his parents are from.
But a recent Sports Illustrated expose of UCLA's program sounded like it didn't sit well with Muhammad's father Holmes, who told Telep the story wouldn't eliminate the Bruins from contention, but they "will have to get control of that program."
Read deep worry into that. And with the recruiting heat Holmes is facing from trying to find the best fit for his son, heading to a school with issues would only turn up the spotlight on Muhammad's choice and might bring unwanted attention to any future eligibility issues.
So that leaves us with Kentucky.
The basketball factory that Kentucky has evolved into over the last decade has a lot going for it in its pursuit of the Morgan Wootten Player of the Year. Muhammad's friend, freshman stud Michael Kidd-Gilchrist, has helped lead the Wildcats to the Final Four. If he decides to stay in Lexington, Kidd-Gilchrist would be like a human magnet for Shabazz.
Kidd-Gilchrist recently denied an ESPN.com report by Chad Ford that he had already decided to enter the NBA draft, saying on Twitter, "I don't know where this is coming from. This is MY decision. Right now all I'm focused on My teammates and winning Games. After the season I'll make a decision that's best for me and my family!"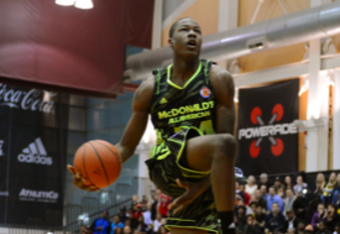 Even if his buddy Kidd-Gilchrest does head to the pros, Kentucky still seems like the destination for Muhammad to me. He made an unofficial visit there last season for the Vanderbilt game.
Muhammad reportedly likes UK coach John Calipari's track record of preparing players for the NBA as well as his embrace of the "one-and-done" philosophy, which has seen studs like Derrick Rose, Tyreke Evans, DeMarcus Cousins and John Wall all leave after their freshman seasons.
When asked on a live chat Tuesday evening from the site of Wednesday's 2012 McDonald's All-American Game in Chicago (ESPN, 9 p.m. ET/6 p.m. PT) if he was surprised Kansas wasn't in Muhammad's final three, Rivals.com analyst Jerry Meyer responded, "Never thought Kansas was in there. Makes me think Kentucky, since I thought the darkhorse UNLV was the top competition to Kentucky."
Muhammad, who won the 2012 Powerade Jam Fest on Monday with a perfect score, won't actually make official visits to any of these schools before revealing his choice in 13 days.
Besides playing for the West All-Stars in the McDonald's game, Muhammad will also participate in the Jordan Brand Classic (ESPN, 9:30 p.m. ET/6:30 p.m. PT) on April 14 in Charlotte, N.C.
As far as next year, weighing everything that's out there, I believe Kentucky has a healthy edge over UCLA and Duke, and may already be Muhammad's choice.  
Don't think watching this current Kentucky team led by Anthony Davis, Doron Lamb and Terrance Jones make a run at a national championship in the next six days won't have an effect on the teenager. As the kids like to say, "Game recognizes game."
Follow me on Twitter @KevinStott11
Kevin Stott has been a sports writer for Suburban Life in Chicago, the Las Vegas Review-Journal's View Newspapers and Gaming Today, and bleeds UNLV scarlet and gray when he's not busy bleeding Chelsea blue and changing his cat Saki's litter box.