The WWE Power 12: Ranking the Top 12 Hands in WWE, Plus Rock vs. Cena Prediction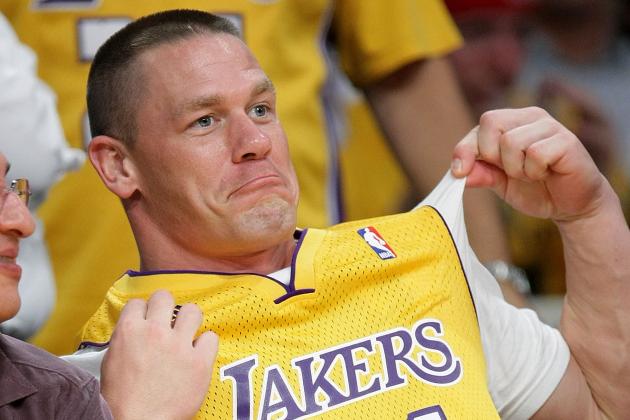 Noel Vasquez/Getty Images
I've always liked Cena because we're both from outside of Boston. This makes me ill....
Going into WrestleMania 28 this Sunday, let's go through the top 12 wrestlers and tag teams as ranked by the WWE, and reshuffle them based on the six following criteria:
1. Popularity
2. Prestige (number of belts held; if they currently carry a belt)
3. Push (amount of time the WWE is spending to build the character up)
4. Mic Skills
5. Future outlook
6. Win/Loss record
Begin Slideshow

»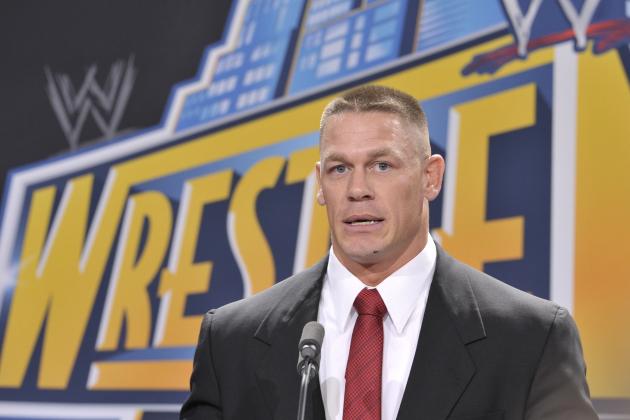 Michael N. Todaro/Getty Images
For those thinking the Rock may win, don't forget—the WWE has nothinig to gain from that, and everything to gain from Cena winning.
Usually, the top of the Power 12 is one of the world champions, but this is a special case: The WWE, capitalizing on Dwayne Johnson's (The Rock) budding acting career, is cashing in by having the Rock in a WM match. Let's face it, corporate and creative would obviously make his opponent be the top hand in the federation—clearly that man is Cena.
With one title around Daniel Bryan's waist and the other around CM Punk's, that creates two huge matches for the WM card, as each is set to defend.
What the WWE just loves is the amount of heat that is coming from two non-title matches, basically creating four main events for the event. Famously, WrestleMania 2 had three main events take place in three different arenas: a Hogan/Bundy cage match for the title, a Piper/Mr.T boxing match and a 20-man battle royal featuring NFL football stars mixed with [then] WWF superstars.
This year may be the best card ever, but with Cena/Rock by far the main attraction, Cena is an obvious choice for No. 1, as despite not holding a world title, the WWE picked Cena over several other popular stars, including Randy Orton, Triple-H and even the Undertaker—a match which would have seen the Rock vs. the streak.
They didn't pick 'Taker because the Rock's return overlapping with the Undertaker's undefeated streak would have been just one huge match, while Cena/Rock and HHH/Taker gives fans two huge matches.
I'm sure Orton is displeased with being relegated to a match with an upstart in Kane.
That said, I'm not interested one iota in that match, which is a shame because if Cena ever goes AWOL, Orton is more than capable of being the top guy, a non-Kayfabe reality described best in Bret Hart's one million-page book that came out a couple years ago. (Kidding, of course, that it was one million pages, but it's seriously five times the size of any other WWE book!).
Will Cena lose?
Of course not.
Will the Rock mind? Of course not....with his acting career just blowing up, he would love nothing more than to get the top man (in addition to a $1 million-plus payment) over.
Why does the WWE need Cena over? Because Cena is loved by kids and they buy the most merchandise, McMahon would rather hear universal cheers for the baby-faced Cena and not "Cena Sucks" chants that fill the air from the older crowd in each city.
If any of your friends want to put a friendly wager on the Rock against you, and will take Cena, take them up on the offer: It's not about who the WWE really feels would win in a fight between the two, no.
This one's about money—now and in the long term.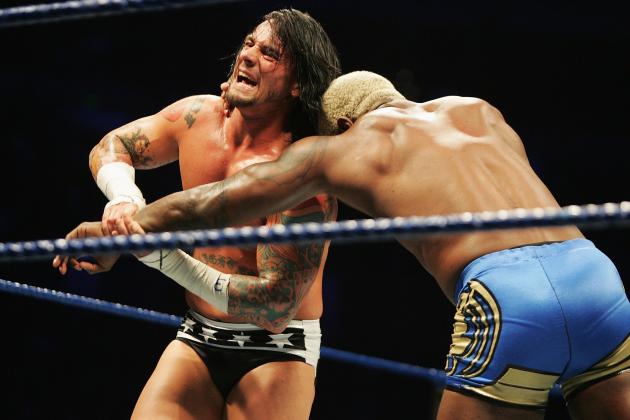 Gaye Gerard/Getty Images
Punk ranks ahead of Taker and HHH because his popularity and long reign show the WWE will lean on him for decades
We find it scary and odd that the WWE Champion (the more prestigious of the two World Champion belts—as this one is defended on the higher-rated, Raw program) is ranked at No. 6 in the WWE.com power rankings, behind his WrestleMania opponent Chris Jericho, as well as Sheamus, the other world title opponent (for Daniel Bryan), and Bryan himself.
Punk's feud with Laurinaitis (brother of Road Warrior Animal) has been just awful (remember when Johnny refereed Punk's title match, swore to screw him and then counted Swagger's shoulders down faster than any ref in history)?
With Cena unable to win the title recently since they don't want the title on him when he takes on the Rock, for obvious reasons, Punk has been relegated to bad story lines (Laurinaitis), bad opponents (Kane and the Miz to name two) and not enough push for a guy who regularly gets more applause and chants than any other wrestler since Hogan.
Let's hope that the WWE.com power rankings are not an indication of how the superstar is really faring in the company.
Punk has had this title for almost all of the last year, and long WWE title reigns went out the door when the Honky Tonk Man set the Intercontinental championship record for most days held in a row in 1986-87. World titles change hands even more, and Punk has exceeded the work of fellow belt-holders [of the last year] like Daniel Bryan, Mark Henry, Sheamus, [possibly] Orton and maybe even [possibly] Cena.
For these reasons, we like Punk to lose to Jericho at WM28.
Why?!?
Because long title reigns end at WM's historically, more than they continue there (Hogan's loss at WM4 and also at WM6 vs. Ultimate Warrior, Savage at WM5, and many other times). Despite the fact that the WWE has done little to create a real feud between Jericho and Punk (which has mostly to do with the fact that Punk can't fight Cena, HHH or Taker), he still has to work a good match with Y2WhereDoYouKeepGoing.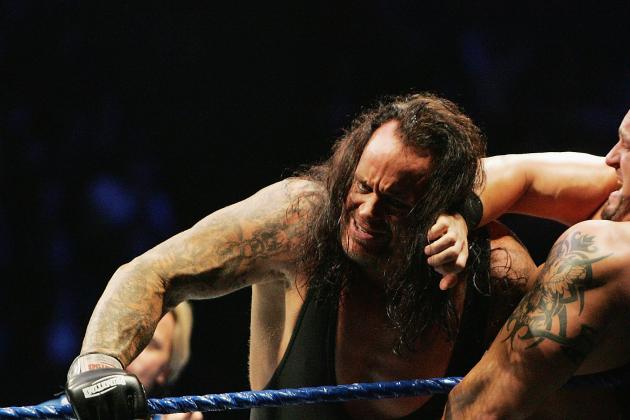 Gaye Gerard/Getty Images
The two major title matches, unbelieveably, are lesser anticipated matches that both Rock/Cena and Taker/HHH.
We don't care that Taker is so old, that he only shows up for pay-per-views these days.
It's matches like WM 27's Taker vs. HHH match that still has our jaws open a year later thinking about it. I agree that not enough storyline can be hyped if Taker doesn't make the appearances each week, but after last year's undeniable "match of the last 10 years," does a rematch this Sunday actually need any push?
19-0? We'll see.
But for now, one man, and one man only rules WrestleMania, and that man is the longest tenured hand in the WWE by almost a decade: Mark Calaway, better known to the world as The Undertaker. (Or for some, husband of Michelle McCool.)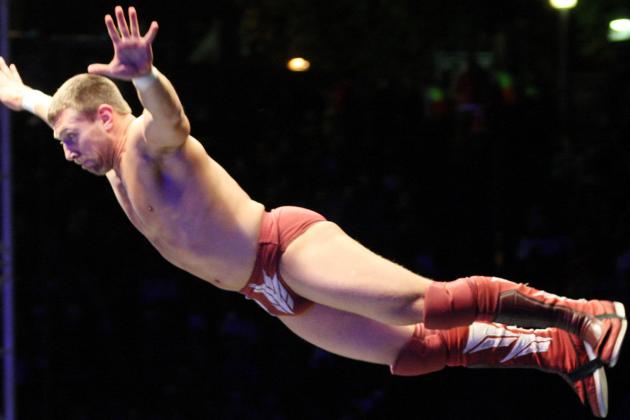 Gallo Images/Getty Images
Bryan's new facial hair clearly shows the WWE wants to develop characters just as much as they want impressive high spots [above].
Bryan, who has the unbelievably cute AJ as manager and as a [probably fake] girlfriend, won his title in the sole way to cheaply win a world title: with a dumb Money in the Bank cash-in.
That said, many were wondering why the 10-year independent circuit veteran was getting just a so-so push as they had him with and without the US Title around his waist for the year or two prior to the big push of the last six months.
And while we think Bryan can construct a great match, with false-finishes, triple reverses, high spots and smooth grappling, we just don't believe that he could possibly be as nasty of a human as he's currently acting as nor can we believe he could really get AJ (who gets my vote for next Miss Elizabeth)!
Woo-woo-woo, and while the WWE could easily have a baby-face upstart like Zack Ryder hold the world title, they opted for the newly-heeled Bryan instead. But the WWE feels that we fans have such bad memories, they think we're not losing our dinners when Michael Cole, who hated D-Bry like he just stole his every last possession, now loves the guy.
It's bad enough Cole is a [terrible] heel, does anyone else feel Bryan turned heel just due to the lack of them in the whole company right now?
Ray Amati/Getty Images
The closest faction the WWE ever had to the Four Horsemen. Man, do we miss Batista!
The luckiest man in the world, Hunter Hearst Helmsley, aka HHH, will face the Undertaker in the rematch of last year's classic. This time, Shawn Michaels (HHH's bestie in real life and in the WWE) will be the referee.
Bizarre, as Shawn has been telling The King of Kings that even he can't beat Taker at WMs.
HHH will drop next time you see these ratings, most likely, as he will fade back into his comfy desk job with his wife, who, of course, is coincidentally the daughter of Vince and Linda McMahon.
I mean, how many large-nosed neanderthals don't get to retire early while still doing whatever they want, whenever they want to do it in the WWE?
We hope the match comes close to last year's, but that's almost an impossibility. We also hope he and Michaels ride off into the sunset afterwards.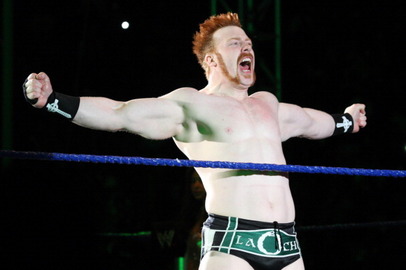 Gallo Images/Getty Images
The WWE's rankings have him ahead of BOTH world champions, HHH, Taker, Orton, Cena and anyone else, for that matter
His short career has been filled with ups and downs. After joining Alberto Del Rio as the fastest two wrestlers to win major titles after they debuted in the federation, and after losing and regaining it quickly after, it seemed like "The Great White" couldn't be stopped.
Not sure then, why he toiled in obscurity for almost a year after, winning the US Title and not much else.
Whatever was wrong temporarily, the former King of the Ring and most recent Royal Rumble winner, will face Daniel Bryan for the World Title this Sunday.
I like Sheamus, but his moves feel tired and overly "power" driven. His bizarre look makes you wonder why Vince is pushing him so hard—but he definitely is. If Bryan is able to win that match Sunday, I will be as shocked as anyone in the world. The Rumble winner gets that distinction for a reason: It's who the company most wants to go on to WM and take the World Title belt.
That said, my main question is: Why isn't the Apex Predator, Randy Orton, one of the participants in the match?
Is he in the WWE doghouse for substance problems? Because there's no reason Sheamus/Bryan should be a co-main event in what looks to be the biggest WM to date.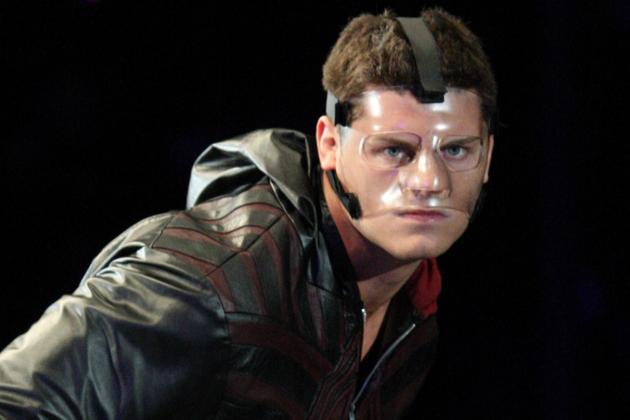 Gallo Images/Getty Images
Thank goodness the mask is gone....Wait....Thank goodness the "Dashing" gimmick is gone!
Goldust's brother, and fellow lisper like his dad, Dusty Rhodes, is genuinely unlikeable, and the WWE needs a true heel who can work well these days. Despite a different type of character than what his dad, or his brother played, he has finally made fans like him, and not for:
1, Wearing the mask forever
2. Having Ted DiBiase Jr. as his, well, protege, to be nice
3. Bringing paper bags for the heads of the not so easy on the eyes fans
4. Having a nickname like "Dashing"
5. Jerking and swaying his head movements like he was straight out of Phantom of the Opera with his jacket hood covering most of his face
No, we now hate Rhodes because he finally has the gist of playing heel: not overdoing it. He has now exceeded Honky as longest running IC title holder, and I'd be super-shocked if he dropped it to the boring, soon to be released, Big Show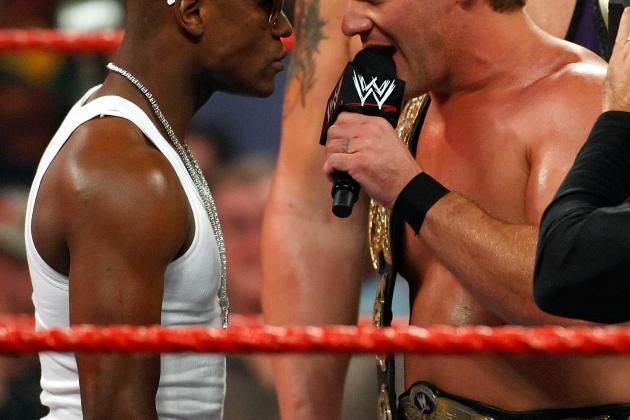 Ethan Miller/Getty Images
Back when Y2J mattered: Holding 3 belts and getting involved in good storylines
He comes. He goes. Comes. Goes. Comes...you get it. At least he has never worked at TNA (the unwatchable rival wrasslin' company).
In Chris' Advantage
The WWE brought him back one time before this last comeback, because the fans chanted his name so loud, despite the fact he had been off the roster.
He seems to be in more title matches and big storylines, despite the constant coming and going.
The Dancing with the Stars gig made him a household name.
Nobody has made a shoot with him yet despite being known as the "stiffest" (a painful wrestler to work with because his moves aren't far from being real) worker in the business.
Despite losing 40-plus pounds during the WWE steroid policy introduction, he is still a good draw despite his smallish frame.
He'll battle Punk for the WWE Title at WM28, but we'd give him a better chance to win if there were a storyline behind any of it.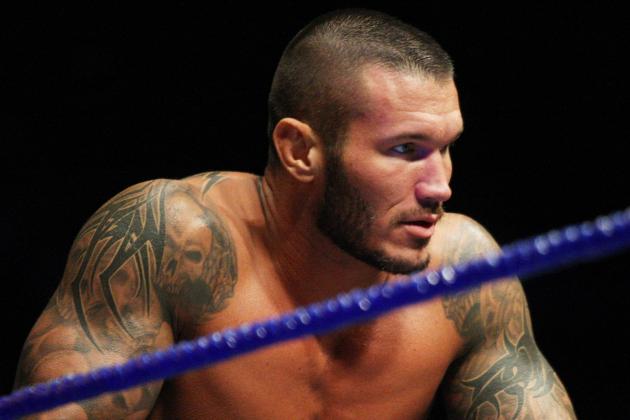 Gallo Images/Getty Images
How the most popular wrestler in the company didn't manage to make one of the 4 main events is outright wrong
The WWE rankings have him at No. 4, and that is probably just to tell the fans that he means as much to the company as he does to all the universe, despite relegating him to a boring matchup vs. Kane at WM 28.
Not much to say here besides we hope after the PPV is over that Orton is thrust back into the limelight. Boy, does he deserve it!
He's starting to improve as a technical wrestler, and despite the dumb Cobra finisher, Santino did finish second in the Rumble last year, currently holds the US title and has formerly held the IC belt more than once.
His humor remains his strength. He recently tweeted:
"i'm so close to the mexican border i can smell it . . . . never mind thats the taco bell next door to the hotel, but i'm still pretty close"
I don't remember better comedy than when Stone Cold and Angle worked that "behind the scenes and annoy Vince" storyline many moons ago!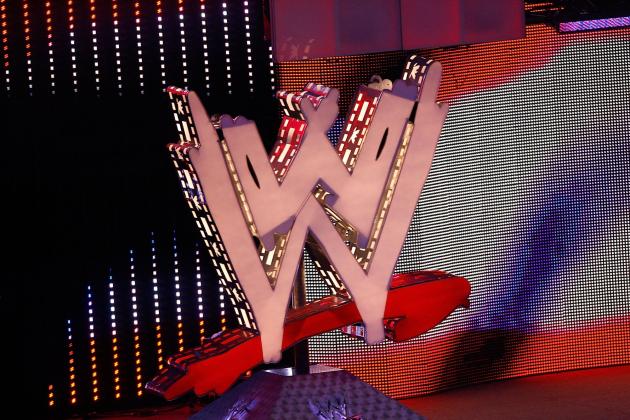 Jim Rogash/Getty Images
"Sorry, because they are the most boring Tag Champs in history, all we can find is this WWE Logo since there's no pictures of them available!"
They are the Tag Champs.
So they do make our Top 12.
What they lack is charisma, good story lines, good physiques, good mic skills and job security. Upside? They aren't bad technical wrestlers. Downside? Only reason they're champs is because Evan "Air" Bourne got fired for steroid use as he and Kofi Kingston were in the middle of a Tag Title reign.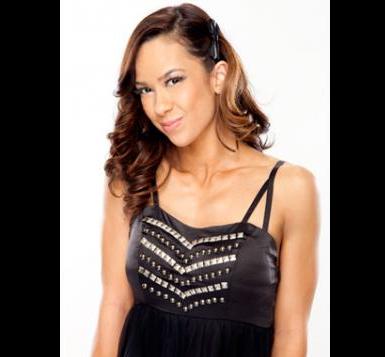 This picture doesn't do the new Kelly Kelly justice!
She's got the spunk of Kelly Kelly, the looks of Vanilla Sky (my one and only TNA crush) and she's in more storylines than Zack Ryder.
Without AJ, D-Bryan wouldn't make as believable a chance. With her, he gets the respect he has so badly deserved for years.
At 5'2" and rusty in the ring, many would vote her higher just for being the center of so many SmackDown storylines as of late. And I just love it!