Vancouver Canucks: 5 Players That Need to Step Up in the Absence of Daniel Sedin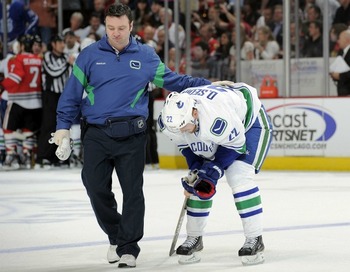 When Daniel Sedin suffered a concussion against the Chicago Blackhawks after receiving this hit at the hands of the Blackhawks defenseman Duncan Keith, many Vancouver Canucks immediately thought all hope was lost for any hope at a return to the Stanley Cup Finals once more in 2012.
The hit, though somewhat controversial, resulted in a five-game suspension to the first-time-offended Keith, and has the Canucks' star goal scorer out indefinitely.
With the absence of Sedin from Vancouver's lineup, there are several players that must step up to fill the void left in the offense for an unknown period of time. In recent months, several members of the Canucks have not lived up to their potential, and this is the perfect opportunity—though unfortunate—to strive to be better.
Mason Raymond (LW)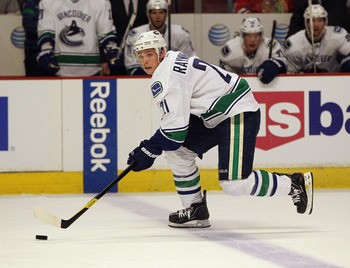 Jonathan Daniel/Getty Images
Of all the Vancouver Canucks who have the biggest opportunity presented to themselves in the wake of Daniel Sedin's concussion, Mason Raymond probably has the best chance to make a difference, both for himself and his team.
Coming off a quick start in his return to the lineup in December, Raymond has proven very inconsistent throughout the year and sits with just 19 points in 50 games this season. Despite having limited minutes on the third line, Raymond put up a 25-goal season just two years ago and still has the potential to provide the team with offense.
Raymond has slid right into Daniel's spot in the lineup on the left side of Henrik Sedin and into top line minutes. With the added ice time, increased space on the ice by way of linemate Zack Kassian and Henrik's incredible hockey IQ and passing ability, Raymond has no excuses for not contributing during Daniel's absence.
Zack Kassian (RW)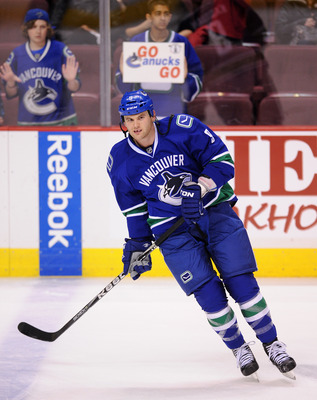 Derek Leung/Getty Images
Much like Mason Raymond, Zack Kassian has replaced Alex Burrows on the Canucks' top line as head coach Alain Vigneault tries out this combination while Daniel Sedin is out of the lineup.
Kassian, the big-ticket returnee in the Cody Hodgson deadline deal with Buffalo, needs to grasp this opportunity and show everyone what he is made of.
This is Kassian's first real opportunity in the NHL to prove his worth, learn from talented players around him and excel at his position. The young Windsor, Ontario native has terrific size and strength and can really grow into his expected power forward role with the increase in ice time he will receive as part of Vancouver's top line.
To date, Kassian has just two points and is a minus-one through 13 games played in a Canucks uniform. With his added minutes, he must help Mason Raymond and Henrik Sedin to put points on the board down the stretch and into the playoffs should Daniel be out for that long a stretch.
Jannik Hansen (RW)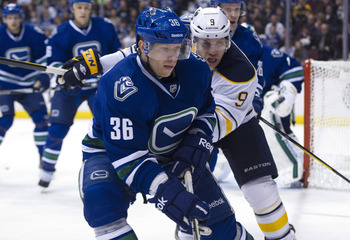 Rich Lam/Getty Images
A lot of the Vancouver Canucks who must step up during Daniel Sedin's time out of the lineup are depth players. That includes Jannik Hansen, who will have to dig deep and capitalize on all and any opportunities he gets during this time period.
Hansen, who is having a career year with 35 points, including 15 goals through 78 games this season, was once a player the Canucks could count on to produce on a more consistent basis among his counterparts, but as of late he has been struggling.
Jannik Hansen is a dynamic enough force, with plenty of speed, puck control and strength for his size that he should be able to handle the pressures of performing during this opportunity. If Hansen and the rest of Vancouver's depth players fail to rise up and aid the Canucks offense, it could be a short postseason for the Northwest Division champs.
Ryan Kesler (C)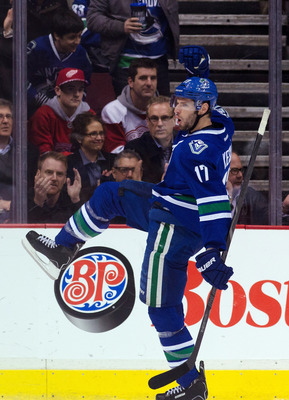 Rich Lam/Getty Images
It's no secret that Ryan Kesler is having a season to forget. Compared to his last two seasons where he posted upwards of 70 points, the 2011 Selke Award winner is on pace for just 50 points in 2012.
The most pressure from the impatient Vancouver fanbase is on Kesler to step his game up—not only in the absence of Daniel Sedin, but in general.
Everyone knows Ryan Kesler has all the ability in the world to score goals, but compared to his 41 goals last year, his slumping 22 goals this year is very disappointing.
Kesler is one of the leaders of the Canucks and apart from Roberto Luongo, no one puts as much pressure on themselves to perform as Kesler does. Perhaps it is this pressure that is holding him back, and if he plays more relaxed he will perform better, or perhaps he just isn't getting the same bounces as last season. Either way, Kesler is a key player to the Canucks success in the long run.
With Daniel Sedin's return at all this season in question, Kesler must figure his game out soon.
Henrik Sedin (C)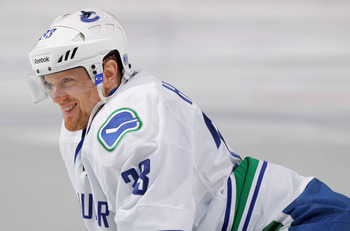 Doug Pensinger/Getty Images
It may seem obvious, but Henrik Sedin is the ultimate piece in the Canucks lineup that must step up during his brother's absence from the team. Luckily for the Canucks, it doesn't seem to faze Hank much when Daniel is out of the lineup long term.
When Daniel missed upwards of 20 games in 2009-10, Henrik stepped into his brother's role and put up 112 points, including 29 goals on the campaign, a career best for Henrik, and he earned himself a Hart Memorial Trophy and the Art Ross Trophy as the NHL's leading scorer.
All the potential to perform is there for the Canucks captain, but it will truly come down to his chemistry with new linemates Zack Kassian and Mason Raymond to determine how he will do without his best friend and brother to pass the puck to and make bewildering plays with.
Henrik has just 73 points this season and will need to significantly improve his game during his brother's absence to keep the Canucks from falling behind.
John Bain is a Bleacher Report Featured Columnist
Follow him on Twitter: @JohnBainSports
Keep Reading

Vancouver Canucks: Like this team?