NCAA Tournament 2012: Ranking Remaining Teams' Chances of Knocking off Kentucky
March 28, 2012

Kevin C. Cox/Getty Images
Let's be honest. The Kentucky Wildcats are the favorites to win the national championship and they have been for a long time.
So it really comes down to who has a shot at beating Kentucky.
Is it Louisville, with its swarming defense? Is it Ohio State, with its inside-outside game of Jared Sullinger and Deshaun Thomas? Or is it Kansas, with its front court of Thomas Robinson and Jeff Withey?
Read on, March Madness fanatics.
3. Louisville
Rick Pitino and the Louisville Cardinals deserve a lot of credit for making it this far in the NCAA tournament. They began their run in the Big East tournament, but they really turned it on come March Madness.
They've used a combination of zone and man coverage to frustrate opponents. When Florida finally broke through against the Cardinals in the Elite Eight, Pitino switched to man coverage in the second half and squashed the Gators' Final Four dreams.
But, the reality is, this is Kentucky we're talking about. They have more talent offensively, and this is one opponent Louisville can't simply limit en route to victory. You limit Kentucky, and you still may give up 80 points. The Cardinals don't have that kind of firepower.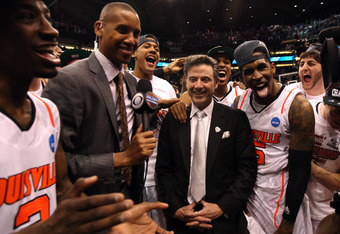 Jamie Squire/Getty Images
2. Ohio State
The popular pick to unseat Kentucky may be Ohio State. The Buckeyes have Jared Sullinger, an underrated point guard in Aaron Craft and Deshaun Thomas, who has been on fire. Also, they have yet to allow an opponent to score over 70 points in the NCAA tournament.
But...
I think the Buckeyes don't have the defensive presence in the paint to limit Kentucky enough. Yes, Craft can disrupt the offense by pressuring freshman point guard Marquis Teague, but that can only go so far. Once Anthony Davis starts getting the ball down low, the Buckeyes don't have a shot-blocker to stop him.
In the same breath, I don't see anyone, including Sullinger and Thomas, getting Davis into foul trouble and that's really what it's about. If Davis stays out of foul trouble, I don't think anyone can beat Kentucky.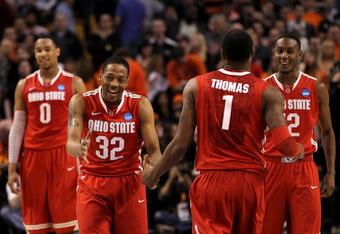 Michael Heiman/Getty Images
1. Kansas
A very unlikely candidate indeed, wouldn't you say?
Kansas wasn't even supposed to reach the Final Four. The Jayhawks were supposed to lose to North Carolina in the Elite Eight.
Not to be. Thomas Robinson played out of his mind (besting both John Henson and Tyler Zeller), Jeff Withey was his usual shot-blocking self and pivotal point guard Tyshawn Taylor stepped up for the first time in the NCAA tournament.
I think Robinson and Withey have the potential to cause problems down low for the Wildcats. Robinson, with his rebounding ability, will be a constant headache for Davis on the glass and he has the explosiveness to get Davis into foul trouble. Withey won't make things easy in the paint. He's averaging 3.5 blocks this season and has 20 blocks in four NCAA tournament games.
And if Taylor can play the way he did against North Carolina, he has the ability to shift the pendulum in Kansas' favor.
I still think Kentucky wins the title, but I'm hoping it will be the Jayhawks that meet the Wildcats in the national championship game.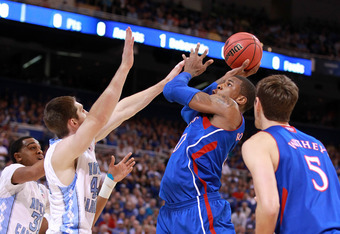 Andy Lyons/Getty Images
Follow me on Twitter. We can talk about March Madness.