In the Lineup Laboratory with Goran Dragic and the New-Look Houston Rockets
March 27, 2012

The Houston Rockets are beginning to get a modicum of league-wide respect, but let's put their recent successes in the proper context:
Houston has now marched into the Western Conference playoff picture by posting a 5-3 record over their last eight games (including games at OKC, at LAC, at Phoenix, vs. LAL and vs. Dallas) without their top two players. The absences of Kyle Lowry and Kevin Martin may not hold the same poetic potency as the crater left by an injured superstar, but the Rockets have nonetheless demonstrated an impressive depth and resilience as they've rallied for a postseason push.
But beneath the rah-rahs and rallying cries lies an interesting message about the Rockets' lineup configurations. We knew that Goran Dragic and Courtney Lee were particularly capable reserves, but would anyone have predicted that the insertion of those two players into the starting lineup would result in a drastic increase in offensive efficiency and, thereby, overall team performance? By the numbers, Houston has simply been far better with Dragic and Lee than they were with Lowry and Martin. Although sample sizes this small have a funny way of skewing otherwise dependable statistical perspectives, in this case, one can trace the roots of the numbers back to easily observable elements.
Despite their remarkable play as of late, it would be silly to insist that Dragic is an altogether superior player to Lowry or that Lee is better than Martin on an individual level. Yet something in the specific synergy of those two reserves has allowed Houston to unlock its offense; when Dragic and Lee are on the floor, along with Luis Scola, Chandler Parsons and Samuel Dalembert, the Rockets offense scores at the ridiculous rate of 117.8 points per 100 possessions, per NBA.com's statistical database. Those five compose Houston's second-most-used lineup this season, and they also rank as one of the Rockets' most effective units overall.
Even with that information in mind, losing Lowry—one of Houston's top perimeter defenders—hurt. Yet the Rockets seem to have found a bit of good luck, in a strange sense, with Martin's ailment; although it's never good to lose quality players from the lineup (nor to applaud injury in any form), Dragic and Martin haven't managed to establish productive on-court chemistry all season long. Rough as it may be to lose Martin as a scorer, his removal from a lineup that would necessarily include Dragic may have actually had a net positive result—if only because Dragic and Lee both benefit from the same freewheeling style.
Under the right circumstances, Martin is an incredibly efficient offensive player, but Kevin McHale's offense has hardly been a perfect fit for his very precise skill set; Martin still works well with Lowry, Scola and many of Houston's mainstays, but in some cases he limits the flow of the offense as a byproduct of manufacturing his own shot. Martin isn't all that similar to the rest of the league's iso-obsessed scorers, but the impact of his self-created play action is often the same—or at least similar enough to create problems for some of the system's greater goals.
Offensive flow can be very particular, and though Martin isn't a disruptive offensive player, he manages to emulate one when he plays with a playmaker of contrasting style. Lowry—both as a different breed of player and an excellent defender to hedge against Martin's weakness on that end—simply makes for a better backcourt partner than Dragic does, for reasons that are largely irrelevant of overall quality. The point, as it often is in basketball, isn't that any one player is better than another. Instead, it's that a particular combination—for whatever reason—creates quality shots or defends more effectively than an alternative grouping. 
It's the difference between this: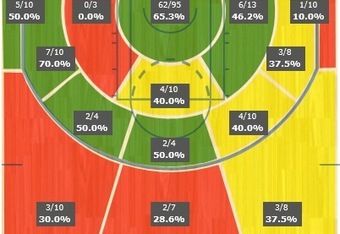 (The shots taken while Dragic, Lee, Dalembert, Scola and Parsons are on the floor, via NBA.com.)
And this: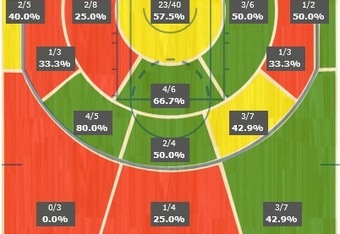 (The shots taken when Martin takes the place of Lee in the same lineup, via NBA.com.)
Courtney Lee isn't better than Kevin Martin. But when Goran Dragic is in the lineup alongside him, together they facilitate an offensive flow that's ultimately more productive than the product of Dragic and Martin's stylistic clash. Substitute Martin for Lee, and the offensive efficiency—along with the proportion of assisted possessions and Houston's effective field goal percentage—takes a jump, and the turnover rate drops. Quality looks are created at the rim by virtue of having a different kind of wing player and a more willing passer, and the shots generally come more easily. 
Some of that is simply because opposing defenses are far more aware of Martin's in-game eccentricities than they are of Lee's or Dragic's (both of whom are fairly difficult to tech against, if only for their amorphous games), but the results stand, regardless. Houston isn't better with Martin out of the game, but Dragic certainly is; there's no indictment of either player hidden among that assertion, but merely the acknowledgement that not all basketball pairings are meant to be.