What's New and Now: The 10 Hottest Viral Sports Videos of the Week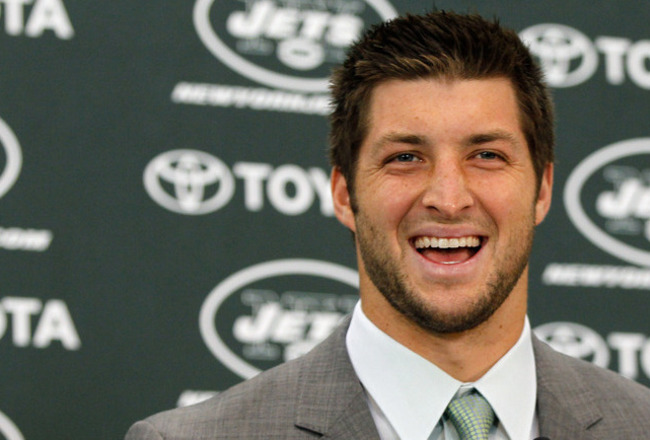 Have you guys been paying attention this week? So much stuff has happened in the world of viral sports videos. I can't believe I have to catch you up on everything.
And by everything, I mean Tebow getting very excited about joining the Jets, two of the worst flops you'll ever see (one of which that may have been a crime) and a guy who can seriously dunk without jumping.
Did that not whet your interest? Fine, what about a baseball coach giving the most NSFW speech in the history of locker-room speeches? Or a full-court swish?
You know what? Let's just get right to the videos.
Tim Tebow Is...What's the Word?
Did everybody watch Tim Tebow's press conference introduction? No? Are you not American?
BuzzFeed.com broke down the 30-minute conference into one minute that pretty much explains everything.
And when Tim Tebow wasn't saying the word "excited," he was playing the press like a fiddle. The man will be president some day.
Jason Smith Tries to Kill Blake Griffin
Even Ed Reed thought that hit was a little hard.
I love how Jason Smith immediately throws his hands up to be like "who me?" Even though an entire stadium of people saw him attempt a murder on the basketball court.
Kimbo Slice Totally Legit Knockout Video!
*Fast-forward to 3:55 for the good stuff*
Yep, totally legit. I don't think this guy took a dive at all.
Not saying that I could stand up while Kimbo Slice punched me in the face repeatedly, but I'm pretty sure I could have stayed up during that last uppercut, which may have grazed the dude's cheek.
For shame, boxing. Normally, you are a sport with high morals and never any shady business. Where did this come from?
Dunking Is Easier When You're Tall, I Guess
They call this the "No Jump Dunk," but this guy's feet are clearly one or two inches off the ground when he dunks. So...there.
Ah, who am I kidding? Jump or no jump, this is just impressive as hell. Bonus points for intimidatingly shaking the rim at the other player while he stands basically flat-footed on the floor.
Dear The Cleveland Browns...
If you've ever had season tickets before, you'll appreciate this video.
If you've never had season tickets before, this will make you feel better about your decision to have never owned season tickets.
On an unrelated note, Mike Polk, Jr. should be way more famous than he is.
Marcus Camby Gets Buckets
It's official, I'm never playing H-O-R-S-E with Marcus Camby.
I don't care if the shot counted or not. It counted in my heart of hearts, and that's truly all that matters.
Floppy Flop Flop Flop
Let's play a quick game of multiple choice "what happened here?"
A. The guy flopped.
B. The guy had a stroke.
C. The guy has the slowest reaction time of any human ever?
D. The opposing player quickly threw a second, invisible basketball afterward that actually caused him to fall down.
The correct answer was probably A, but I bet you watched it again to make sure D wasn't an option.
Daaaaaaad! You're Embarrassing Me!
So this Bernard Tomic guy tried to get his dad removed from the stand because he was being "annoying?" This was an option?
Man, if I would have known that, my little league baseball games would have been so much less stressful.
Brittney Griner Is a Beast
Have you ever seen a woman dunk the ball with that much authority?
Sure, it was on a breakaway, but just look at the way she hangs on the rim and gives a little shake as if to say "not only are we beating you by 30 points, but I just dunked on your a**!"
Insult to injury right there.
This Coach Is Not a Happy Camper
*Warning: NSFW language in the clip*
OK, is your boss gone? Good, grab those headphones and let's take a ride.
My favorite part about this clip is that the pitchers get all of his anger. The hitters can play cards, no big deal, but the pitchers need to check themselves before they wreck themselves.
Jeez, you would have thought he caught them drinking beer and eating fried chicken.
Keep Reading