NCAA Final Four 2012 Prediction: Why Kentucky Is Too Talented Not to Win Tourney
March 27, 2012

Streeter Lecka/Getty Images
Yes, Denny Green, the Kentucky Wildcats are who we thought they were—a supremely talented team with few (if any) weaknesses, capable of not only reaching the Final Four, but also emerging victorious from the NCAA Tournament.
And no, no one, least of all head coach John Calipari, is about to let 'em off the hook before they cut down the nets at the Superdome on Monday.
Of course, the intervening steps between now and then won't be easy ones, not even for the Big Blue Machine that Coach Cal has erected in Lexington this season.
Saturday's Bluegrass State battle with Louisville will test UK's mettle on the biggest stage in college basketball.
The 'Cats managed to fend off the Cardinals at Rupp Arena on New Year's Eve, 69-62, thanks to an enormous edge in rebounding (49-28) and free-throw shooting (43-27).
Still, Rick Pitino's squad managed to keep it close throughout, despite hitting just 4-of-18 three-point attempts, with its tough, pressing defense, which limited the 'Cats to 29.8 percent shooting and forced 20 turnovers to fuel the fast break.
Not to mention a 30-point outburst by Russ Smith.
But as much as familiarity may breed contempt—just as it could if Kentucky takes on Kansas for the national title in yet another high-stakes final between Calipari and Bill Self—it hardly guarantees success for the Cards and failure for the 'Cats.
Because for all the NBA-caliber talent Cal has at his disposal, what makes UK so great is how hard the likes of Anthony Davis, Michael Kidd-Gilchrist, Terrence Jones, Marquis Teague and Doron Lamb play for their coach.
A rare feat, to be sure, considering how many loaded squads seem to fall short of expectations each year on account of a lackadaisical effort.
Just ask Scott Drew about his Baylor Bears this season, or Self about his Jayhawks from 2011.
Talent is necessary to win at the highest level of college hoops, but it's far from sufficient in and of itself.
Luck plays a part, but those teams that have talent and give their all seem to get the lion's share of the good fortune floating around the basketball ether.
Not that Big Blue is necessarily "lucky" to be in the Big Easy this week.
Advancing in the Big Dance by an average of nearly 14 points per game, as Kentucky has, is much more a matter of skill and dominance than of luck.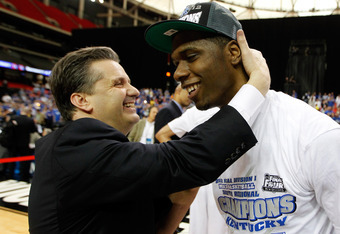 Streeter Lecka/Getty Images
Dominance borne out of Kentucky's collection of big, athletic players with the blue-chip pedigrees and the hard-nosed mindsets to match.
So, realistically, the biggest surprise that could possibly come out of this weekend's Final Four would be if Coach Cal's Goliath were felled by a lesser Goliath at some point, or if Kentucky's combination of size, speed, skill, experience and relentless tenacity were somehow not enough to fend off Louisville, Ohio State and/or Kansas on the way to the school's eighth national title.
If, after all that, the Wildcats weren't who we thought they were—champions.