West Virginia Football: 10 Ways to Tell You're a Mountaineers Fan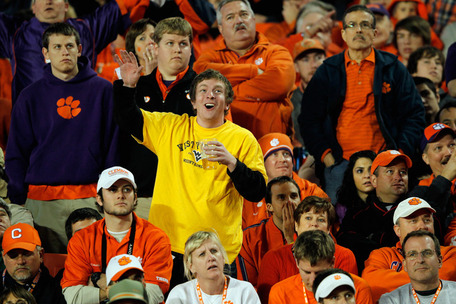 There are very few people in this world who haphazardly support West Virginia Mountaineers football.
You're either a diehard, blue-and-gold-blooded maniac, or you celebrate December 1st, 2007, as the greatest day in the history of mankind.
No matter how you look at it, West Virginia fans love their Mountaineers, and they yearn for September and the kickoff of a new college football season.
You don't have to be a native West Virginian to swear undying allegiance to the flying WV.
Being a West Virginia fan transcends simple things like lines on a map. There are specific, time-tested nuances that true Mountaineers universally appreciate.
Here are ten ways you know you're a Mountaineer fan.
Begin Slideshow

»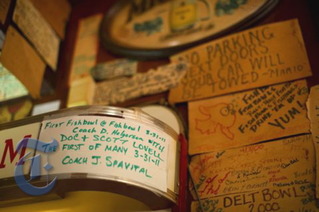 On 704 Richwood Avenue, there lies an unassuming cinder block building sporting a pair of red and green bar lights.
If you didn't know what it was, you'd drive right by it.
But seeing as how you're a true West Virginia fan, you immediately stop the car, walk in, pull up a seat and wrap your hands around an over-sized, frosted glass (the bar's namesake).
There's nothing not to love about the Fishbowl.
Originally an old confectionery and lunch counter, the Fishbowl has been a staple for Mountaineer fans for the last five decades.
The walls are plastered with (often drunkenly) scribbled notes from fans and passers-through, alike. The beer is always cold, the draft selection is better than you would expect and the food is hearty, greasy pub fare.
In short, Mario's is all character, and is a cornerstone of the local scene.
For the diehards, it's a quintessential game-day meetup spot, and for the newly initiated Mountaineer fan, a fishbowl and a plate of wings are an essential rite of passage.
While Tyler Bitancurt's field goal in the waning seconds of the South Florida game from this past year was instrumental in pushing the Mountaineers into the Orange Bowl, it is Bill McKenzie's game winner against Pitt in 1975 that stands as the most famous kick in West Virginia history.
Then No. 20 Pittsburgh was battling a West Virginia team that was on the rise with a young, up-and-coming head coach named Bobby Bowden.
It was in the dying seconds of the game that Bill McKenzie, a sophomore with ice in his veins, stepped up to drill a 38-yarder as time expired.
Bobby Bowden, to this day, describes it as one of the most memorable wins of his career, as it propelled the Mountaineers to a Peach Bowl win over NC State and a No. 20 AP rating.
You love it because it's a classic upset victory over Pitt. You love it because it's vintage Bobby Bowden before he went and built an empire in Tallahassee. You love it because it's Jack Fleming with the call, and because it was on a cold Autumn day in the old Mountaineer Field.
This happened well before my time, but for my father's generation, this was a defining moment for a particular era of Mountaineer football and helped set the tone for numerous Backyard Brawl games down the road.
Of all the jaw-dropping plays that would emerge from the Rich Rodriguez era in Morgantown, Quincy Wilson's run against Miami in 2003 was perhaps the first and most memorable of them all.
West Virginia had just come off a devastating defeat at the hands of Maryland the week before, and hit the road to take on No. 3 Miami.
It was a game West Virginia had no business being in.
Yet late in the fourth quarter, Miami was clinging to a four-point lead when running back Quincy Wilson caught a screen pass from Rasheed Marshall and proceeded to jet down the sideline.
Current NFL safety Brandon Meriweather, attempting to tackle Wilson out of bounds, was instead bowled over and trampled by the big back as he crossed into the end-zone.
The college football world did a double-take.
West Virginia would go on to lose, thanks in large part to a circus catch by Miami tight end Kellen Winslow, Jr. in the game's final seconds. Still, the statement was made.
Quincy Wilson's run was a proclamation that this spread-option iteration of the Mountaineers could play in big games.
"The Run" foreshadowed the great times to come in Morgantown and has become a fixture of pre-game highlight reels at Milan Puskar.
It's a simple rule: When they play it on the stadium JumboTron, you cheer. Loudly.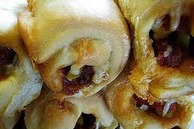 "state food" material
Right in line with a beer at Mario's or Gibbie's is the heavenly experience of tearing through the much-adored pepperoni roll.
As is status quo in West Virginia, the pepperoni roll's beauty lies in its simplicity.
Freshly baked dough, filled with an immodest helping of cheese and fresh, spicy pepperoni, rolled up and baked.
Hot or cold, sauce or no sauce, extra toppings or not—it doesn't matter.
There is something reassuring—even gratifying—about ripping into a bag of bakery fresh rolls and taking your first bite of one.
As any true Mountaineer knows, all is good and right in the world as you stand triumphantly on Law School hill overlooking the stadium, beer in one hand and and a pepperoni roll (or two) in the other.
There's no right or wrong place to procure pepperoni rolls. Virtually every corner stop, bakery or Italian eatery in Morgantown sells them.
Simple, hearty, delicious—all things a Mountaineer can appreciate.
Pepperoni rolls are more than food—they're the gospel, and we're damn proud of it.
Bill Stewart left a very mixed and sordid legacy at West Virginia.
Everything from an inept offensive scheme, to an inability to win more than nine games, to the scandal that saw him booted out of the head coach's office, made him an infamous figure in the annals of West Virginia football.
But on January 8th, 2008, as the Mountaineers prepared to take the field against Oklahoma in the Fiesta Bowl, Bill Stewart stepped up to the plate and gave perhaps the most important pre-game speech in Mountaineer history.
This was a team that lost to an unranked Pittsburgh team and missed out on the national title game. This was a team that had to watch its coach bolt for Michigan just days after the monumental defeat.
This was a West Virginia team that had everything counting against them as they suited up to take the field against the hugely-favored Sooners.
Bill Stewart's speech, however, proved to be infectious and ultimately inspiring.
The 2008 Fiesta Bowl win was one of the greatest upsets of the BCS era and one of the greatest interim head-coaching performances in bowl history.
That game and Stewart's legacy are still much debated, but regardless of what your feelings are towards Bill Stewart, this speech should still give you chills.
It's almost stylish to pick against West Virginia these days, especially in bowl games.
Why? Who really knows? West Virginia is a perennial underdog, and we in Mountaineer nation are actually fine with that.
Our BCS bowl record says we are.
Of all the ESPN pundits and television personalities that like to pick against us though, Mark May might just be the chief instigator.
As a Redskins fan, I'm grateful for Mark May's days in the burgundy and gold. But I'll never forget where he spent his college days, and that's what truly matters.
Mark was a Pitt Panther from 1977-1980. He was an Outland Trophy winner, a consensus All-American and had his No. 73 jersey retired by Pittsburgh.
Mark May IS Pitt football.
So it shouldn't be any surprise that whenever Mark May gets to air his pre-game predictions, they are always in some way, shape or form slanted against West Virginia.
The Orange Bowl footage above proves it, but it's also worth mentioning that even people outside of the college football community can't stand Mark May.
At least ESPN has the wherewithal to pair him on the desk with Mountain State native Lou Holtz in order to take a little of the zing out of his Hatorade.
ESPN may have given Mark May a microphone, but TV remotes all come with mute buttons. For that, God, we thank you.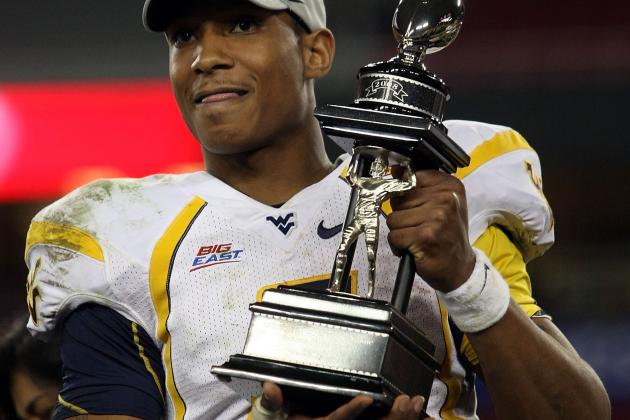 Stephen Dunn/Getty Images

Pat White is a legend in Morgantown.
I can't spell that out any more clearly.
He's not only the all-time leader in rushing yards for a quarterback, he's also the only quarterback to start and win four bowl games in Division I college football history.
Pat White's time at West Virginia marked a golden era in Morgantown.
From 2005-2008, White led one of the most prolific spread-rushing attacks in the nation and helped established one of the most dynamic backfield threats of the decade by working in tandem with Steve Slaton, Owen Schmitt and, later on, the indomitable Noel Devine.
He was also a quiet, classy personality that seemed to reserve his fiery moments for when he was on the field.
It's a shame, then, that despite all his talent and leadership abilities he was unable to make any sort of impact on the professional level.
The hit by Ike Taylor that effectively ended his career is something I shudder to think about.
Regardless, Pat White was Morgantown's treasure. He had everything that his forebear Major Harris had, only he had more of it.
Pat White's legacy looms large and mountainous in Morgantown, and he will always be celebrated as one of the greatest players to don the blue and gold.
No. 5 should have been retired years ago.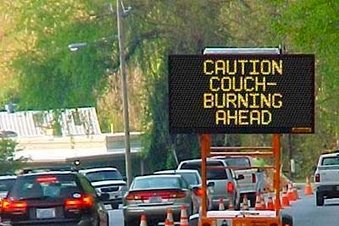 In the countless nights after home wins in Morgantown, the revelry along Grant and High Street and in Sunnyside eventually crosses the point of no return.
It is on the other side of this figurative threshold that the desire to grab, douse and ignite a couch can be found.
If you're like me, you've had to explain to someone less versed in Mountaineer traditions what it's like to burn a couch or be around a cornucopia of brilliantly glowing sofas.
It's amazing, is what it is.
There is no one origin story as to how it all got started. I've heard it was a result of a loss to Penn State back in the late 60's and some fraternity members decided to take things to the next level.
I've heard it was the result of a big win over Virginia Tech in 2003.
The truth is that no one really knows, and no one truly cares.
The University has cracked down on the practice in recent years and has gone as far as handing out felony charges for anyone caught participating in couch burning to any extent.
Does that mean less charred sofa frames ornamenting the hills of Morgantown come Sunday morning? Probably.
Does that mean it will stop altogether? Most likely not.
There's a Mountaineer in all of us, though, that is always ready to sacrifice a love seat in the name of Mountain Momma and for that, I'm sure she's appreciative.
Dana Holgorsen arrived in Morgantown with monstrous—nay, mountainous—expectations.
After nine games and two head-scratching losses, West Virginia found itself on the field in SunLife Stadium lining up against a heavily favored Clemson Tigers squad.
Four quarters, nine records and 589 yards of offense later, West Virginia had a few things to smile about.
Before this game, West Virginia had been participants in two other BCS games and had won each of them as underdogs. While the weight of those victories were substantial, they were nothing compared to the megaton statement that the Mountaineers made against Clemson.
The blowout win signaled a new, bright era for Mountaineer football and the ascension of Dana Holgorsen as one of the nation's most promising young head coaches.
It also validated the bold, fearless moves of university AD Oliver Luck, who still had people doubting whether his promoting Holgorsen and duking it out with the Big East would pay off in the long run.
Most importantly, it reassured Mountaineers everywhere that being the underdog means nothing when you believe in your team and they, in turn, feel empowered by their fans.
The 2012 Orange Bowl was simply the most dazzling win in school history and helped reestablish West Virginia at the forefront of the nation's elite teams.
Just like the billboard says, 70 isn't just the speed limit on I-79.
It represents a much bigger picture.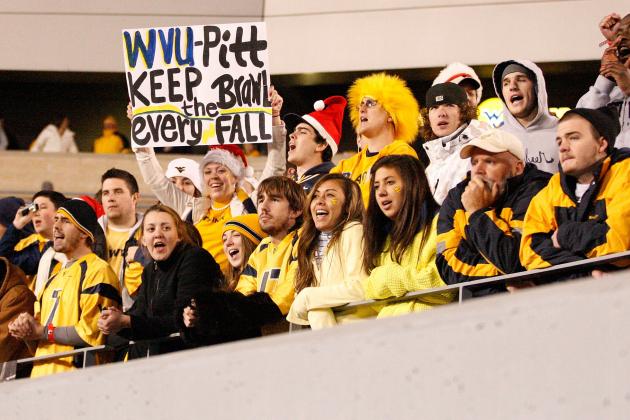 Jared Wickerham/Getty Images

If there's any quality more sovereign to Mountaineer nation and its fans than an undying hatred for all things Pitt, then I've yet to see it.
I'm of the belief that great teams have great rivalries. The type of rivalries that span decades and are always bitter, knock-down-drag-out affairs regardless of either team's record.
That's West Virginia and Pitt.
Sadly, 2011 was the last season that West Virginia will play Pitt for the foreseeable future, as the Mountaineers move to the Big 12 and Pitt heads to the ACC to focus on basketball (we think).
After 104 meetings and countless memorable games, it's tough to see the Backyard Brawl go to the wayside.
While it's good to know that West Virginia had the last laugh and that we are going on to bigger and better, the pain of December 1st, 2007, will forever rest heavy in our hearts.
It's that sense of retribution that will always keep Pitt fresh in our minds even as West Virginia rides the team plane to Austin, Ames and Stillwater.
The conferences might have changed, but Morgantown and Pittsburgh will always be separated by 78 short miles of highway.
There simply is no one we'd rather play, no one we'd rather beat and no one that we'd rather root against.
"Beat Pitt," now and always.