NCAA Bracket 2012: Breaking Down Kansas' Run to Final Four
March 27, 2012

Andy Lyons/Getty Images
NCAA brackets annually account for more paper shredder accidents than banking; Kansas' Final Four tear in 2012 has assuredly been the culprit for a handful of them. From garbage-time dunks to "junk defense," here is a breakdown of the Kansas Jayhawks' route to New Orleans: 
Second Round: Kansas vs. Detroit
Following Selection Sunday, college basketball analysts were frequently asked which high-seed should be put on "upset alert." A substantial number of them shared the same response: "Kansas".
When asked his thoughts pertaining to the proclamation of Detroit's Eli Holman that Thomas Robinson should be more worried about him than vice versa, the Player of the Year candidate amusingly smiled and replied, "We'll see Friday."
At the 15-minute mark in the first half, the aforementioned analysts looked like prophets, with Kansas clinging to a 25-21 lead. However, a Robinson steal leading to a rim-rattling dunk with 4:13 remaining in the first half snowballed into a meltdown for Detroit. A 29-6 Kansas run allowed Bill Self to confidently exorcise any mid-major demons that lingered from years past.
Thomas Robinson's 16 points and 13 rebounds ultimately contributed to a 65-50 Kansas blowout.
Third Round: Kansas vs. Purdue
After edging out a three-point upset over No. 7-seeded Saint Mary's, Purdue's Robbie Hummel extinguished every spark of Kansas' offense by raining threes in the first half. The Boilermakers' fifth-year senior amassed 22 points on 7-of-8 shooting to secure a 36-30 Purdue lead going into halftime.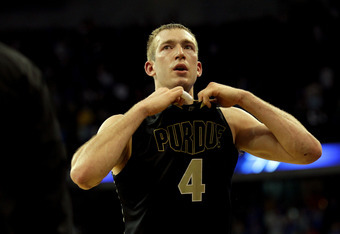 Doug Pensinger/Getty Images
Attempting to counter Hummel's haymakers, Self's Jayhawks emerged from the locker room unveiling their seldom-used zone defense. Purdue would stretch its lead to 10 before Kansas tightened the clamps defensively. Following Elijah Johnson's go-ahead layup, Tyshawn Taylor slammed it home in transition to create a 63-60 deficit for the Boilermakers.
The Purdue faithful's season boiled down to the 2.5 seconds glaring at them from the scoreboard, when Ryne Smith's three-pointer kissed the glass and thudded off of the rim.
Bill Self's decision to employ zone eventually paid dividends, forcing Purdue to shoot 22.2 percent in the second half. 
Sweet 16: Kansas vs. North Carolina State
North Carolina State had defeated six of their last seven opponents—including tournament wins against 11th-seeded San Diego State and third-seeded Georgetown—before squaring off against the Jayhawks.
The Wolfpack dashed out of the gates with a 13-3 bombardment behind sophomore forward C.J. Leslie. However, Jeff Withey's seven first-half blocks (10 overall) mitigated North Carolina State's quick-strike offense, helping Kansas to pull within one point at the half.
Kansas' first possession reclaimed the lead with an Elijah Johnson three-pointer, but the junior's biggest shot was yet to come. The Wolfpack clawed their way back to a one-point deficit with 13.5 seconds left on the clock. Tyshawn Taylor inbounded the ball to Johnson, who put his shoes on Cinderella's glass slipper with a layup and subsequently ended the Wolfpack's fairy tale.
Although the Jayhawks only made two baskets outside of four feet the entire game, they would live to fight another day after a last-second heave by Richard Howell fell short.
60-57 Kansas.
Elite Eight: Kansas vs. North Carolina
Headlines-o'-plenty: North Carolina's starting PG suffered from a fractured wrist, Roy Williams sought redemption against his former team, while the second- and third-winningest programs in NCAA men's basketball history were clashing for a trip to the Final Four.
Get all of that?
If there hadn't been intermissions, the frantic pace of an action-packed 47-47 first half would have left Dick Vitale grasping for an inhaler.
Although Tar Heel fans were hoping that Kendall Marshall would suit up, they didn't wish for a tie to match the Third Team All-American's attire. Marshall's expressions were painted with anguish as Kansas surprisingly switched to a triangle-and-two defense, daring freshman Stilman White to make fools of them.
Bill Self's gutsy gamble cashed in, as North Carolina failed to find the basket within the final four minutes of the game.
Kansas locked in its 13th Final Four appearance with the 80-67 victory.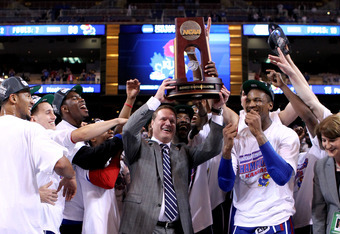 Andy Lyons/Getty Images
For the second time in his head coaching career, Roy Williams stood on the uninviting end of a deafening "Rock Chalk, Jayhawk" chant.