2012 NFL Free Agents: Best Wide Receivers on the Market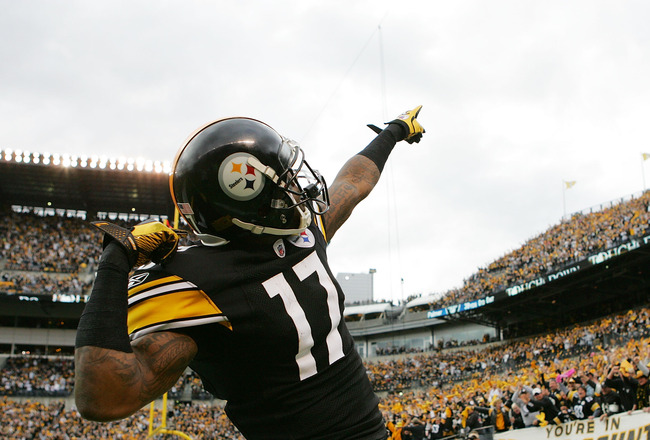 Jared Wickerham/Getty Images
Even with Vincent Jackson, Marques Colston, Mario Manningham, Brandon Lloyd and Robert Meachem all signing new contracts already and Wes Welker, Dwayne Bowe and DeSean Jackson being hit with the franchise tag by their respective teams, there are still plenty of serviceable wide receivers on the market who can help many teams.
Mike Wallace, surprisingly, has not re-signed with the Pittsburgh Steelers as of yet and remains a restricted free agent. He is only going into his fourth season and is a legitimate deep threat many teams crave. Last season, Wallace averaged 16.6 yards per catch.
The obvious problem remains the amount of money in the contract. Especially after Tampa Bay gave 29-year-old Jackson a five-year, $55.55 million contract with $26 million guaranteed. The New Orleans Saints gave Colston a five-year, $40 million deal with $19 million guaranteed.
Even Laurent Robinson, the Dallas Cowboys' third receiver from last season got paid, signing a five-year, $32.5 million contract with $14 million guaranteed with the Jacksonville Jaguars, solidifying that the wide receiver marked has gone mad.
Here are the seven best receivers left on the market.
Legedu Naanee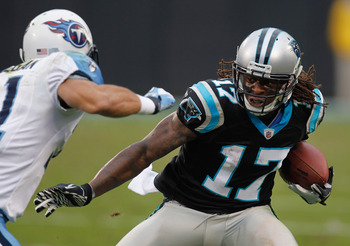 Streeter Lecka/Getty Images
Legedu Naanee was drafted by the San Diego Chargers in the fifth round of the 2007 draft.
After being used very sparingly by the Chargers for four seasons, he spent last season with the Carolina Panthers.
Naanee was able to break through with the Panthers, as Cam Newton made him his third-most targeted receiver.
With more of the offensive focus on Naanee, he recorded career highs in receptions, with 44, and receiving yards, with 467.
At 6'2'', 220 lbs., Naanee has the size. He also is relatively young to the receiver position since he had to transition from being a QB at Boise State.
Jerricho Cotchery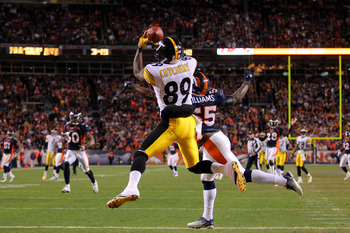 Doug Pensinger/Getty Images
During his career with the New York Jets, Jerricho Cotchery had a three-year stretch in which he had 82, 82 and 71 receptions, respectively.
Since then, he has dealt with nagging injuries and Jets management bringing in Santonio Holmes and Braylon Edwards in to surpass him on the depth chart.
At the beginning of last season, Cotchery asked the Jets for his release. He landed with the Pittsburgh Steelers.
Because of receivers Mike Wallace, Antonio Brown and Emmanuel Sanders ahead of him, Cotchery appeared in only 13 games while having just 16 receptions for 237 yards and two touchdowns.
Cotchery could be a solid No. 2 or 3 receiver for a team, as he is a great route-runner with good hands that has deceptive speed to get separation. He is also a high-character locker room guy.
Plaxico Burress
Rob Carr/Getty Images
Even at 34 years old and 6'5'', 232 lbs., Plaxico Burress proved he can still be a weapon.
While he may have lost some of the speed he had earlier in his career, his game never relied on speed.
Burress is a good route-runner who used size to exploit matchups with smaller cornerbacks.
Last season with the New York Jets, he wasn't overly productive in terms of receptions and receiving yards, 45 catches for 612 yards, but he made his presence felt as a red-zone target.
Burress led the Jets with eight TD receptions while having a coming-out game against the San Diego Chargers in the Week 7 in which he had four catches for 25 yards. Three of the catches were for touchdowns.
Roy Williams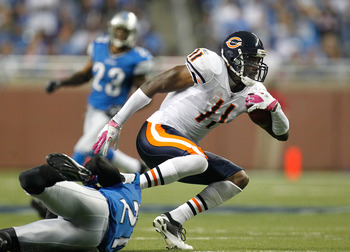 Gregory Shamus/Getty Images
While Roy Williams never reached the potential that comes with being the seventh overall pick, he is still a decent No. 2 or No. 3 receiver.
His best season was in 2006, when he had a career high in receptions with 82 and receiving yards with 1,310.
Since then, Williams has disappointed in his stints with Dallas and Chicago.
In the three previous seasons, he has failed to have at least 40 receptions.
Williams still remains 6'3'' and 215 lbs. and is capable of making a game-changing catch because of the mismatch he presents.
Still, he is just as capable of making a big drop. Which is why he is still on the market.
Jerome Simpson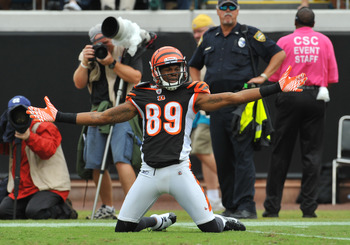 Al Messerschmidt/Getty Images
Last season Jerome Simpson had 50 receptions for 725 yards and four touchdowns as the Cincinnati Bengals No. 2 receiver.
At 6'2'' and 192 lbs., he has good size. Simpson also has decent speed and has developed into a good route-runner over his four-year career.
While he is not an elite or No. 1 receiver, Simpson could be a great No. 2 on a lot of teams in the league.
Braylon Edwards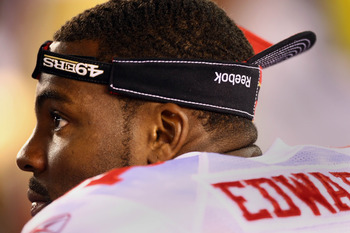 Donald Miralle/Getty Images
Braylon Edwards can do it all. He has good downfield speed and great body control. He can read coverages and locate passing lanes. He can also make the occasional phenomenal catch.
The problem is his inconsistency.
Since being drafted with the third overall pick by the Cleveland Browns in 2005, Edwards has only had two seasons with 60 or more receptions and one season with at least 1,000 receiving yards.
When he was traded to the New York Jets, it looked like he had found a home. In 2010, Edwards led the Jets in receptions, receiving yards and receiving TDs. He also proved to be a legitimate deep threat as he averaged 17.1 yards per catch.
In spite of a very productive 2010 season, New York decided not to re-sign Edwards and go with Plaxico Burress instead.
Edwards then signed a short-term deal with the San Francisco 49ers to have an injury-plagued season, appearing in only nine games before being released.
Mike Wallace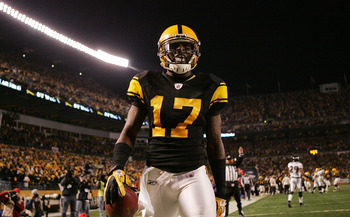 Jared Wickerham/Getty Images
Mike Wallace is the best receiver left on the market waiting for his big payday or a franchise tag.
Last season, he led the Pittsburgh Steelers in receptions, receiving yards and receiving TDs.
His 72 receptions, 1,193 receiving yards and eight touchdowns earned him a Pro Bowl nod last season.
Wallace has only been in the league three years and is still just 25 years old.
At just 6'0'', he has only adequate size. But what he lacks in height he makes up for with his explosive speed.
At the combine, in 2009, Wallace ran a 4.33 40-yard dash. Just in case you don't know, that is damn fast.
Keep Reading