WrestleMania 28: Why Daniel Bryan Should Retain the World Title Sunday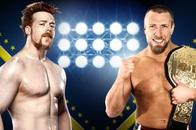 This Sunday's WrestleMania XXVIII features one of the most stacked cards in the history of the event. John Cena will do battle with The Rock in the main event. Triple H and The Undertaker will end an era inside Hell in a Cell. CM Punk and Chris Jericho will take their personal animosity to a new level in their bout for the WWE Championship. And Teddy Long and John Laurinaitis will battle for supremacy, each leading a team of six into a match to determine the general manager of both Raw and Smackdown.
Because of those four matches, at least one or two of them guaranteed to satisfy both the live and viewing audiences, there is little need for WWE to switch the World Heavyweight Championship this Sunday evening.
When Daniel Bryan won the title at the December TLC pay-per-view, the result of cashing in his Money in the Bank briefcase on a momentarily stunned Big Show, many figured it would be only a matter of time before he lost the title. Some figured Big Show would take it back from him at Royal Rumble. Others figured Randy Orton would wrest it away at the Elimination Chamber event.
Whoever and wherever was irrelevant. The only thing that was for certain was that there was no way Daniel Bryan would enter Miami for WrestleMania 28 as the World Heavyweight Champion.
A funny thing happened along the way, something writers can never really be sure of: Daniel Bryan got over. Now portraying an obnoxious heel, Bryan over-celebrated, rubbing his reign as champion in the face of anyone he approached. Screaming "YES!" and proclaiming himself "WORLD HEAVYWEIGHT CHAMPION," he got under the skin of the same fans who once respected him as one of the greatest in-ring talents in the world.
Then he added the shy, misguided AJ as his girlfriend, and the couple adopted a "Randy Savage-Miss Elizabeth, circa 1986" dynamic. She is naïve and has no trouble professing her love for Bryan but does not quite understand that the feeling is not mutual. Bryan uses her to prop himself up, to interfere in his matches and prevent a loss.
Who Will Leave Wrestlemania 28 As World Heavyweight Champion?
Since the heel turn earlier this year and the addition of AJ to his act shortly thereafter, Daniel Bryan has become one of the most entertaining, most over characters in the company. Smart marks still appreciate his ability between the ropes, and the casual fan despises his new-found personality and the way he uses AJ to his benefit. Bryan has been on a roll thus far in 2012, and a loss at WrestleMania XXVIII would stall all of his momentum.
Smackdown has been trying for over a year to find a heel champion fans wanted to see beat up, that they wanted to see lose a championship. Alberto Del Rio was not that guy. Christian was not that guy. Mark Henry most definitely was not that guy.
All three of those men had small pockets of the audience who thought they were cool, who cheered for them over their babyface opponents. Daniel Bryan is the first heel whom the audience boos, heavily, because they want to see someone shut him up.
Why risk losing that heat just to give Sheamus the World Heavyweight Championship at an event so stacked with high-profile matches that the title win would likely be forgotten anyway?
With Extreme Rules rapidly approaching just after WrestleMania, WWE should seriously consider allowing Bryan to retain the title until then. At a stand-alone show—with no featured attractions such as The Rock, Triple H and Undertaker—fans are more likely to remember a World Heavyweight Championship change. It would mean more at a show featuring Bryan-Sheamus as one of the top two shows on the card than it would with it shuffled down the line, the fourth or fifth most important at WrestleMania.
WrestleMania should be the event that creates moments and legacies that will live on in the annals of time. It has earned the nickname of the "Showcase of the Immortals." This year's show will be loaded with enough of those moments to fill an encyclopedia.
For the sake of one of the company's most entertaining characters, this is the one case where Vince McMahon must refrain from switching a championship just to create a photo opportunity and instead think about the long-term of his company.
This article is
What is the duplicate article?
Why is this article offensive?
Where is this article plagiarized from?
Why is this article poorly edited?