NHL Trade Scenarios: 9 Prospects Teams Will Target in Offseason Deals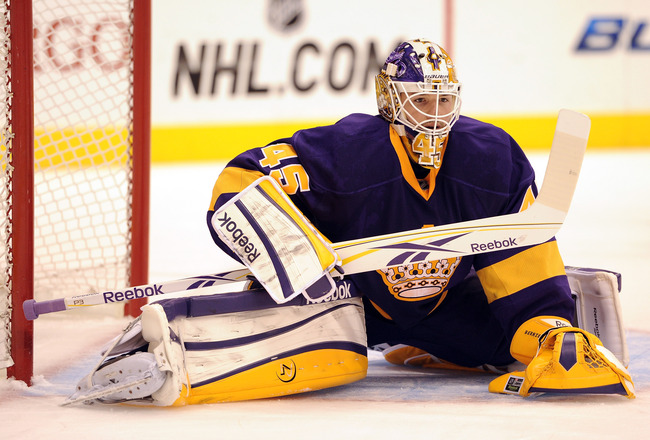 Harry How/Getty Images
As the NHL's regular season comes to a screeching halt, and the offseason is just around the corner, teams have begun identifying the prospects within other organizations that could be of trade interest this summer.
In many cases, teams stocked with depth end up burying their young players behind more established veterans, ultimately making them expendable. Other times, players who were once considered to be promising prospects are put on the trading block because a change of scenery would be in the best interest of both the player and the club, for one reason or another.
For teams with little to no cap space heading into the offseason, dealing a more expensive established veteran in return for a prospect that projects to be an everyday NHL player is a gamble worth taking, because it gives an organization both the opportunity to develop the player in question, while also freeing up valuable cap space that can be used in the future.
With that in mind, here's a look at nine prospects that teams should be targeting this offseason.
9. Petr Mrazek—Detroit Red Wings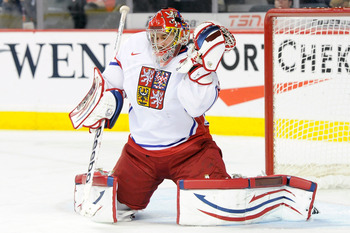 Richard Wolowicz/Getty Images
As the 141st overall selection in the 2010 NHL entry draft, Petr Mrazek wasn't exactly considered a top-flight goaltending prospect during his draft year. But since then his stock has skyrocketed.
At the 2012 World Junior Championships, Mrazek lead the Czech Republic to a shocking upset victory over the tournament favorite in Team USA. He earned both a spot on the tournament All-Star team and Best Goaltender honors along the way.
Now in his third season with the Ottawa 67's of the OHL, Mrazek has displayed an ability to steal games in dramatic fashion, and during the World Juniors, he appeared to gain confidence in each game he played.
With the Red Wings' crease appearing to be crowded for the foreseeable future, Mrazek could be deemed expendable, and if he is, he'd be well worth the risk for another general manager.
8. Max Friberg—Anaheim Ducks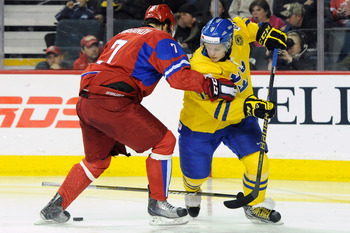 Richard Wolowicz/Getty Images
The 2012 World Junior Championships served as a coming out party for Sweden's Max Friberg, who took the tournament by storm by collecting nine goals and 11 points in just six games en route to a Gold Medal and a selection on the WJC's All-Star Team.
Though the 5'10" Friberg was drafted in the fifth round of last year's draft, his stock has risen since his stunning performance at the WJC, and he's become an intriguing prospect that many teams will be watching this summer.
This season, Friberg played in the Swedish Elite League, and performed reasonably well, notching 10 points for Timra. Though he may be a year or two away from playing in the NHL, Friberg demonstrated a level of offensive potential that is rarely seen in a 19-year-old. If Anaheim is intent on improving their defense corps, he could be used as an attractive piece of trade bait.
7. Gustav Nyquist—Detroit Red Wings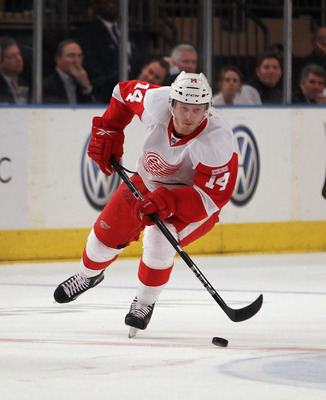 Bruce Bennett/Getty Images
Considering how well the Red Wings have drafted over the course of the last two decades, it's not surprising that another one of Detroit's prospects made this list.
A former standout at the University of Maine, Gustav Nyquist has lived up to expectations during his first professional season, as he notched 58 points in 56 games with Grand Rapids of the AHL. Since being called up to the Wings, the 22-year-old Swede has posted a respectable seven points in 12 games.
The Wings' penchant for plucking hidden gems out of Sweden in the later rounds of the draft continued with the selection of Nyquist, who may turn out to be an absolute steal of a fourth-rounder. Unfortunately, the Wings won't have much room among their top-nine unless they opt to let both Tomas Holmstrom and Jiri Hudler walk as free agents, so Nyquist may be made available.
6. Jordan Caron—Boston Bruins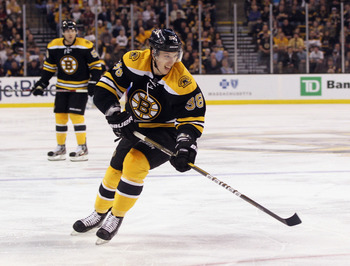 Bruce Bennett/Getty Images
Though it's always thrilling to join a reigning Stanley Cup champion, it makes things all that more difficult for a prospect to make an impact at the NHL level due to the depth, skill and experience that teams with playoff success usually carry.
Jordan Caron, the Boston Bruins' first-round pick in 2009, has had a difficult time cracking the Bruins' lineup on a consistent basis. In his first two professional seasons, Caron has notched just 10 goals in 65 NHL games and 16 goals in 64 AHL games.
The Bruins are stacked up front, and will be for the next few seasons, so Caron will be facing long odds to crack Boston's top-nine.
5. Chris Kreider—New York Rangers
Tom Szczerbowski/Getty Images
One of the stumbling blocks the New York Rangers encountered when the team attempted to acquire franchise winger Rick Nash from the Columbus Blue Jackets was the fact that the Jackets' general manager wanted the Rangers to include their top pick from the 2009 NHL draft in Chris Kreider, in addition to Brandon Dubinsky and a healthy package of prospects and picks.
That the Rangers were hesitant to deal Kreider speaks volumes about how highly the organization thinks of the 20-year-old Boston College forward, but it doesn't mean the power forward is untouchable.
Kreider has been a force with the Eagles this year, posting 43 points in 42 games, and there's reason to believe he could be ready to turn pro once Boston College's season is over. If the Rangers are preparing to take another run at acquiring Nash, look for Kreider to be part of the package the Blue Jackets request as compensation, because he's one of the most promising big men in college hockey.
4. Magnus Paajarvi—Edmonton Oilers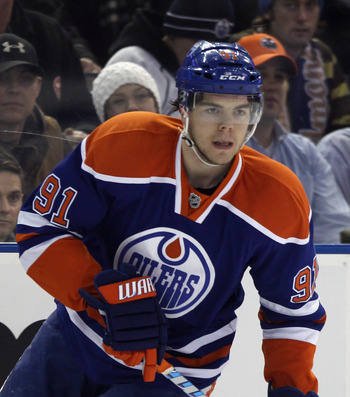 Bruce Bennett/Getty Images
When Edmonton took Swedish phenom Magnus Paajarvi (formerly known as Paajarvi-Svensson) with the 10th overall pick in 2009, the Oilers thought they were getting a forward in the mold of countrymen Peter Forsberg or Henrik Zetterberg—an offensive player who could contribute at both ends of the ice.
After a solid rookie campaign that saw Paajarvi post 15 goals and 34 points with the Oilers, the 20-year-old regressed considerably this season and was consequently sent down to the AHL after notching just three points through 25 games.
Though he's been called up and has been slightly better with five points in 16 games since then, Paajarvi may be in need of a change in scenery. With Ryan Nugent-Hopkins, Jordan Eberle and Taylor Hall all having emerged as NHL stars, Paajarvi could be peddled for more immediate help, specifically on the back end.
He still obviously has the potential to be a force at the NHL level, but he'll need to regain his confidence in order to get back on that track.
3. Brett Connelly—Tampa Bay Lightning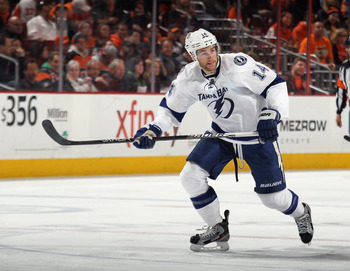 Bruce Bennett/Getty Images
After shocking the rest of the NHL by marching to within a game of the 2011 Stanley Cup Finals, the Tampa Bay Lightning have come crashing down to earth in 2011-12, and are a good bet to miss the postseason entirely this year.
Though the Lightning have scored the sixth most goals in the Eastern Conference heading into Wednesday's games, they're dead last in goals against, which would suggest that general manager Steve Yzerman's top priority will be to add some depth on the back end this summer.
One of the team's best prospects is forward Brett Connolly, who went sixth overall in 2010, and he could be used as the centerpiece in a deal to acquire either a promising young goaltender or a veteran presence on the blue line. Though Connolly has posted just 15 points in 62 games this season, the 19-year-old has displayed the skill and poise that made him such a highly coveted prospect despite his struggles with injuries in his draft year.
Teams in search of a high-end offensive prospect will certainly consider Connolly, though Yzerman won't let him go unless a very enticing offer surfaces.
2. Jonathan Bernier—Los Angeles Kings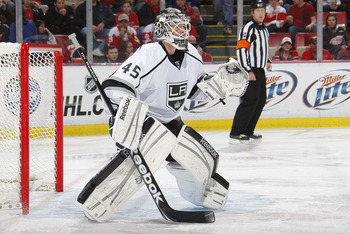 Dave Sandford/Getty Images
Most of the top players from the 2006 NHL entry draft have already gone on to become standouts for their respective teams, but Jonathan Bernier hasn't been able to realize his true potential as a goaltender because the Los Angeles Kings already have a young star in between the pipes in Jonathan Quick.
Despite Bernier's impressive 2.33 goals against average and .917 save percentage, the Kings' franchise netminder is without a doubt Quick. And at 23, Bernier has yet to appear in more than 25 games in a single season. Now in his fourth full professional season, Bernier has demonstrated that he's capable of being a No. 1 goaltender, and there are a number of teams that will be interested in acquiring the Laval native this summer.
Though the Kings aren't actively shopping Bernier, it wouldn't be in the club's or player's best interest to keep him around if he won't ever be given the chance to earn the starting job. So general manager Dean Lombardi will at least be listening to offers in the offseason, and if the right one comes along, Bernier will be a starting goalie in the NHL this time next year.
1. Cory Schneider—Vancouver Canucks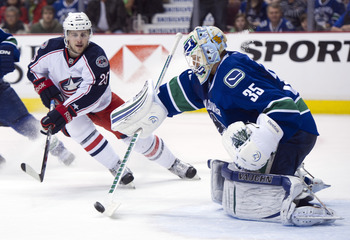 Rich Lam/Getty Images
One of the most polarizing debates of the 2011 Stanley Cup Finals was which goaltender Vancouver Canucks head coach Alain Vigneault should have picked to start the last three games of the series.
Granted, franchise goaltender Roberto Luongo had been the team's rock all season, but after giving up 11 goals in Games 3 and 4 of the series, many believed that the Canucks would have a better chance of winning with Cory Schneider, the team's first-rounder from 2004, in net.
Schneider has been one of the most highly coveted goaltenders in the league, and at 26, he's grown eager to prove he's worthy of all the hype. After posting a sparkling 16-4-2 record a year ago, Schneider has continued to perform admirably in the backup role for the Canucks, as he's notched career bests in goals against average (2.04) and save percentage (.934).
Going forward, the Canucks seem to be intent on keeping Luongo as the team's go-to guy in net, which means they'll have to deal Schneider sooner or later, as the young American is simply too good to be relegated to mop-up duty and less than 30 starts a season much longer.
Keep Reading