SEC Football: Ranking the SEC Running Backs
March 27, 2012

Streeter Lecka/Getty Images
Every Tuesday, The SEC Blog will rank the top player at each position for each team in the SEC. This week, we countdown the running backs.
14. CoShik Williams, Kentucky
Williams will be locked in a battle with Josh Clemons (who's out with a knee injury) later this summer. For now though, the job is his.  Last year filling in for Clemons, Williams tallied 486 yards and three touchdowns. Not bad for an offense that was—let's just say—lackluster.
13. Marlin Lane, Tennessee
Lane is Tennessee's leading returning rusher, but with 280 yards last season, that's not saying much. Rushing was a problem for the Vols a year ago, but a veteran offensive line and new offensive line coach Sam Pittman should help Lane, Rajion Neal or whoever wins the job transition to the starters role.
12. Mike Gillislee, Florida
Gillislee has averaged 307 yards per season during his three years in Gainesville, but now he's being counted on to be the every-down running back. He's locked in a position battle with Omarius Hines and Mack Brown for the starting running back role this spring.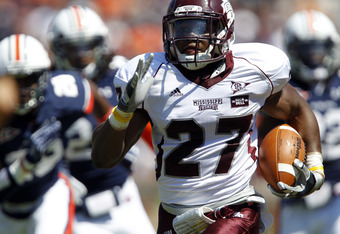 Butch Dill/Getty Images
11. LaDarius Perkins, Mississippi State
As Vick Ballard's primary backup and Mississippi State's changeup back last season, Perkins averaged 4.9 yards per carry and scored two rushing touchdowns. He possesses electric speed and can catch the ball out of the backfield. It's not necessarily Perkins' job though. Several Bulldogs will be vying for the top spot on the depth chart including sophomore Nick Griffin.
10. Jeff Scott, Ole Miss
Scott split time with Brandon Bolden in the Rebels' backfield last season and managed to finish the season as the Rebels' leading rusher, with 529 yards and six touchdowns. Much like Perkins, Scott is a burner that can take it to the house from any point on the field.
9. Eddie Lacy, Alabama
Here's a guy that could fly up the charts. Lacy has been a career backup in Tuscaloosa, but being a backup to Mark Ingram and Trent Richardson isn't exactly an insult. He's never been the workhorse and hasn't ever really been "1B" like Richardson was in his first two years either. He'll have to prove it on the field before we vault him to Heisman status.
8. Christine Michael, Texas A&M
Michael was the forgotten man in College Station the last few years, but now that he's "the man" again, he will make an impact as the Aggies transition to the SEC. He has rushed for 2,374 yards and 22 touchdowns in his first three years and was voted as the 2009 Big 12 Offensive Freshman of the Year. Michael has suffered knee injuries in each of the last two seasons, so durability is a question.
7. Isaiah Crowell, Georgia
Crowell matched the hype in his freshman season, rushing for 850 yards and five touchdowns en route to AP SEC Freshman of the Year honors. Nagging injuries and attitude issues have soured Bulldog nation on the former hot-shot recruit, but a new attitude in spring ball has head coach Mark Richt signing his praises—for now.
6. Henry Josey, Missouri
Josey rushed for 1,168 yards and nine touchdowns as a sophomore in 2011, before his season was cut short by a knee injury in November. More stunning than his total yards is the stellar 8.1 yards per carry that he averaged. His status for the season is unknown, but when he's healthy, he's a stud.
5. Onterio McCalebb, Auburn
In three years as a changeup running back, McCalebb has posted 2,016 yards, 488 receiving yards and 21 total touchdowns. In place of then-suspended Michael Dyer in the 2011 Chick-Fil-A Bowl, McCalebb accounted for 162 total yards and two touchdowns. At 5'10", 170 pounds, his durability is a question, but his versatility is not.
4. Spencer Ware, LSU
Ware finished second on the team last season behind Michael Ford with 707 rushing yards and eight touchdowns. He has cut some weight this season and hopes to regain the role as feature running back in LSU's offense. The problem for Ware is that Les Miles—The Mad Hatter—apparently figured out how to clone him, so there's four legit running backs on LSU's roster to split the carries.
3. Zac Stacy, Vanderbilt
Nobody talks about Zac Stacy, but we should be. Stacy rushed for 1,193 yards and 14 touchdowns a year ago and was the driving force behind Vanderbilt's run to a bowl game. He gets lost in obscurity in Nashville, but if head coach James Franklin can get his team to take the next step, Stacy will be the primary reason why.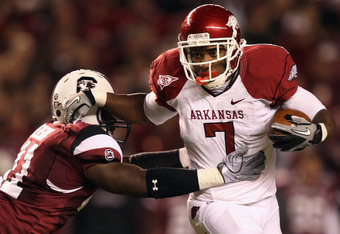 Streeter Lecka/Getty Images
2. Knile Davis, Arkansas
Davis led all SEC running backs in rushing in 2010 with 1,322 yards and 13 touchdowns. A broken ankle ended his 2011 season before it started, but Davis is healthy again and looking to get the Hogs back to the BCS. He's every bit the Heisman contender that Marcus Lattimore is, and in reality, he should be "1B" on this list.
1. Marcus Lattimore, South Carolina
Lattimore finished seventh in the SEC in rushing in 2011 with 818 yards and 10 touchdowns—in seven games. This was on the heels of his true freshman season which saw him rush for 1,197 yards and 17 touchdowns. If all goes as planned, Lattimore will be in New York City in December for the Heisman Trophy ceremony.