"In a season full of ups and downs, there has been a lot to talk about," an unnamed voice informs us in a tone laced in dramatic intent and urgency.
"From the sublime to the ridiculous, it's been a testing campaign at times for everyone at (Arsenal Football) club. But the recent haircut displayed by Carl Jenkinson has provided the latest test of character for Arsene Wenger's side."
Allay your fears, control your worries. This is all in good fun.
Arsenal.com decided to have a bit of fun with the latest controversial issue to sweep through London Colney—right-back Carl Jenkinson's wide Mohican hairdo.
While the razor-thin sides are now growing back in, just weeks ago during the match against Tottenham (Feb. 26), Jenkinson sported a look that would make any unprepared spectator gasp in bewilderment.
"It's getting out of control," close friend and teammate Alex Oxlade-Chamberlain said. "I tell him over and over again...he goes from like, 'skin-it' to some sort of rat-tail on the back of his head."
The former Southampton winger's advice went unheeded by Jenkinson.
Sensing a disturbance, now even club captain Robin van Persie is lending his aid to this bizarre controversy.
"We all want to help him. We have the slight feeling that this hair is a bad influence on the team. Or maybe it's a good influence, since everyone is having a laugh."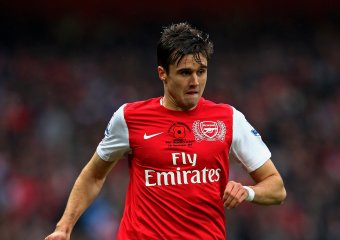 Julian Finney/Getty Images
Uncowed, Jenkinson soldiers on, perhaps at the expense of his friendship with Oxlade-Chamberlain and the respect of his captain.
Time will tell what implications this recent row will have on the football club.
Is this real life?
Who would have envisioned back in September, when Arsenal sat mired in 15th place in the EPL standings after gruesome losses to Liverpool, Manchester United and Blackburn that we'd ever get to the point in the season where mockumentaries poking fun at fissures and divisions within the side would make the front page of the club's official website?
I didn't.
It is a testament to the club's stirring form of late—they've won seven league matches in a row and embarked upon a blistering run from fifth place into third—that we now are witness to a detoxifying air of relaxation permeating the air around the Emirates Stadium.
Overtaking your bitter rival in the league standings will do that. (After defeating Everton 1-0 last Wednesday, Arsenal overtook Tottenham and now sit three points clear after Spurs' 0-0 draw to Chelsea on Saturday.)
Now, Arsenal players are fielding questions about hairdos instead of missing out on Champions League football next term. It must be a welcome relief.
That doesn't for a minute mean that the club are letting their guard down, though. No, even after the 3-0 victory over Aston Villa on Saturday, Arsene Wenger urged caution over complacency, noting that there are still eight league matches to be played.
To find the light, you must first come out of darkness. Arsenal have every right to have a laugh given how trying their season has been. To be where they'd been back in the early portions of the season (and even as recently as February) would have broken most players.
But they've shown a remarkable resiliency, perhaps aided and abetted by the jocular nature shown in that video. This is a team with players who genuinely seem to get on with each other.
It's why Oxlade-Chamberlain and van Persie can have a laugh at Jenkinson's expense without him bearing any resentment. It's all in good fun.
That attitude is breeding a singular sort of success at the moment.
What other club would show that kind of video? It speaks to how much fun Arsenal are having at the moment.
Let's hop on and enjoy the ride.