UNC Basketball: Tar Heels' James McAdoo Will Shine in Bigger Role Next Season
March 27, 2012

Streeter Lecka/Getty Images
While teammates like Harrison Barnes, John Henson and Tyler Zeller stood out amongst the North Carolina Tar Heels this past season, James Michael McAdoo came up big enough in the NCAA tournament to prove that he could be the real deal in 2012.
The team will be likely losing the previously three mentioned to the 2012 NBA draft, which would create a nice opening at the forward position for next season.
Given he is just a freshman, McAdoo will be given a chance to shine in his sophomore season, and he could have a chance to make some real noise given more opportunities.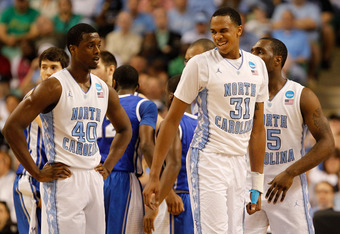 Streeter Lecka/Getty Images
Before Henson went down with a wrist injury in the team's ACC tournament game against the Maryland Terrapins, McAdoo was hardly ever given a chance to play significant minutes.
He would get some nice time here and there, but never enough to make a big enough impact on the game to prove he could contribute to the team.
His best game of the regular season came against Nicholls State on December 19. In that game, McAdoo scored 14 points in 17 minutes while also grabbing seven rebounds. Sure, it wasn't a great team, but he made the most of his opportunity.
When Henson went down, McAdoo was given a big opportunity against the Terrapins. In 29 minutes, he scored 14 points while grabbing eight boards. They were nothing amazing, but still solid numbers for a guy who didn't exactly play those minutes all season long.
His numbers were less encouraging against the North Carolina State Wolfpack and Florida State Seminoles in the tournament, as he scored just 13 points in a combined 55 minutes of game time.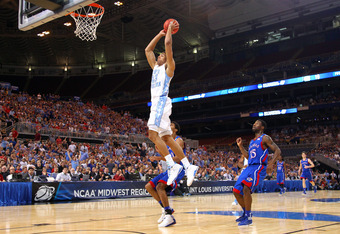 Dilip Vishwanat/Getty Images
The NCAA tournament was a similar roller coaster.
In the team's first game against Vermont, McAdoo scored a season-high 17 points while collecting six rebounds. They were much more impressive numbers than what he had in the previous two matchups, but once again this was a poor team.
McAdoo didn't play as well against Creighton in the third round, as he scored just nine points on 4-of-8 from the floor. Perhaps if he had been given more opportunities, he would have been able to shine. But that certainly can't be determined.
The team's fourth-round game against Ohio was tough for McAdoo, as Henson returned to the lineup and took up significant minutes. Even in an overtime game, he played just 11 minutes, but scored six points as he made both of his shots from the floor.
As it was seen, McAdoo constantly played to the opportunity, but he continued to struggle against the superior teams.
He finally broke that trend, and perhaps took his first step towards a successful future with his performance against the Kansas Jayhawks in the team's Elite Eight loss. In that game, McAdoo got in for 19 minutes, as he dropped 15 points as he went 6-of-8 from the floor.
It was a promising showing from the freshman, and quite possibly opened the door for him to truly succeed under coach Roy Williams in 2012.
The opportunity should be his for the taking, of course pending the decisions of Henson and Barnes, but with both likely leaning towards the draft, McAdoo will be given the shot to start after how well he did in Henson's absence.
His pending future all lies on their decisions. If things go the way many expect, McAdoo should be ready to shine in 2012.