Boston Red Sox Should Consider Re-Signing LH Reliever Trever Miller
March 27, 2012

Over the past week or so, rumblings out of the Red Sox camp suggest they are still in the market for an inexpensive left-handed arm for the bullpen.
Last week, Nick Cafardo of the Boston Globe tweeted, "With less than desirable lefty reliever options the Red Sox are monitoring the Mike Gonzales market."
Monday's news that the Cubs released lefty Trever Miller causes me to beat the drum again for the Red Sox to re-sign him.
I was bullish on Miller at the end of last season, suggesting that the Red Sox keep him as they make their offseason adjustments:
Most Red Sox fans hardly noticed the acquisition of the 38-year-old veteran who signed minor league deal in August after being released by Toronto.
I think this free agent has a chance to be a pleasant surprise, and may well be worth a one-year deal. For his career, he has held lefties to a .226 batting average. From 2007 to 2010, that number was .188. 
During that time Miller led the majors, allowing only 19 percent of inherited runners to score (24 of 125).
However, Boston did not make him an offer, and Miller signed a minor league free-agent deal with Chicago in January.
On the surface, the 38-year-old southpaw's release seemed inevitable, since he had allowed seven runs (five earned) over 8.1 innings this spring. However, as Doug Padilla of ESPN Chicago points out, "Aside from one rough outing when he gave up five runs in an inning on March 17 against the Texas Rangers, Miller had delivered a solid spring. Seven of his eight outings were scoreless."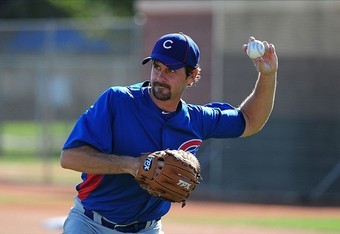 In another posting at the beginning of March, Padilla passes on a story of how impressed 29-year-old pitcher Andy Sonnanstine was of Miller's "obvious fitness level."
"[Sonnanstine] gave me a new title this year," Miller said. "He said, 'You're a young kid's worst nightmare because you are in impeccable shape, you can run for days, you work really hard in the weight room.' So they have no excuses."
Cubs manager (and former Red Sox coach) Dale Sveum told Padilla, "He's the ultimate professional. He came in in phenomenal shape and he's throwing the ball well."
Given the shape Miller's in, why would Boston not prefer Miller to Mike Gonzales, who underwent knee surgery in October and has a long history of arm problems?
Both have been elite left-handed relievers. Gonzales, five years younger than Miller, is more of a power pitcher, having averaged 10.3 strikeouts per nine innings for his career. That is second among all active lefties, according to Aaron Gleeman of HardBallTalk.com.
"His control can be shaky and it's understandable that teams were unwilling to offer him a multi-year deal as a free agent," writes Gleeman, who believes Gonzalez, if healthy, is capable of getting high-leverage outs.
His career stats show that he has almost equal success versus righties, which does give him an advantage over Miller, who is strictly a LOOGY (Lefty One-Out GuY) and should only be used as such. Miller has not performed nearly as well against right-handed hitters, allowing a batting average of .293 along with a high number of walks and hits per innings pitched.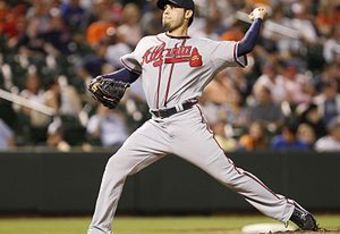 However, I view Miller as the lesser risk on a one-year minor league deal, as Gonzales has been seeking a multi-year major league contract.
Miller posted a 3.80 ERA in 21.1 innings for the Cardinals, Blue Jays and Red Sox in 2011. He started the season in St. Louis, faltered in a few outings, and was traded to Toronto in the Edwin Jackson/Octavio Dotel deal. 
He signed with Boston after the Blue Jays released him.
Miller is in the top 100 all time in pitching appearances with 694. A first round-pick of the Tigers in 1991, he's been around, as have most LOOGYs. The Cubs are his 10th team, not including two stints each with the Astros, Blue Jays and Rays. And a 2001 pit stop with the PawSox...
For you trivia buffs, Miller holds the major-league record for most consecutive appearances without a decision. He pitched in 76 games with a 0-0 record in 2007 with the Astros, shattering Scott Alfred's mark of 48 set in Tampa in 1998.
The streak continued until Aug. 3, 2008, when Miller, then with Tampa, won a decision against the Detroit Tigers, ending his streak at a record 121 decision-less games.