WrestleMania 28 Results: Kelly Kelly & Maria Menounos Beat Beth Phoenix & Eve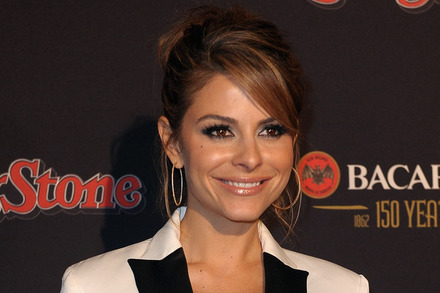 In the annual celebrity match at WrestleMania, it was the team of Kelly Kelly and Maria Menounos defeating Beth Phoenix and Eve on Sunday night.
The divas were really put in a no-win situation with so much more going on, but Maria Menounos at least tried to sell her participation in this match. She is actually a really good athlete, and her Dancing With the Stars training likely helped prepare her for a wrestling match.
Kelly Kelly made her triumphant return to the wrestling stage. She was getting pushed hard for a long time, but either creative ran out of ideas for her or just realized that she wasn't a good wrestler, because she has been M.I.A. for the longest time.
Sure, she did "matches" here and there on Raw, but nothing substantial. All it took was a few changes to the women's match at WrestleMania to get her a spot on the card.
Then, not only did she get to appear at WrestleMania, but she actually got to walk away with her hand raised.
What Is The Bigger Coup For Maria Menounos?
For Beth Phoenix and Eve, it will be interesting to see where they go after this.
Phoenix seems to be just biding her time until Kharma returns to take the divas championship—let's hope that happens sooner rather than later, though given everything Kharma has been through, you can understand why wrestling is not the first thing on her mind.
Eve has been mired in that awful angle with Zack Ryder. If this match gets us farther away from that, then this was a huge success for WWE.
Of course, it's entirely possible that Vince McMahon wasn't even paying attention to this match and will forget there was a divas match on this show.
Either way, at least Maria Menounos and Kelly Kelly got their chance to shine at WrestleMania 28 on Sunday night.
Check back for more on the WWE as it comes, and check out Bleacher Report's Wrestling Page to get your fill of the WWE. For more WWE talk, check out Ring Rust Radio for all of the hot topics you just can't miss.
This article is
What is the duplicate article?
Why is this article offensive?
Where is this article plagiarized from?
Why is this article poorly edited?