Jeremy Lin and the New York Knicks Can Learn from Last Year's Miami Heat
March 26, 2012

Drew Hallowell/Getty Images
Jeremy Lin is a Harvard graduate, so he must have known that the New York Knicks were better than their last six games under Mike D'Antoni (six consecutive losses).
He also must have realized that his Knicks weren't as good as their 5-0 stretch under Mike Woodson would imply.
So Jeremy Lin, you might not need to read on.
But for all the New York Knicks fans out there, you might want to look to last year's Miami Heat as a road map for what may come for the Knicks.
"It's only one game," Miami Heat star Dwyane Wade said after the Heat lost its home opener last year.  "Sorry if everyone thought we were going to go 82-0. It just ain't happening."
No one actually thought his Heat would win 82 games, but ESPN thought the Heat might win 72.  ESPN.com unveiled a "Heat Index" that featured the Chase for 72 as one of its features.
The team that looked unbeatable on paper then stumbled out of the gates to a 9-8 record.
Yahoo Contributor Mark Hawkins had this to say at that juncture:
"So far this season, it appears that James and Wade are simply taking turns attacking the defense while the other one stands on the perimeter and watches. This approach has been good enough for them to amass a 7-1 record against teams below .500, but it has led them to an abysmal 2-7 record against teams above .500."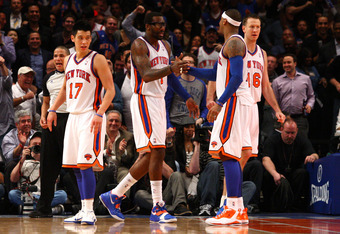 Chris Chambers/Getty Images
This is eerily similar to the point I made in an earlier article about this year's Knicks: They win against losing teams, and lose against winning teams.
In the midst of a six-game losing streak under D'Antoni, some called for the removal of Lin from the starting lineup. 
Up to that point, Jeremy Lin, Amar'e Stoudemire and Carmelo Anthony had played seven games to a 2-5 record.  I called for at least 10 more games for the trio to work together.
While Mike D'Antoni did not survive the skid with his job intact, Jeremy Lin did.  Now, Lin, Stoudemire and Anthony have logged 17 games together, matching the 17 that last year's Heat played to a 9-8 record.
After starting off 2-5, the Knicks improved to a record of 8-9.
Their record against sub-.500 teams during that span: 4-3
Their record against winning teams during that span: 4-6
It is important to note that since Woodson took over and the Knicks have suddenly found defense and rebounding to be important, they have gone 3-0 against winning teams.
Is an 8-9 record anything to be proud of?
No.
But last year's Heat, after struggling through the first 17 games, finally began to gel and won 21 of their next 22 games, with their only loss being to the eventual champion Dallas Mavericks.
Knicks fans have reason for hope.
Yet this year's Knicks only have 17 games remaining to secure a playoff spot.  They also face 10 teams with winning records.
If they can improve to 10-7 during this set of 17 games (reasonable expectation: 6-1 versus sub-.500 teams, 4-6 versus teams with winning records), the New York Knicks playoff position could drastically improve.
They sit only three games behind the Division Leader Philadelphia 76ers,and catching them would give the Knicks home field advantage in the first round.
The 76ers have gone 7-10 over their last 17 games.
10 games ago, the New York Knicks looked dead and all but buried.  Today, they have a legitimate shot to have home field advantage.
What a difference a handful of games can make - a handful like the 17 games the Knicks have remaining.