LSU Football: 10 Ways You Know You're a Tigers Fan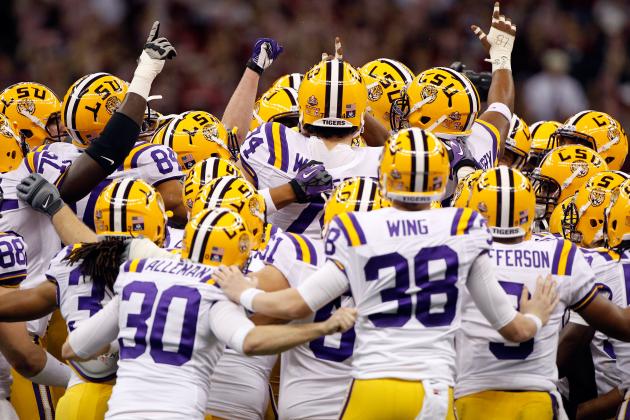 Chris Graythen/Getty Images

Every college sports program has their fair share of die hard fans, those who follow the team day-and-night and know about every bit of news that comes about with the program.
But how do we go about separating those die-hard fans from the everyday casual fan?
Well, that answer will be different for every team, but when it comes to LSU football fans, there are a few key things that stand out and makes everyone know just how serious of a fan you really are.
Let's have some fun here and break down 10 different ways you know you are a true LSU Tigers fan.
Bleacher Report Style!
Begin Slideshow

»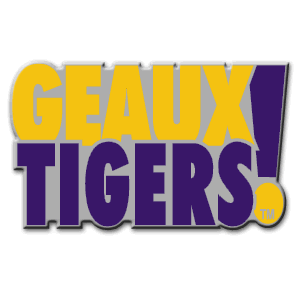 Anyone who is a true LSU football fan knows for a fact that when it comes to saying "Go Tigers," the proper spelling is "Geaux Tigers."
This comes from the french/cajun character of South Louisiana, which is where the Louisiana State University is located, in the city of Baton Rouge.
If you find yourself commonly spelling "Geaux" instead of "Go" in everyday life, not related to LSU sports, then you know this team has a true special place in your heart.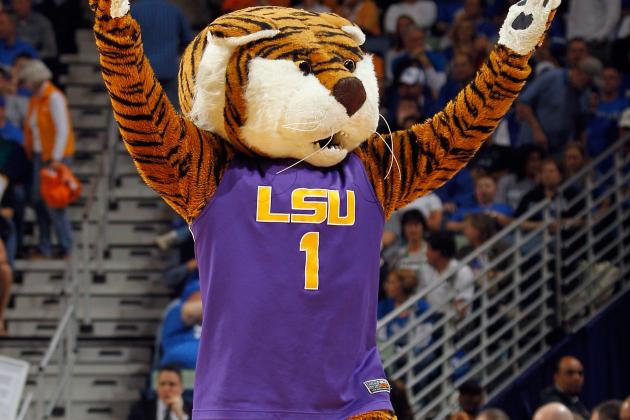 Chris Graythen/Getty Images

Every college sports fan knows the name of the most well-known team mascots across the country.
Wisconsin has Bucky Badger, Ohio State has Brutus and Michigan State has Sparty. But the common college football fan doesn't know anything about LSU's mascot, outside of the fact that he is a Tiger.
Leave that to the die-hard LSU fans, who all know that striped mascot is non other than Mike the Tiger.
Don't be surprised to see Mike move his way up the mascot rankings in the near future.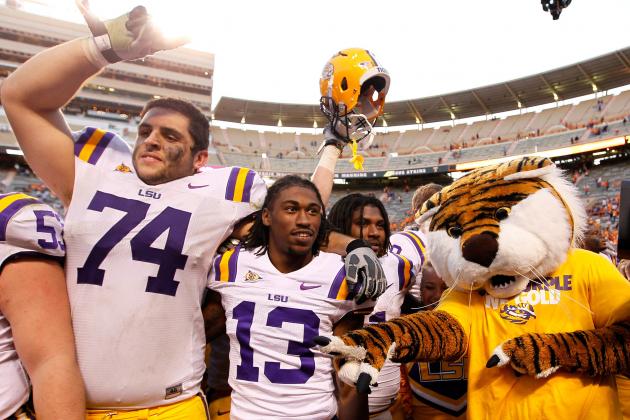 Kevin C. Cox/Getty Images

This could get a little confusing to the outsider looking in, but make no mistake about it, if you are a true LSU Tigers fan, you will follow this to a tee.
Looking at these LSU football uniforms, it it obvious that LSU's colors appear to be purple and yellow, but LSU fans know for a fact that that yellow is referred to as gold.
Purple and Gold stand for LSU sports.
But to take it a whole step further, the actual gold is really known as "canary yellow."
Who ever knew that team colors could be so confusing to an outsider, but make so much sense to those true LSU fans.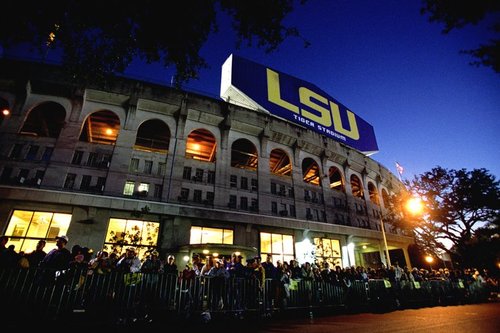 Every college football fan should know that there are two stadiums known as "death valley" in college football.
Clemson and LSU.
But when it comes to the true "Death Valley" in college sports, LSU's Tiger Stadium takes the cake.
If you only refer to your own college stadium as "Death Valley" and dismiss the idea that another one exists, then you know that you're a true LSU Tigers fan.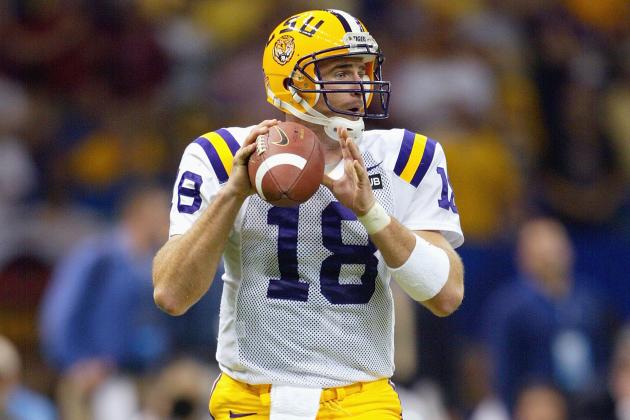 Andy Lyons/Getty Images

JaMarcus Russell had a very successful college career, which led to him being the No. 1 overall pick in the 2007 NFL Draft.
But ask any true die-hard LSU football fan, and they will tell you that Matt Mauk was a better college football quarterback than Russell was.
Of course, Russell had the size of a defensive end, the natural athletic ability of a running back and one of the strongest arms in college football history, which also led to him being the No. 1 pick. But when it comes to better overall quarterbacks in college football, Mauk was the best over the past decade at LSU.
Matt Mauk sported an 18-2 record during his two seasons as the Tigers' starting quarterback, including winning the 2003 National Championship.
But most importantly, and this should seal the deal if there ever was an argument, Mauk's .900 winning percentage at LSU is the best winning percentage of any starting quarterback in the program's storied history.
A true Tigers fan knows who was better of the two.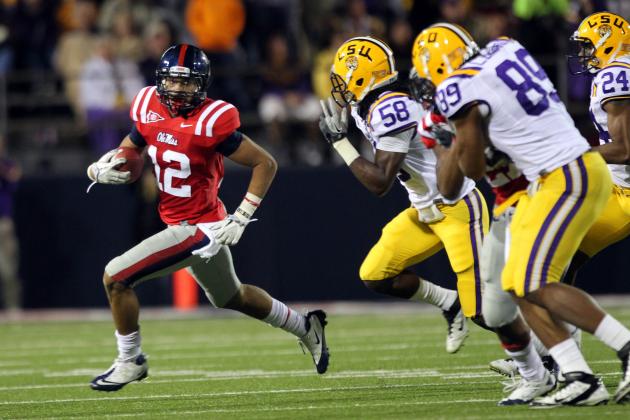 Joe Murphy/Getty Images

To the average college football fan, it has become obvious that LSU and Alabama have developed a great rivalry over the past couple of years, which became especially evident after last year's regular season showdown was deemed as "The Game of the Century."
But despite popular belief, the true LSU die-hard fan knows that traditionally, LSU's biggest rival in sports is Ole' Miss.
Of course, that rivalry hasn't been so competitive over the past couple of year's because Ole Miss has had such a poor athletic program as of late, but no matter how poor one team is at a given time, when it comes to history, LSU and Ole' Miss are true rivalries. And Tulane, despite their poor athletics as well, is a close second.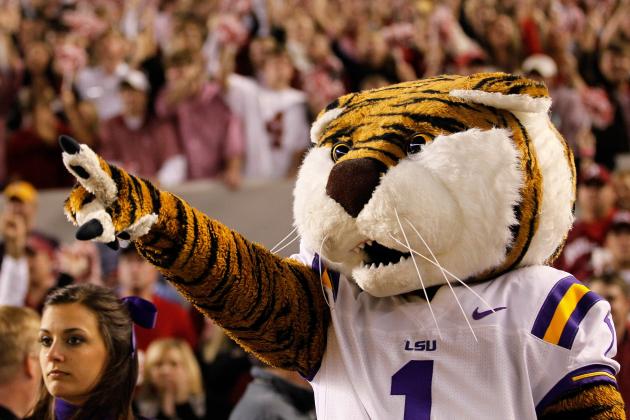 Kevin C. Cox/Getty Images

Every college football programs mascot has a story behind it, but there is no way that the average college football fan knows where Mike the Tiger comes from.
The story here on the LSU nickname is that it came from the Civil War fame of a New Orleans infantry company, the "Tiger Rifles." This group fought in General Robert E. Lee's Army of Northern Virginia and they eventually became known as Louisiana Tigers.
Of course, there are multiple college football programs known as the Tigers, but I doubt that many have a story as unique as this one.
If you know that story, then you are a true LSU sports fanatic.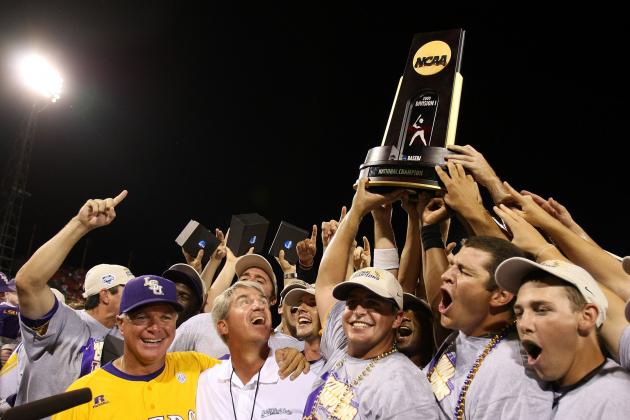 Elsa/Getty Images

LSU has a rich college football history, winning two National Championships in 2003 under Nick Saban and in 2007 under Les Miles.
But a true LSU sports fan knows that the last school National Title did not come in 2007.
The 2008 LSU baseball team had a memorable run in the College World Series, which resulted in a National Championship after defeating Texas in a three-game final.
The victory marked the sixth National Championship for LSU's baseball program.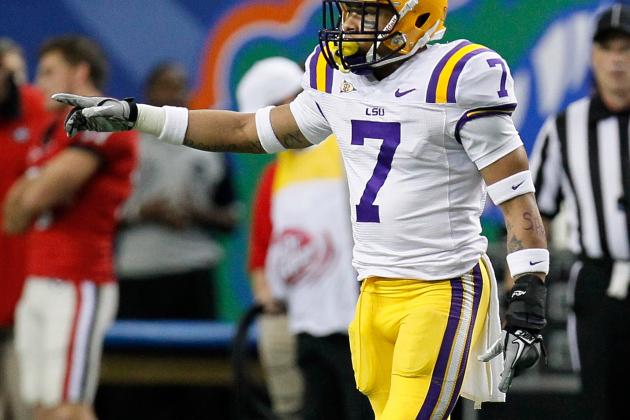 Kevin C. Cox/Getty Images

There wasn't a more popular nickname in all of college football last year than the "Honey Badger."
Tyrann Mathieu, the Tigers' do-it-all cornerback, adopted the nickname after the media began describing his demeanor on the football field similar to that of a honey badger.
He is always chasing down his pray and dosen't let anyone intimidate him, no matter how big or small they may be.
A true LSU football fan has become so accustom to the nickname that when they type "Honey Badger" into a google search, they expect to see Mathieu appear on their search.
Kevin C. Cox/Getty Images

I know I said in an earlier slide that Ole' Miss and Tulane are historically known as LSU's biggest rivals.
But make no mistake about it, after that forgetful showing against Alabama in this past year's National Championship Game, LSU's team, coaches, and fans can not wait until the next time they get to go up against LSU and get their chance at revenge.
In fact, you can go as far as to say that a true LSU football fan has a legitimate countdown going up to the day of when that rematch against Alabama will take place.
That right there is how you know you're a true LSU fan.