Did Vince McMahon 'Book' the Maryland-Texas A&M Sweet Sixteen Match?
March 25, 2012

Mark A. Wallenfang/Getty Images
Maryland and Texas A&M had just delivered a five-star, main event.
Poor St. Bonaventure. They never stood a chance in their East Region semi-final Sunday afternoon.  And it had nothing to do with their opponent, top-seeded Notre Dame.
There was just no way the basketball gods or the NCAA was going to allow the basic WWE script to play out in consecutive games.
The Lady Bonnies were relegated to showing us why God invented the Mercy Rule.
But that first game of the day could have pre-empted Monday Night RAW.
The Lady Terrapins, considered by some pundits this tournament's fifth No. 1 seed, swaggered into the PNC Arena in Raleigh but within four minutes found themselves in a 12-2 hole.
Coach Gary Blair's defending national champions, cast as the "baby-faces" in this age-old morality play, harassed the heavy favorites into five missed shots and four turnovers in their first 10 possessions.
Of course, coach Brenda Frese's Lady Terps had assumed a 2-0 lead, appropriately "working" the crowd like a veteran "heel."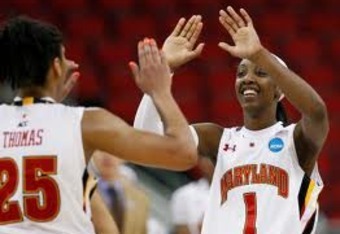 (You gotta "Know Your Role," as the Rock is fond of saying.)
A&M's baby-faced (what else?) freshman sharpshooter Alexia Standish, who'd contributed as many turnovers as field goals in her two initial NCAA outings, displayed a poise and savvy well beyond her years.  In her 40 minutes of work this day, she scored a team high 19 points (on 8 for 14 shooting), dished off four assists against just four turnovers and was heard to utter, in a near-perfect John Cena imitation, "The champ is here!"
(OK, Abacus made that last part up.)
When Standish converted a steal into a break-away lay-up 13 minutes in, the Lady Aggies had fashioned a 36-18 lead through 14 for 23 shooting (61 percent) and a mere four turnovers.
But this one was not booked to be a "squash match."
The size (Tianna Hawkins, Lynetta Kizer) and skill (Laurin Mincy, all-everything Alyssa Thomas) of the ACC champs would be imposed, and the Aggie advantage had shriveled to 44-41 when it was time for the crowd (such as it was, sadly) to descend upon the concession stand.
(Oh, you didn't know that Mr. McMahon subliminally manages your munchies when you attend his shows?  Really?)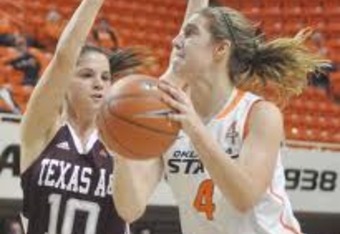 The "baby-faces" appeared to be still in peril as they misplayed their first two second-half possessions into turnovers.
But Ms. Outside, steady Sydney Carter, and Ms. Inside, Kelsey Bone (Crusher?), helped to right the ship.
Seniors Adaora Elonu and Tyra White chipped in some timely shooting, Maryland's stud Thomas picked up her third personal foul early and the "baby-faces" were holding a 72-65 lead at the under 8:00 time-out.
Alas, the Lady Aggies would score only two more points this day, as that aforementioned size and (especially) skill asserted itself.
Super sophomores Mincy and Thomas each scored 21 points and combined for 21 rebounds.  The senior Kizer added 15 points and six boards, all off the offensive glass.
The "Jobbers-to-the-Stars" boasted five double digit scorers, but those dastardly (but only until they are "turned" into "faces," of course) "heels" from College Park both out-shot (48-44 percent) and out-rebounded (39-27) their over-matched but courageous foes.
Texas A&M executed the ultimate "near-fall" in this hard court handicap match.
But like a good "heel" champion (Ric Flair?), the Lady Terps secured the figure-four leg lock—12 stops in the final 13 A&M possessions is quite a leg lock, huh?—and got the "duke," as ol' Vince used to phrase it in his announcing days, 84-71.
The poor Lady Bonnies were left to endure a 79-35 "squashing."