WrestleMania 29: Is There Hope to See The Rock vs. Brock Lesnar?
March 25, 2012

The biggest match in WWE history might take place at WrestleMania 29.
The Rock has already signed on to appear at WrestleMania 29 next year at MetLife Stadium in East Rutherford, N.J., but who will he face?
Although there are many different storylines that can evolve over the next year and many candidates to take on The Rock, there is one that would draw huge ratings: The Rock vs. Brock Lesnar.
The dream rematch might be more than just a crazy idea.
If a recent Rock interview is any indication of what the future might hold, then this match might be a real possibility.
When AP sports writer Dan Gelston brought up the potential match to The Rock, his response might have said all we needed to know:
"'I'm not saying a thing,' said a laughing, grinning Rock, eyebrow raised. 'I didn't say anything.'"
Could it be? A return by Lesnar to the WWE after becoming heavyweight champion in the UFC?
The biggest obstacle for the event might be finances. The WWE would have to dish out the cash to Lesnar, who was guaranteed $400,000 win, lose or draw in his match against Alistair Overeem (which also turned out to be his final UFC match). Lesnar announced his retirement in the Octagon in the interview after the fight.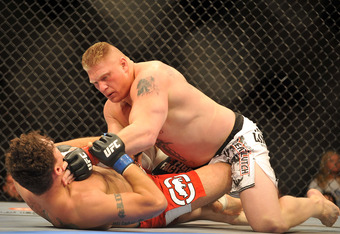 Jon Kopaloff/Getty Images
If this match happened, it could be one of the biggest WrestleManias ever.
The event is already going to be huge since it is being held at the home of the New York Jets and New York Giants in a stadium with more than 80,000 seats. What better way to fill the seats than with a matchup of this caliber that interests not only WWE fans but MMA fans as well?
Hopefully The Rock's short answers and demeanor are glimpses into the future for the main even at WrestleMania 29. 
All we can do now is keep our fingers crossed.