NCAA Tournament 2012: Latest Reaction, Scores and Highlights for South Region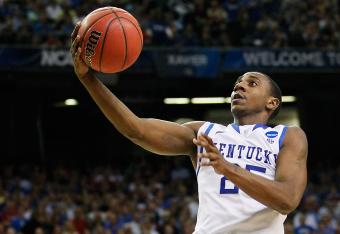 Kevin C. Cox/Getty Images
With an impressive 82-70 victory over Baylor, the Kentucky Wildcats emerge as the South Region's Final Four participant.
After falling behind by 20 at the half, the Bears were never able to completely fight back. Kentucky's overwhelming defense held the normally sharp-shooting Bears to 39 percent from the field.
Senior forward Quincy Acy was the one bright spot throughout the game for the Bears. Acy finished with 22 points while shooting 7 of 11 from the field and eight of eight at the free throw line. Pierre Jackson added 20 points (mostly in the last few minutes of the game), and Perry Jones III had a strong second-half, finishing with 17 points and eight rebounds.
Michael Kidd-Gilchrist paced the Wildcats in the first half with 17 points, and even though he only scored two points in the second half, he was still Kentucky's leading scorer with 19.
Freshman phenom Anthony Davis had a second-half scare after colliding with Jones III, but he ended up playing the rest of the game, finishing with 18 points, 11 rebounds and six blocks.
The Wildcats march on to the Final Four where they will take on their in-state rival and the West Region's fourth-seeded Louisville Cardinals. Cardinals coach Rick Pitino has done an amazing job so far in the tournament, coaching his team to big wins over both MIchigan State and Florida, but he'll have his hands full in the next round.
I don't foresee the Wildcats losing—ever. They play so well on both ends of the court. They're unselfish. They're well coached. They have six guys that will be in the NBA. What more do you want from a team?
Thanks to all of you who have kept up with the live updates, and good luck to both Kentucky and Louisville in the Final Four.
And that's the game!
Final Score: 82-70, Kentucky over Baylor.
Apparently Pierre Jackson has 20 points. When did that happen? I feel bad for Quincy Acy. He played great today. Hopefully somebody will give him a chance in the NBA.
Lead is down to 10, but Kentucky is going back to the line to shoot two with only 41 seconds left. I appreciate the effort, Baylor, but it's almost time to concede.
CBS has officially advanced Kentucky into the Final Four with 1:30 left to play in the game. The lead is down to 13, but there's not much Baylor can do at this point.
Kentucky versus Louisville is going to be a fun rivalry game, but I don't foresee things going well for Louisville.
1:54 left to play. Kentucky up by 16, 75-59.
Davis is STILL playing. How weird.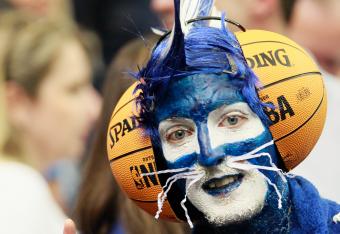 Unless there's a huge collapse on Kentucky's part, this game is pretty much over. Three minutes left to play, Kentucky up by 16.
It's going to be an in-state Final Four!
Timeout time. With under five minutes to play, Kentucky still holds a 17 point lead.
73-56, Kentucky.
Why aren't the Bears trying to get Heslip open? He just kind of floats around the perimeter. It's strange and I don't like it.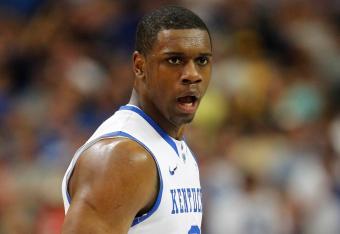 Terrence Jones misses two free throws, but gets his own rebound and dunks it home. JONES DOESN'T NEED YOUR PITY SHOTS.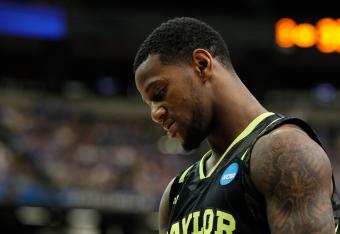 Poor Pierre Jackson. He can't get anything to drop. Kidd-Gilchrist is finally on the board in the second half, and he gives Kentucky a 17 point lead.
Quincy Acy with a huge block! Baylor wants it! I always had faith, Baylor!
Note to Baylor: Don't read my early posts about the game being over already.
HESLIP SIGHTING. Lead down to 13, 63-50. 8:20 left to play.
Kidd-Gilchrist coming back in. Calipari must really want his intensity on the floor, or he's overly confident in Darius Miller—possibly both.
Really impressed by Jones III level of play in the second half. If only he would play like this for an entire game.
Ten minutes to go, Kentucky up by 15, 60-45.
Kentucky is in the double bonus, though, and Baylor can't stop fouling. This doesn't bode well.
Kidd-Gilchrist has yet to score in the second half and he just picked up his fourth personal foul. Kentucky is still up by 17, but Baylor is trying to make a run.
Could Kentucky beat the Charlotte Bobcats? I want to say yes, but NBA guys are there for a reason, I suppose.
Just a thought.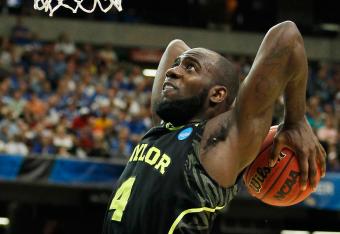 The Bears need Quincy Acy back on the floor. The senior forward has 20 points on seven of 10 shooting. Next high point man is Jones III with seven.
Perry Jones III heading to the line for two. He's starting to play a little more aggressive, and he's going right at Anthony Davis.
Davis is out for about 30 seconds put has to come right back in after Teague picks up his third foul. Baylor is trying to make a run, as they cut the lead to 15, but Doron Lamb hits a jumper to extend the lead back to 17.
54-37, Kentucky. 12:30 left.
And it's official, North Carolina point guard Kendall Marshall will NOT dress out tonight against Kansas. This game just got really interesting.
In other news, Jones and Davis are still playing and Jones just hit a three. Kentucky still holds an 18 point lead, 51-33.
Jones III has a bruised hip and is still playing. Apparently it's Quincy Acy that told Drew he can't continue. My bad guys, my bad.
Davis is still hurting. The Wildcats are up by 23. Let him sit, Calipari! Baylor's Jones III comes back in for a brief stint, only to inform coach Scott Drew that he's not feeling it.
We could be seeing the last of both Davis and Jones in the game after this timeout finishes. Let's hope they're both going to be okay.
Somewhere, Louisville is holding their breath.
Now Quincy Acy is limping. Acy tries to challenge a made three-pointer by Doron Lamb and trips in the process.
#NoMoreInjuriesPlease
This article is
What is the duplicate article?
Why is this article offensive?
Where is this article plagiarized from?
Why is this article poorly edited?