Zdeno Chara Reaches 1,000 Career Games, How Much More Is Ahead of Him?
March 25, 2012

Ezra Shaw/Getty Images
As part of Saturday night's 4-2 win over the Los Angeles Kings, Boston Bruins captain Zdeno Chara cracked quadruple digits in his career games-played column. Two nights prior in San Jose, he upped his collection of points on the year to 44, thus matching his output from each of the previous two seasons.
Although he will not likely catch his career-high total of 51 points from 2007-08, Chara has at least ensured a fifth straight season where his productivity exceeds that of each year he spent with the New York Islanders or Ottawa Senators.
Perhaps not so coincidentally, each of those five seasons have constituted the Claude Julien era in Boston. The most Chara ever mustered in another city or under another head coach was 43 points, which he collected both in his final season in Ottawa and his first in Boston under Dave Lewis, infamously remembered his most forgettable defensive campaign.
As of Sunday morning, Chara has played 470 games with the Bruins, meaning it will take another 61 before he has officially played the majority of his NHL career in Boston. However, with eight more games this season and six years still to come on his contract, he could be looking at as many as 500 more regular-season tilts in The Show.
Or, if you prefer another angle, Chara played 299 games with the Senators and 231 with the Islanders. And precisely 390, or 39 percent, of his career games have been played under Julien's guidance. That percentage will start to swell without fail when the Bruins visit the Anaheim Ducks Sunday night.
Regardless of how one measures quantity, Chara's quality has continuously sat at its peak since Julien's arrival and shows no sign of receding in the near future. After recovering from a false start to his attempt to hit the ice sprinting as Boston's prized free agent and newly anointed captain in the one-and-done Lewis debacle, Chara has done little but verify his leadership competence.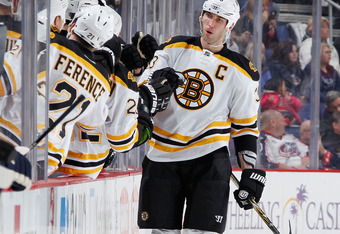 Gregory Shamus/Getty Images
There is something about every Chara-Julien season that makes the towering blueliner jut out. Chara led the team in plus/minus and placed third on Boston's scoring chart in 2007-08. Amidst all of that, the underdog Bruins lassoed their first Stanley Cup playoff berth in four years and surprisingly pushed the almighty Montreal Canadiens to a seventh game in their first-round bout.
The captain composed a Norris Trophy campaign whilst helping the Bruins to a surprise surge to the top of the Eastern Conference standings in 2008-09.
As one of the few who did not endure a protracted stint on the sideline in 2009-10, Chara again led the team in plus/minus and was also their top playmaker. His behind-the-scenes intangibles showed up in the form of a hard-earned playoff berth, clinched on the penultimate day of the regular season, followed by a gritty, six-game triumph over the division champion Sabres.
Last season saw another Norris nomination, another Northeast Division crown, a career high in the plus/minus department and culminated in three Game 7 playoff triumphs and a coveted photo op with Gary Bettman.
This year commenced with an insufferable, October-long, post-championship hangover. That was followed by a November and December rivaling that of 2008-09, which then gave way to a near-reprise of the injury-stocked 2009-10 grind.
Chara himself has had his living flashbacks to 2006-07 and was also sidelined for two games in December, but has otherwise been available at all times. Only six teammates have missed less action this season while 92 other man games and counting have been lost to injury.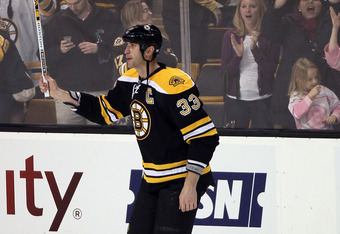 Elsa/Getty Images
But as of right now, the Bruins are gradually kicking ice chips over January, February and early March. They can claim to have won three of their last four games for the first time in 10 weeks. They continue to keep a few strides ahead of Chara's previous employer in Ottawa for first place in the division and the automatic second seed in the conference that comes with it.
Amidst all of that, Chara has sculpted himself a plus-26 rating and 155 hits, the most among all Bruins blueliners.
Only twice since October has he gone more than three games without pitching in on offense. He leads the entire team with eight goals and 18 points on the power play and has eight more opportunities to raise his overall 2011-12 point total above that of the previous two seasons.
Chara's salary is slated to fluctuate in the coming years. It will dip from a career-high $8.5 million this season to $6 million next year then rise back to $8 million in 2013-14 before beginning a gradual descent to $4 million by his final year in 2017-18.
Perhaps more telling is the contract's attached no-trade clause. Since his professional breakthrough in the late 1990s, neither Chara nor the Bruins managed to reap much relevance until after they joined forces.
With all of their symbiotic success and growth through adversity over the last five seasons, Boston buffs ought to be thrilled by the notion that the alliance is not quite half-over yet.
Chara will likely fall short of 1,000 career games as a Bruin, but there is ample space for him, his coach and his teammates to Xerox some of the more ornate pages of his tenure up to this point.