Tampa Bay Lightning: Areas GM Steve Yzerman Must Improve for Next Season
March 25, 2012

Bruce Bennett/Getty Images
What areas have caused this collapse and where can they improve?
After finishing last season in fifth place in the Eastern Conference with 46 wins and 103 points to go along with a plus seven goal differential, this season has seen a drop off in their performance. They sit in eleventh place with 34 wins and 75 points to go along with a minus 43 goal differential.
The areas that need to be improved for next season include the goaltending and defense.
According to advanced statistics from PowerScout Hockey the Lightning are 35 percent stronger at center than the league average and two percent stronger than the league average on the wing. Sounds like they have what every team is looking for—a solid core built around strong centermen up front.
However, these same statistics show that they are 30 percent weaker on defence and 17 percent weaker in goal than the rest of the league.
Their special teams have also dipped to the lower levels of the league. Their powerplay is clicking at a 15.4 percent rate, good for 24th overall in the league, while their penalty kill is at 78.1 percent, good for 28th in the league.
Goaltending
Last season, the Lightning had much stronger goaltending—with Dwayne Roloson and Mike Smith leading the way.
Smith played 22 games with 13 wins and six losses while posting a 2.90 goal against average and 0.899 save percentage. Roloson played 34 games with Tampa after a midseason trade with 18 wins and 12 losses, posting a 2.56 goals against average and 0.912 save percentage.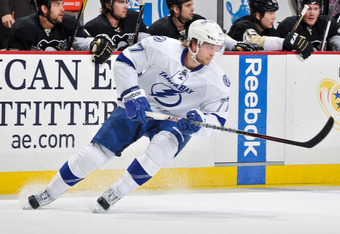 Jamie Sabau/Getty Images
This season has been a different story, with Dwayne Roloson brought back and Matheiu Garon coming in via free agency to back him up.
Garon has played 48 games with 23 wins and 16 losses while posting a 2.85 goals against average and a 0.901 save percentage.
Roloson, meanwhile, has seen a large drop off in his play. In 34 games he has 10 wins and 14 losses while posting a 3.67 goals against average and a 0.884 save percentage.
While Garon is a serviceable goaltender, he is a below average starter and would be best in a backup role going into next season. Dwayne Roloson should not be brought back and a replacement should be found.
General Manager Steve Yzerman will have to look outside of the organization, via trade or free agency, for a new starting goaltender. The team's best goaltending prospect is Dustin Tokarski, and he is projected to be a solid NHL back up that could fill in as a starter in a pinch.
The team also has goaltending prospects in Adam Wilcox and Pat Nagle, but niether will be ready for the NHL level next season. The only other interal option is Jaroslav Janus, however, he is projected to have the same potential as Tokarski, and not that of a goaltender who could win you a Stanley Cup.
Defense
Last season saw a defensive core of Brett Clark, Victor Hedman, Pavel Kubina, Eric Brewer (after a late-season trade), Randy Jones, Mike Lundin and Mattias Ohlund. The Lightning had three 20 plus point defensemen in Clark, Hedman and Kubina.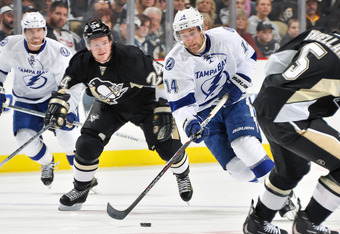 Jamie Sabau/Getty Images
This year, the defence has consisted of Marc-Andre Bergeron, Brewer, Hedman, Clark, Brian Lee, Bruno Gervais, Brendan MIkkelson, and late season acquistions Keith Aulie and Mike Commodore.
They have only one 20-plus point defenceman in Marc-Andre Bergeron, and he has only played 43 games this year due to injury.
It is clear that an upgrade is required that includes more puck moving defencemen in order to take full advantage of the strong group of centers the team has.
Internally, there are puck-moving defensive prospects, including Mark Barberio (projected as a second-pairing offensive defenseman), Charles Landry (projected to be a third-pairing puck mover), Kirill Gotovets (projected as a third pairing defender), Adam Janosik (third-pairing puck mover), Evan Oberg (third-pairing puck mover), and Geoff Schemitsch (second-pairing puck mover).
However, Oberg is the most ready for the NHL, with all the others at least a couple of years away from being able to make the jump. Yzerman will have to hope for internal improvement from the likes of Lee, Mikkelson and Aulie, or go outside of the organization to acquire an established puck mover or two.
The Draft:
If the season finished today, the Lightning would have the 9th overall draft choice. At this spot, some blue chip defensive prospects will be available, including:
Morgan Reilly (quote from TSN.ca)
Grant McCagg, TSN.ca
A graduate of the famed Notre Dame Hounds Midget program, he was averaging a point per game when he tore up his knee in early September sidelining him for the remainder of the season. Strengths: An elite puck rushing defenceman with creativity, vision and hands. Competitive and decent in his position game, he has good hockey sense and instincts. Strong skater with good mobility. Weaknesses: Not overly big or physical, described by one scout as a '5-11 rover' and will have to continue to refine his defensive play. His knee injury will concern some teams and questions will arise concerning how it may affect his mobility. NHL upside: Offensive skills will intrigue several teams in the Top 20 despite his knee injury and he'll get a solid opportunity to be an offensive defenceman in the NHL.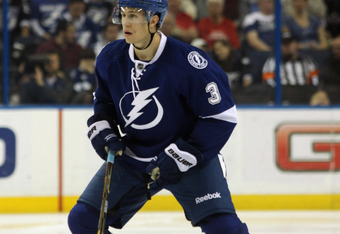 Bruce Bennett/Getty Images
Griffin Reinhart (quote from TSN.ca)
Grant McCagg, TSN.ca
Son of former NHL defenceman Paul Reinhart and brother of fellow WHLers Sam and Max. Has reached the 50-point mark in his WHL career before the age of 18, a rare feat for a 6-4 WHL defenceman. Strengths: Very few 6-4 blueliners can skate and handle the puck like Reinhart, and those attributes alone will intrigue lots of scouts. Has a hard point shot that often finds its mark, good passing skills. Weaknesses: Does not always play with an abundance of passion and drive. Could be more assertive physically, and more consistent in his effort. NHL upside: Has been compared by some scouts to Dougie Hamilton. Has the size, skill and skating ability to be a top two NHL defenceman.
Derrick Pouliot (quote from TSN.ca)
Grant McCagg, TSN.ca
Selected first overall by the Winter Hawks in the 2009 WHL Bantam Draft, he had a regular role as a rookie defenceman last season during Portland's lengthy playoff run. Strengths: One of the draft's better puck-rushing blueliners, likes to join the play and create offence. Has a good stick, good skater, decent puck mover. Weaknesses: He can play a little too casually, suspect on his puck moving at times when he tries to do too much. An undersized rearguard with little physical presence - a container who will need to add 15-20 pounds of muscle. Can be inconsistent with his decision making. NHL upside: May be a secondary offensive defenceman who sees some power play time, a No. 3 or No. 4 puck-moving defender.
Free Agency
A puck mover like Dennis Wideman Carlo Colaiacovo or Chris Campoli could prove valuable to Tampa. Even better would be Ryan Suter if the Predators are unable to resign him.
However, any defender from free agency will likely have to be overpaid, and Yzerman will need to be careful to not get into cap trouble with the big contracts they have down the road.
The core pieces are in place for the Tampa Bay Lightning to be contenders again. But retooling in goal and on the blue line will be required before they can take a step forward.