Wrestlemania 28: Hell in a Cell Should Be Retired When Undertaker's Career Ends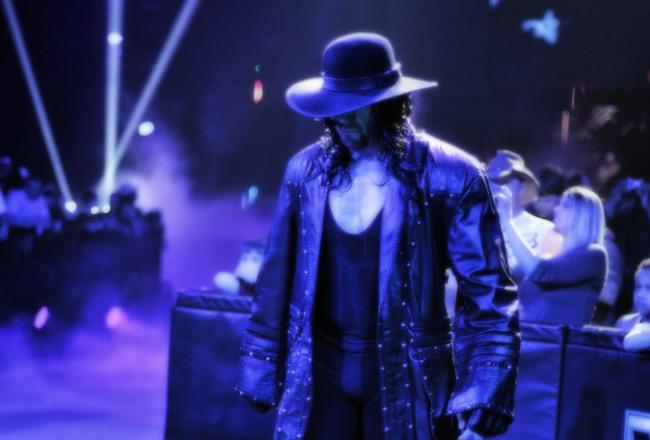 Photo by Wright Way Photography

In the near future, the legendary Undertaker will leave the WWE and the wrestling world behind. When he does, WWE should retire the Hell in a Cell match along with him.
Has anyone been so connected, so fused with a match as the Undertaker has with Hell in a Cell?
Mention Hell in a Cell and no doubt a fan's mind goes to the Dead Man tossing Mankind from the top of the cell as Jim Ross says, "Good God, all mighty, they've killed him."
Alternatively, a wrestling aficionado thinks of the very first version of the match—Shawn Michaels getting an assist from a debuting Kane against the Undertaker.
So many of the greatest Hell in a Cell matches have featured the Undertaker.
Twenty-four of them have taken place so far. Taker was in 11 of them, with his coming clash with Triple H making 12.
Never has a wrestling company retired a gimmick match like a team would retire a player's jersey number, but this is a situation that begs for history to be made.
Retiring the match with the Phenom would be a great honor bestowed upon one of the greatest superstars to ever wrestle for WWE.
In the wrong hands, Hell in a Cell is just another cage match. Undertaker turned it into a carnival of destruction that we couldn't look away from.
Hell in a Cell's finest moments saw blood splatter on the mat, barbed wire bats, fire, barbarism and viciousness. WWE is, for better or worse, moving into a new era, a family-friendly global product.
How exactly does the Hell in a Cell fit in with the PG state of WWE?
Continuing the match without blood, chair shots or extreme violence castrates it. Hell in a Cell was once a setting for an intense feud to end definitively, a brutal structure to match the brutality inside it.
It is now merely a backdrop, a prop.
At its best, Hell in a Cell featured stars that were retired or nearing retirement and utilized a type of wrestling that WWE is moving away from.
Instead of continuing Hell in a Cell matches in an era where it doesn't belong, letting the Undertaker take it with him when he goes instantly makes the previous versions more precious.
Fans can fall in love with new gimmick matches just as they can the superstars who follow in the Undertaker's impossible to fill footsteps.
Will Triple H vs. Undertaker at WrestleMania 28 be the Dead Man's swan song? Will Hell in a Cell follow him into the darkness?
This article is
What is the duplicate article?
Why is this article offensive?
Where is this article plagiarized from?
Why is this article poorly edited?