NHL Fight Videos: 20 Best Hockey Brawls That Started Before the Puck Dropped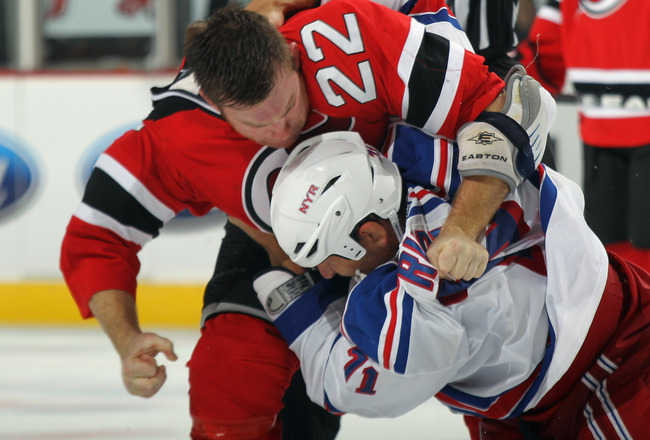 Bruce Bennett/Getty Images
Last week the New Jersey Devils and New York Rangers opened their game with a three-on-three brawl involving Eric Boulton, Cam Janssen, Ryan Carter, Mike Rupp, Brandon Prust and Stu Bickel.
The event occurred after Devils coach Peter DeBoer (who, as the away team, must put their line out first) used a tough line of Boulton, Janssen and Carter to start the game.
Rangers coach John Tortorella was visibly upset at DeBoer and countered with his own tough line.
Events like this, though uncommon, have happened before. Here are brawls which were initiated before the drop of the puck.
20. Colorado vs. St. Louis (April 5, 2011)
The two recent game-starting brawls are no new event for Cam Janssen; him and former St. Louis teammate Ryan Reaves dropped the gloves at the same time last season.
19. NY Islanders vs. Montreal (October 2, 2010)
Earlier in the game, Montreal's Michael Cammaleri slashed Nino Niederreiter.
The Islanders took exception, leading to this display of anger.
18. Hartford vs. Buffalo (December 11, 1992)
Towards the end of a 9-3 game, the frustrated Whalers got it going with the Sabres.
17. Boston vs. Philadelphia (March 15, 1984)
In the current NHL, players would at least wait until the puck was dropped. Years ago, there was no such concern.
16. San Jose vs. Edmonton (October 22, 1995)
Dave Brown earned his reputation as the NHL's premier fighter in the mid-1980s and is likely the second-best hockey fighter of all time behind Bob Probert.
He spent most of his career with Philadelphia and Edmonton, but spent his last season with the Sharks.
Here, he tried starting a fight with Dennis Bonvie (who has more than 400 fighting majors in his professional career), but Bonvie was not as eager.
15. Ottawa vs. New Jersey (December 3, 1999)
Andre Roy of the Senators drew a lot of attention from New Jersey here.
14. Ottawa vs. Philadelphia (January 20, 2011)
Earlier in the game, Claude Giroux laid a big hit on Ottawa's Jesse Winchester. After this happened, Chris Neil went after Giroux, pushing him to the ice and throwing two punches.
A fight broke out between Winchester and Jeff Carter. Shortly after, Giroux answered the call for his hard hit by fighting Nick Foglino.
Later, Jody Shelley did his job by taking on Neil in a fight. As Philadelphia's enforcer, Shelley could not let Neil go after Giroux under any circumstances.
While this took place, Scott Hartnell fought Jarkko Ruutu and Matt Carkner dropped the gloves with Sean O'Donnell.
13. Pittsburgh vs. Philadelphia (April 29, 2000)
Philadelphia's Rick Tocchet wanted Tyler Wright to go at the faceoff, igniting a brawl.
12. New Jersey vs. NY Rangers (February 7, 2012)
This was actually not the first time these two teams began a game with multiple fights. Earlier in the season, a similar event happened, with the Devils using Janssen and Boulton to start the game.
Prust and Rupp answered.
11. New Jersey vs. NY Rangers (March 19, 2012)
Here's the one that has everyone talking, including participant Cam Janssen.
Talking about Stu Bickel and Ryan Carter's fight, he said: "Him and Carts kicked the hell out of each other, it was great... Carts loves it, he's got a nice gash over his forehead. It looks awesome."
"That's hockey. I don't think the fans didn't like that either, and if you were there you would've felt that energy, 'cause I did."
10. Dallas vs. Boston (February 3, 2012)
There is actually a rule in the NHL that delivers a game misconduct for players involved in a secondary altercation. The Devils and Rangers were lucky that none of the three fights were deemed to be a secondary altercation.
To avoid that, Dallas and Boston fought off the first three faceoffs of their game last season. Not a line brawl, but the intentions were similar.
Also included in the video is a fight that happened shortly after.
9. Edmonton vs. Vancouver (February 16, 2008)
Vancouver's Alex Burrows finished off this game with an empty-netter. After this happened, Jarret Stoll slashed him, igniting a scrum during which Edmonton's Sam Gagner dropped the gloves with Ryan Kesler.
With 10 seconds left in the game, another scrum developed, with two fights breaking out.
With five seconds left to go, the teams fought yet again.
8. NY Islanders vs. NY Rangers (April 5, 1990)
Earlier in the game, Pat LaFontaine was hit hard and stayed down on the ice for four minutes before being removed on a stretcher.
At the final faceoff, the Islanders looked for revenge.
7. Vancouver vs. Buffalo (January 15, 1998)
The cause of this comes earlier in the game.
Vancouver's Gino Odjick ran into Dominik Hasek, causing a big scrum.
Shortly after, Buffalo's Matt Barnaby ran into goalie Sean Burke, causing the game's first brawl. Immediately after this, Vancouver put Donald Brashear on the ice, who went after Michael Peca.
6. Philadelphia vs. Toronto (December 11, 1999)
Philadelphia's Craig Berube tried getting Tie Domi to fight as soon as the puck was dropped, but it took a little bit longer for things to get going.
Because Domi wouldn't initially go, the fights that developed include Philadelphia's Luke Richardson hammering Mike Johnson as Toronto's Dmitri Khristich is destroyed by Berube, and later, by Sandy McCarthy.
As this happened, Domi skated over to where Tomas Kaberle and Adam Burt were fighting.
He sucker-punched Burt before hiding from Richardson.
Three capable fighters on the ice, and Domi suckered someone who was already in a fight.
5. Washington vs. Boston (November 21, 1998)
This one looks nothing more than a minor scrum at first, but it eventually develops into a great brawl.
4. Winnipeg vs. Vancouver (February 9, 1995)
After Michael Peca's late hit on Teemu Selanne, this brawl occurred. The start of it can be found at 8:15 of this video, continuing in this video.
Winnipeg's Tie Domi can be heard yelling "Don't dress [Pavel] Bure next game!" He was possibly implying that someone would go after Bure like Peca went after Selanne.
This is a good example of what would happen if fights were taken out of the game; instead of Domi getting angry about the Peca hit and fighting someone, he gets angry and takes a retaliatory cheap shot.
Without fighting, the game would be cheap shot for cheap shot.
3. Ottawa vs. Philadelphia (March 5, 2004)
The story behind this game; Martin Havlat hit Mark Recchi in the head with his stick in the last game between the two teams.
In this game, Rob Ray threw an elbow and that was all it took Donald Brashear. A number of brawls erupted late in the game, all of which are shown in this clip, a live feed from the game.
Multiple brawls occurred right off the faceoff in this game.
2. Minnesota vs. Chicago (December 28, 1989)
This was during the pregame warmups.
The full clip goes into the National Anthem and the start of the game. Seems oddly familiar to the scene in Slapshot, where the players are bloody during the song.
Referee: "I run a clean game here. I have any trouble here, I'll suspend you."
Steve Hanson: "I'm listening to the song!"
1. Philadelphia vs. Montreal (May 14, 1987)
Forget starting the fight off the faceoff, Ed Hospodar decided to take care of business during the pregame warmups.
The Canadiens had a tradition of shooting a puck into the opposing team's net during warmups, something Hospodar found a little unsettling.
So when Shayne Corson did it before Game 6 of the 1987 Wales Conference Finals, Hospodar tried getting to him, but Corson got away.
Hospodar went after Claude Lemieux instead.
Additional players would get on the ice later, including heavyweights Dave Brown of Philadelphia (tall and shirtless here) and Chris Nilan of Montreal. The two have a good fight in the brawl.
-
B/R Featured Columinst Jason Sapunka covers the NHL and Philadelphia Flyers.
Keep Reading