Final 4 2012: Rick Pitino's Edginess Gives Louisville Cardinals Advantage
March 25, 2012

Jonathan Ferrey/Getty Images
Rick Pitino is a great college basketball coach, and his edginess is what gives the Louisville Cardinals an advantage in the Final Four.
They're one step and two wins away from the pinnacle of the college basketball world, and it's Pitino's time to shine.
This is a team that is scrappy, mentally tough and doesn't give up. They say that a team will take on the personality of their head coach. Look no further than Pitino...
Pitino is a coach that is known for his spunk, his personality, and sometimes even his mouth. He's given us a plethora of press-conference bites, angry looks and even a rant or two in his day.
It doesn't matter if you're friend or foe, Pitino's not going to let you get away with anything less than what he expects from you. This goes for his players, other coaches, and of course, the men wearing the striped zebra shirts.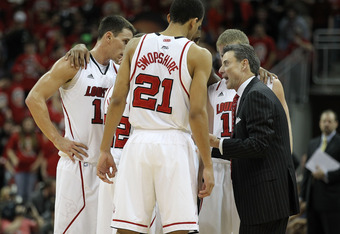 Andy Lyons/Getty Images
Some may not agree with the way he goes about his business, but there is no doubting that he gets the job done.
The Cardinals came into the 2012 NCAA tournament as a No. 4 seed and seemed to be destined to get bounced out by the powerful No. 1-seeded Michigan State Spartans in the Sweet 16. But, Pitino's defensive-minded Cardinals held MSU to just 44 points on their way to a huge upset, and then followed that up by making an epic comeback against the sharpshooting Florida Gators in the Elite Eight.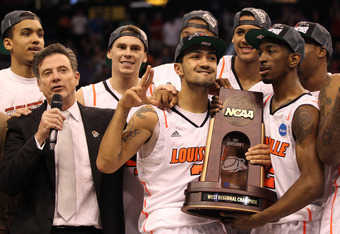 Jamie Squire/Getty Images
Now they are in the Final Four, and there may not be a more dangerous team.
Pitino coaches with a passion and he doesn't give up. That's exactly how I would describe his team.
He's got his guys playing red hot, and he's pushing all the right buttons. If there's a team that I would not want to run into right now, it's the Cardinals.
I give a ton of the credit to Pitino and his edgy personality.