Elite 8 Scores: Louisville's Resilience vs. Florida Proves They Are Contenders
March 24, 2012

Jamie Squire/Getty Images
The Louisville Cardinals are going to the Final Four, and they have their resiliency and never-give-up attitude to thank for the honor.
The Cardinals looked like a team that wasn't going to survive against a dangerous and sharp-shooting Florida Gators team.
Even though the No. 4-seeded Cardinals came into the game as the higher seed—Florida was seeded No. 7 in the West Region—there was no doubting that the Gators were coming into this game hot.
They beat No. 3 Marquette in the Sweet 16 by 10 points, absolutely creamed upstart Norfolk State, 84-50, and started off their March Madness campaign by beating Virginia, 71-45. Coached by Billy Donovan, the Gators looked like they were primed for a serious run to the NCAA championship.
Enter in coach Rick Pitino and his Cardinals, and now the rest is history.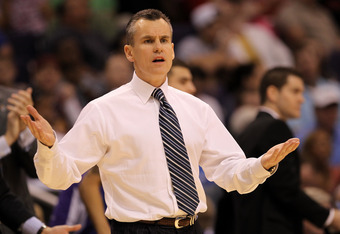 Jamie Squire/Getty Images
The Gators went into halftime with a solid 41-33 lead and seemed to be in control of things in the second half, staving off a few mini-runs by the Cardinals. The Gators entered the 10-minute mark of the second half with an 11-point lead, just needing to hold on to get to the Final Four.
That's when Cardinals forward Chane Behanan got hot and the Gators went cold, however, and the Cardinals were able to work themselves back into the game.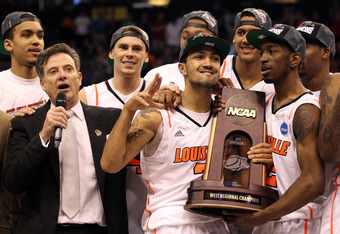 Jamie Squire/Getty Images
Behanan finished the game with 17 points, and guard Russ Smith put in 19 off the bench, as both played integral roles in bringing the Cardinals back from the point of elimination.
Louisville stormed all the way back and ended up winning the game, 72-68, in what will go down as one of the great comebacks in NCAA tournament history.
I talked a lot about the Gators being the hot team in this matchup, but let's not forget about the Cardinals. They had knocked off the No. 1-seeded Michigan State Spartans just a game before in very impressive fashion, and this Elite Eight game showed us that their heart, toughness and resiliency is the real deal.
There's not a team left that the Cardinals can't beat. Even if their backs are against the wall, they have shown us that they will fight to move on. This Louisville team is what March Madness is all about.
They were the first team in this year's Final Four, and they may end up being the most deserving.