Women's March Madness: Tennessee Lady Vols Gut Out a Tough Win Over Kansas
March 24, 2012

The odyssey of ailing Tennessee coach Pat Summitt and her Final Four-less seniors continues, as the Lady Volunteers overcame a slow start to oust overachieving Kansas and its nonpareil point guard Angel Goodrich 84-73 in their Sweet 16 matchup.
The Lady Jayhawks got out of the chute quickly against the all-senior starters, surging to a 26-12 lead 11 minutes into the game. By then, coach Bonnie Henrickson's troops had converted 12 of 18 shots and had twice as many offensive rebounds as turnovers while Tennessee struggled to find a cohesive unit and some rhythm.
The Kansas offense came back to earth, missing 10-of-13 (plus a couple of free throws) the rest of the half.
The gunning of Tennessee super-soph Meighan Simmons and board work of Glory Johnson and Shekinna Stricklen allowed the still herky-jerky Lady Vols to creep within 35-30 at intermission.
The second seeds continued to amp up their defensive pressure as play resumed, and freshman Ariel Massengale decided to show that the Tennessee backcourt is a two-headed monster, nailing back-to-back treys four minutes in to tie the game.
But the plucky Midwesterners, particularly posts Chelsea Gardner and Aishah Sutherland, continued to hang around and battle.
Vicki Baugh and Johnson put the Lady Vols ahead for good with a most unusual three-point play, all free throws aided by an offensive rebound. (Not a whole lot about this season has been normal for Summitt and her charges, huh?)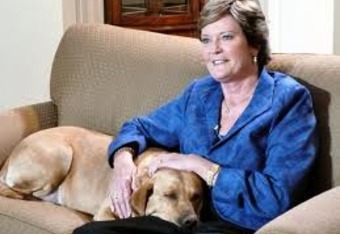 A Massengale steal and Simmons' break out pushed the UT lead to double digits with seven minutes to go and induced a Kansas timeout.
Though the Tennessee lead twice slipped under 10, it was never seriously challenged the rest of the way.
Goodrich, a junior whose playing style is reminiscent of the late, great Kim Perrot of the Houston Comets, led all scorers with 23 points and six assists in her 40 minutes. The freshman Gardner contributed 14 points and 10 rebounds, and Sutherland, in her final appearance with the Lady Jayhawks, booked 19 points and eight boards.
Simmons's hot shooting led to a team-high 22 points for the victors, while the senior trio of Johnson, Stricklen and Baugh combined for 41 points and 27 rebounds.
So this season's odyssey for Summitt and her ladies rolls on—and, in all likelihood, directly to an Odyssey emanating from some crazy place called Waco.