NCAA Tournament Schedule 2012: Kansas and Kentucky Will Dominate Sunday's Action
March 24, 2012

Chris Trotman/Getty Images
When play is over on Sunday, two familiar names are going to round out the Final Four. While North Carolina and Baylor have had nice runs to this point, they are about to come to an end at the hands of Kentucky and Kansas. 
Kentucky
Baylor just does not have the overall game needed to beat Kentucky. Every now and again they'll go on a run, but they will not sustain it for 40 minutes. Kentucky has six players that average 10 points a game. Not a bad thing to have, considering you're only allowed to have five on the court. That will be too much balance. 
When Baylor is on offense, they're too dependent on the three-pointer. There are two problems with that. 
One, it's too easy to get cold. The more you shoot from a distance, the more likely it is that something will go wrong.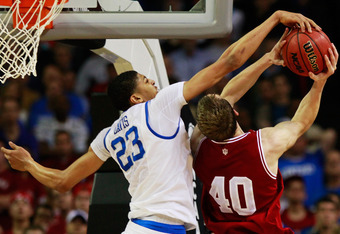 Kevin C. Cox/Getty Images
Two, when shooting against players like Anthony Davis, who are quick and have long arms, you're not going to get good looks. 
The rotation of Davis, Doron Lamb, Terrence Jones, Michael Kidd-Gilchrist and Darius Miller will flat-out overwhelm the Bears. This one will not be close when it's all said and done.
Prediction: Kentucky 84, Baylor 68
Kansas
North Carolina's offense is just not working right now. They needed overtime to get through Ohio, and against the Jayhawks they won't have any chance without Kendall Marshall. ESPN's Chad Ford detailed how bad the situation is for the Tar Heels. 
No one helped their draft stock more than Kendall Marshall. 6 HS All-Americans struggled to score without him running the show

— Chad Ford (@chadfordinsider) March 24, 2012
Unfortunately for North Carolina, that's not likely to happen. According to USA Today, Marshall is out for the year. That opens the door perfectly for Kansas. 
Even if that report is incorrect, how effective is Marshall going to be coming off of a wrist injury? He'll be playing limited minutes and will struggle to find his form. 
Against Ohio, you can get away with that. Against Kansas, it's not so easy. The Jayhawks are tough enough to beat when everyone's healthy. They're not playing great ball right now, but they still have the likes of Thomas Robinson and Tyshawn Taylor to pull them through when things get tough. 
There's just no way to see Kansas losing this one. They are finding ways to win tough games, which is often as impressive as being dominant. 
North Carolina will not have the offense needed to pull a win off against Kansas. It will be another grind, but the Jayhawks will claim this game. 
Prediction: Kansas 71, North Carolina 64