Ohio, NC State Sweet 16 Miscues in Closing Moments Cost Each Shot at Final Four
March 24, 2012

Dilip Vishwanat/Getty Images
Ohio or NC State should be heading to the Final Four.  Think about that. 
Ohio, a No. 13 seed, was nearly the first such seed to reach the Elite Eight.  However, the Bobcats were unable to complete an impressive second-half comeback and eventually fell to top-seeded North Carolina, 73-65, in overtime.
NC State, a No. 11 seed, also had a chance to cap a second-half rally against second-seeded Kansas.  The Wolfpack had a couple chances to take the lead in the game's final minute, and a chance to tie at the buzzer.  In each case, they failed to get the basket they sorely needed.
As a result, we have an Elite Eight matchup in the Midwest Region that is exactly what we expected heading before the NCAA Tournament began.  UNC and Kansas are the region's top two seeds, and before the wrist injury to Tar Heel point guard Kendall Marshall, were the overwhelming favorites to meet this weekend.
Despite that, neither team deserved to make it this far.  On Friday, UNC and Kansas each played at a level that should have seen them sent home for the season.
Ohio and NC State were given golden opportunities to continue their outstanding runs in the tournament, and a chance to play for a spot in the Final Four.  Neither could capitalize.
Ohio, in particular, had a win in its grasp.      
After rallying from a 10-point deficit early in the second half to take the lead with four and a half minutes to play, Ohio went up by four a minute later.  UNC came back to tie it on Harrison Barnes' three after a missed free throw with 3:25 to go.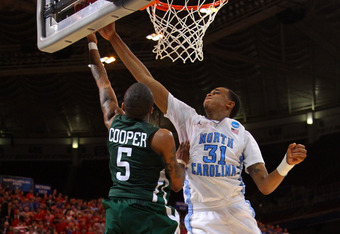 Dilip Vishwanat/Getty Images
The Bobcats briefly fell behind again, trailing by one with two minutes to go, before Ivo Baltic's fadeaway put them back up one with 1:44 left.  UNC's came up empty on its ensuing possession, as Harrison Barnes airballed a three-point attempt, giving the ball back to Ohio with 1:19 to go.
With a chance to go up three with under a minute to go, DJ Cooper—the heart and soul of the Bobcats team—tried to drive on Reggie Bullock.  However, with Tyler Zeller waiting, Cooper never had a good look.  While you want Cooper trying to make a play, it was a questionable decision to take the ball that deep with two defenders taking away the chance for a good look.
It was one of many misses for Cooper, who shot just 3-of-20 from the field in the biggest game he will likely ever play.  It proved to be costly.
After throwing the ball off the backboard, Cooper was inadvertently hit by Zeller on the way down.  Cooper seemed to have been trying to draw a foul call, by holding his face afterward.  The officials weren't buying it.  In the process, Cooper did not get down the court quickly. 
UNC took advantage of that.  Bullock quickly broke open for a wide-open look from three.  He buried it, and put the Tar Heels up by two. However, Ohio still had a great opportunity to regain the lead.
Walter Offutt—who led Ohio's second-half charge by making several threes—drove hard to the basket, making his layup and drawing the foul on Stillman White.  Offutt had the chance to give Ohio the lead with just 26 seconds to go.
Dilip Vishwanat/Getty Images
However, Offutt missed the free throw. 
UNC came down and failed to score on the final possession of regulation, as Barnes never got off a good shot.  Instead of that resulting in a win for Ohio, it just meant overtime.
Overtime just gave UNC an opportunity to salvage a game it should have lost in regulation.  The Heels went on to outscore Ohio 10-2 in the extra period, and live to play another day.
Ohio, however, is now returning to Athens knowing it let one slip away.
After Ohio nearly pulled off the biggest win in school history, NC State had its chance to earn its biggest win since knocking off Houston in 1983 to win the national title.
Trailing by nine with under six minutes to go, NC State's hopes for advancing to the Elite Eight were looking rather bleak.  However, Kansas' struggles on the offensive end let the Wolfpack back into the game. 
NC State cut Kansas' lead to three after Scott Wood was fouled on a three-point attempt and made all three from the line.  Kansas continued to struggle with the ball, turning the ball over on two straight possessions.  Suddenly, the Wolfpack had the ball down by just one with under a minute to go.
After Wood missed a deep three from the top of the key, the ball came off the rim and was batted around, eventually winding up in the hands of CJ Leslie.  At that moment, there was 24 seconds left on the clock, and the shot clock was off.
However, Leslie, seeing a potential opportunity to drive from the three-point line all the way to the rim, went for the quick basket.  That window was quickly closed by Withey, yet again.  Leslie's shot was blocked, and the ball was back with Kansas.
Kansas again failed to increase its lead.  Tyshawn Taylor missed the front end of a one-and-one, but the Jayhawks got the rebound.  On the ensuing inbound, NC State allowed Elijah Johnson to cut into the lane uncontested, and he made the Wolfpack pay with an easy layup to put the Jayhawks up three.
After calling a timeout to draw up a game-tying three-point opportunity, NC State once again made a questionable decision with the ball.  A cross-court pass was made to Wood, the team's best outside shooter.  However, after Wood went up to catch the pass, his foot came down on the sideline. 
It was another missed opportunity for NC State, but Kansas still gave them yet one more chance. 
Thomas Robinson, like Taylor before, missed the front end of his one-and-one.  NC State rebounded and called timeout, setting up one final play for the final 2.9 seconds. 
The three-quarter-court pass was knocked down, and Richard Howell—who did not make a three-pointer all year—was forced to throw up a desperation attempt that never came close.  While the odds to score on the play weren't high to begin with, NC State certainly did not give itself the best chance to score in that situation.
It was the final cap on a series of missed opportunities and questionable decisions made by NC State in the game's last minute.  While they did a great job just to give themselves a chance down the stretch, the Wolfpack couldn't tie or take the lead when Kansas provided them the chances to do so.
For NC State, as well as Ohio, it was a night—or maybe more accurately, a minute—of missed opportunities. 
Each team had a chance to achieve a level of success not experienced by its current generation of fans, but could not seize it. 
Both NC State and Ohio had incredibly successful seasons.  With all of their key players returning next season, both have a great chance to not only get back to the NCAA Tournament, but to do some damage once again.
But will either have the chance to get as close to playing in a Final Four as they did on Friday night?  It will be extremely tough to get that chance once again.
Recent Articles:
Ohio State Overcomes Recent Sweet 16 Struggles