Final Four 2012 Predictions: Who's Headed to New Orleans?
March 24, 2012

Andy Lyons/Getty Images
I've got news for fans living in Lawrence, Louisville, Syracuse and Lexington: Get ready for Bourbon Street.
Your teams will be headed to the Final Four of the 74th annual NCAA tournament in New Orleans next week.
Here's a look at every Elite Eight matchup this weekend...
Game 1: No. 7 Florida Gators vs. No. 4 Louisville Cardinals (4:30 p.m. EST/1:30 p.m. PST)
Here is a complete preview of the Gators/Cardinals matchup.
Game 2: No. 1 Syracuse Orange vs. No. 2 Ohio State Buckeyes (7:05 p.m. EST/4:05 p.m. PST)
A great amount of star power will be on center stage between the top two seeds in the East Regional Final.
The top-seeded Orange had an interesting journey to the regional final. After barely squeaking by the 16th-seeded UNC-Asheville Bulldogs in the opening around, they took care of Kansas State and held on to beat Wisconsin in a thrilling contest.
Oh, and this was without ineligible starting center Fab Melo—a huge linchpin for the defense.
It's simple for the 'Cuse: they just find a way to win. 
Ohio State had a more conventional trek to the Elite Eight. They defeated Loyola-Maryland, Gonzaga and Cincinnati en route to their showdown with Syracuse.
Along the way, both big men Jared Sullinger and Deshaun Thomas carried the load immensely. Thomas is averaging 25 points a game in the tournament while Sullinger is accruing almost 18 a contest.
The two teams are very dissimilar in terms of style.
Syracuse will use its vaunted 2-3 zone to slow down Ohio State's inside game. The long-armed defenders of the Orange look to disrupt passing lanes and make it almost impossible to score around the hoop.
Ohio State will look to slow the game down and make it more methodical. The 'Cuse thrive in transition, so making it a halfcourt game should be the goal for head coach Thad Matta and the Buckeyes.
A fault of playing a zone is that it leaves 'Cuse susceptible to offensive rebounding by the opposition. That's an area that Thomas and Sullinger should be able to exploit. 
A key matchup in this game is Thomas against the zone. He's been undeniably the most dynamic player for Ohio State in the tournament.
With his skill set, he's well versed to facing up and either hitting the perimeter shot or driving to the cup aggressively. 
In attacking the zone, look for Thomas to float to the free-throw line and catch passes there. He can then either attack like previously mentioned, or feed Sullinger inside the post. The two have had a noted synergy of late.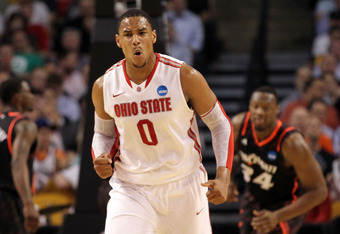 Jim Rogash/Getty Images
Length, athleticism and depth come in droves for 'Cuse. Those three aspects are a big advantage they have over Ohio State.
The Buckeyes don't have any depth, and they are severely undersized height-wise against Syracuse. That type of length could be detrimental to both Thomas and Sullinger.
Ohio State should have success in this game. They hold a rebounding edge inside, especially without Melo in the game, and they should be getting second chance opportunities with regularity. 
However, starting guards Aaron Craft and Lenzelle Smith are small. They'll have a tough time matching up with Syracuse guards Brandon Triche, Dion Waiters and Scoop Jardine.
Also, star OSU guard William Buford hasn't been shooting the ball well in the tournament. He'll need to be making shots from the perimeter in order to give a complementary threat to the duo inside.
Look for Syracuse to wear Ohio State down with their depth and win a close game.
Prediction: Syracuse 68, Ohio State 65
Game 3: No. 3 Baylor Bears vs. No. 1 Kentucky Wildcats (Sunday, 2:20 p.m. EST/11:20 a.m. PST)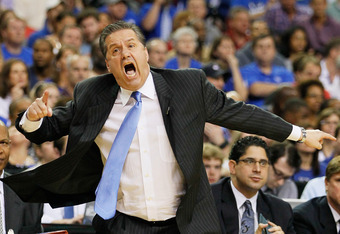 Kevin C. Cox/Getty Images
Out of all the teams remaining in the field, Baylor has perhaps the best overall talent of any team not named Kentucky.
Baylor's front court trio of Perry Jones III, Quincy Acy and Quincy Miller will be the most athletic and talented the Wildcats have faced all year. All three are ultra-athletic jumping jacks who have the requisite skill to upset head coach John Calipari's team.
Baylor beat South Dakota State, Colorado and Xavier in order to make it to the Elite Eight.
The Wildcats beat Western Kentucky, Iowa State and Indiana—all by double-digits.
Kentucky doesn't have depth (playing six, at most seven players), but they more than make up for it with their immense talent.
Not many teams can boast that they have a a starting five that is likely to all play in the NBA one day. Even more head scratching is that sixth man Darius Miller also has a viable shot at the next level.
That type of talent is truly astounding.
In order for Baylor to win, they need to dominate the glass. Kentucky will look to crash the boards on the offensive end and get easy baskets. 
Also, Jones needs to play like his potential indicates. He has all the talent in the world, yet he often doesn't play up to his ability. He needs to be assertive from the start and put pressure on Kentucky's front line.
A third point of emphasis will be to get guard Brady Heslip open looks from the perimeter. The Canadian knocked down nine three-point shots in the second round game versus Colorado. If he's knocking down threes, it will open things up inside for Acy and Jones.
Although Baylor has the capabilities to defeating Kentucky, they won't. 
Calipari's team is on a mission at this point, and they simply won't be denied. It's one thing if a team is super athletic, but Kentucky is super athletic and greatly skilled.
They also possess arguably the top two picks in the upcoming draft (Davis and Michael Kidd-Gilchrist), with another future first-rounder in freshman point guard Marquis Teague.
Guard play will be a big advantage for Kentucky in this contest. Heslip doesn't match up well with anyone on the defensive end of the floor, and UK will look to pressure point guard Pierre Jackson into turnovers.
Defensively, UK is stellar. Doron Lamb, Miller and Kidd-Gilchrist will make it extremely difficult for Baylor on the perimeter, which will in turn hurt the facilitating to the post.
Look for Kentucky to win this going away and head to New Orleans.
Prediction: Kentucky 74, Baylor 67
Game 4: No. 1 North Carolina Tar Heels vs. No. 2 Kansas Jayhawks (Sunday, 5:05 p.m. EST/2:05 p.m. PST)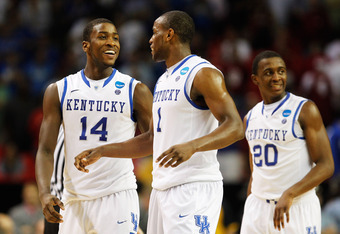 Streeter Lecka/Getty Images
Former Kansas head coach Roy Williams takes his wounded Tar Heels into what could be a tough game for UNC.
North Carolina got a huge scare in the Sweet 16—and it came at the hands of underdog Ohio University. 
Ohio was actually leading with three minutes to go, before UNC forced overtime and beat the Bobcats by eight. 
With the loss of Kendall Marshall, North Carolina has to rely on their very talented frontcourt. Similar to Baylor, North Carolina's trio of John Henson, Tyler Zeller and Harrison Barnes are all future first-round draft choices.
Against Ohio, North Carolina lived on the glass, out-rebounding the Bobcats 56-26. Zeller had 20 points and 22 rebounds, while Henson had 14 points and 10 boards.
Despite that type of success against Ohio, it won't come as easy against Kansas.
The Jayhawks boast a strong pairing in the middle with national POY candidate Thomas Robinson and Arizona transfer Jeff Withey.
Withey had an incredible 10 blocks against NC State in the Sweet 16 matchup. His presence in the post as a shot-blocker gives Kansas an added dimension that they didn't have last year.
Robinson is, well, a beast. Plain and simple. Aside from his Greek-god physique, he's skilled in the post and uses his strength to out muscle defenders for rebounds.
The huge advantage Kansas has in this game is in the backcourt.
The leader of the team is senior guard Tyshawn Taylor. As their second-leading scorer on the season, Taylor loved attacking the rim and finishing over defenders.
Off-guard Elijah Johnson is also an athletic, slashing guard who's stepped up big time in the tournament. He led Kansas past Purdue in the second round with 18 points and chipped in with 11 against NC State.
North Carolina has been absolutely ravaged by injury throughout the season at the guard position. Besides the injury to Marshall, guards Dexter Strickland and Leslie McDonald were lost for the season with severe injuries.
Currently, the team relies on freshman Stilman White, little-used guard Justin Watts and freshmen Reggie Bullock and P.J. Hairson.
White's statistical averages were that of a walk-on, while Watts never played any meaningful minutes. Both Hairston and Bullock are very talented, but they're green in terms of experience. 
While envisioning a deep run into March, I don't think Roy Williams thought he'd be relying upon the likes of three freshman and a little-used senior.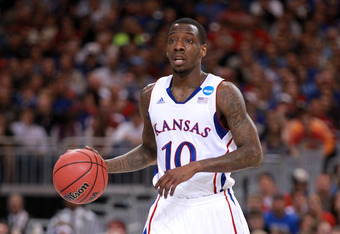 Andy Lyons/Getty Images
If I'm Kansas head coach Bill Self, I love the potential match up of my senior guard Taylor going up against a freshman in White.
In addition, Barnes will be going up against Kansas' best defender in Travis Releford. Against Ohio, Barnes was a paltry 3-of-16 from the field. He'll have to do much better than that if UNC is to advance.
North Carolina has more talent top to bottom, but Kansas is collectively the better team at this point.
The Jayhawks have the overall size in the paint to match up with the Tar Heels' biggest strength, and the duo of Taylor and Johnson on the perimeter will be too much for North Carolina to handle.
Prediction: Kansas 65, North Carolina 60