WWE WrestleMania 28: Why This Could Be the Greatest 'Mania of All Time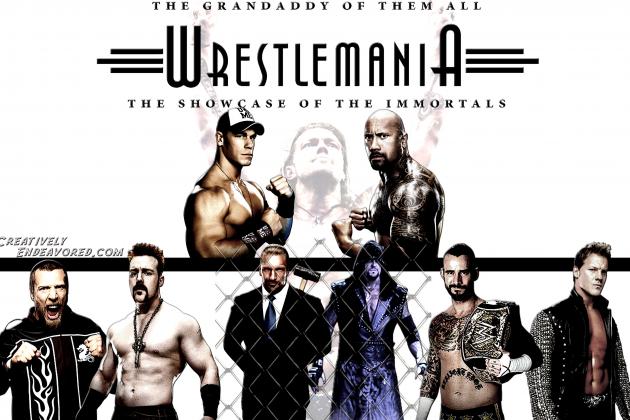 Image Courtesy of: creativelyendeavored.files.wordpress.com
Seven days, one week, until one of the biggest and most hyped nights in WWE history.
WrestleMania XXVIII, a night where for the first time in WWE history, four different matches can be considered main events of the evening. A night where the Rock, Triple H and the Undertaker will make their in-ring returns after months away. A night where anything can happen.
You can feel the excitement everywhere. Current fans are abuzz about the night like they rarely ever have been. Former fans are coming back in now to talk about the night. Even people who are not even wrestling fans are talking about the big night and its showstopping main event.
Words have been going around to describe the night. The end of an era, era vs. era, icon vs. icon, the clash of the best in the world, the showcase of the immortals.
WrestleMania has always been exciting, a moment for fans to just have a great time, but this isn't just another 'Mania. This is the 'Mania. The one that could very well be the greatest of all time.
It may seem like blasphemy, like it shouldn't be possible for a WrestleMania in this modern time to ever beat out the WrestleManias that came before it in far better times such as the Attitude Era or even the Ruthless Aggression Era.
However, it is not that unfounded of an idea and may just be more likely than it seems even on the surface.
Begin Slideshow

»
Image Courtesy of: wrestlingupdateonline.com
The card for WrestleMania is the greatest of all time when it comes to potential at the top of the card.
Daniel Bryan vs. Sheamus wrestle for the World Heavyweight Championship. After winning the Royal Rumble, Sheamus supposedly won the opportunity to main event WrestleMania, but his match is the fourth-most anticipated on the card.
That's not a bad thing, though, as he and Bryan, probably the greatest wrestler in the world, will be under the radar with wrestling ability and potential that matches, if not exceeds, every other contest on the card. This is certainly one to watch.
The Undertaker and Triple H will compete in the match that they have both made famous, the Hell in a Cell match. Add in the fact that Shawn Michaels will be the special guest referee, and you have a match loaded with some of the best talent in WWE history.
All three men are certainly past their prime. They are stuck in a time that won't even allow them to go all out, but even so, we have watched these men shine WrestleMania after WrestleMania to get to this point. This match should still be brutal, effective and showcase some of the best storytelling of all time.
CM Punk and Chris Jericho will fight for the WWE Championship and unofficially for the the title of the best in the world. This match is the idealized face vs. heel contest with Punk as the bruised hero going up against the unbeatable villain in Jericho.
These two are nearly unmatchable in the ring or on the mic in the WWE today, but they are even better when they are on a big stage. While these two have competed against each other on TV before and they have been solid in matches, this will be at another level.
John Cena and The Rock will battle in a match that has never been seen before and may never be seen again. They will clash basically in the Rock's home with the lights on bright and a level of excitement that has been building for a full year.
Everyone knows about this match. It is the sell that may just make this the highest-selling WrestleMania of all time, and it could very well be one of the biggest and best matches of all time with one of the most exciting atmospheres of all time.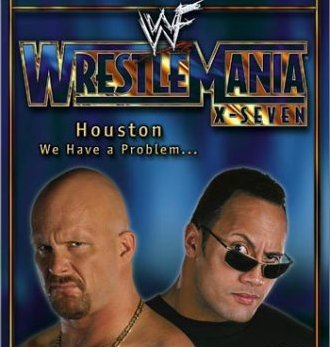 Image Courtesy of: listal.com
When it comes to past WrestleManias to compare to, there are two huge names. First, there is the fairly unanimously proclaimed best of all time, WrestleMania X-Seven. Second, we have the highest-selling WrestleMania of all time by a long shot, WrestleMania 23.
WrestleMania X-Seven is considered the greatest 'Mania of all time because it simply had the most balanced card of all time. It began with Chris Jericho vs. William Regal, included everything from Kurt Angle vs. Chris Benoit to the TLC tag team match and culminated with the awesome main event between Stone Cold and the Rock.
Certainly, this is the hardest pay-per-view to match. Rock/SCSA must match Rock/Cena, which is all depending upon how in-shape the Rock is after all this time. The Undertaker/Triple H match must match its own predecessor, a Street Fight between the two 11 years ago when they were in their prime, which is possible thanks to the setting and the emotion that the original lacked.
Chris Jericho vs. CM Punk must be more technical and exciting than Kurt Angle vs. Chris Benoit, which is possible again thanks to a much stronger story, more hype and two men in an even better spot in their careers.
If all of that comes together, the remaining card must make up for a lack of big excitement that the TLC match had, which I believe it can do thanks to the overall excitement for the night. That said, this is where the night will be made or broken.
Even if it isn't quite as phenomenal technically, it could still be the most marketable of all time if it matches WM 23. WrestleMania 23 wasn't as stacked of a card, but it had star power like no other 'Mania, mainly coming down to two names: Stone Cold Steve Austin and Donald Trump.
They were part of a match labelled the Battle of the Billionaires, where two former wrestlers—Bobby Lashley and Umaga—helped guide a fight between Trump and Vince McMahon. It was a huge draw, but the card wasn't desolate without it.
WM 23 was witness to the greatest Money in the Bank match of all time and a phenomenal main event match between John Cena and Shawn Michaels. Add to that an underrated, though short match between the Undertaker and Batista, and you have a solid contest overall.
Overall, Trump was a huge draw, though, he probably wasn't as big a draw as the Rock and John Cena match will be. Chris Jericho vs. CM Punk should be even better than Michaels/Cena, and Taker/HHH should be more personal and brutal with more time than Taker/Batista. Overall, it should be a far better draw of a show.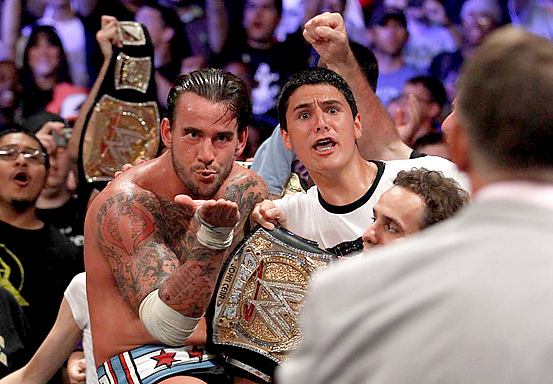 Image Courtesy of: better-than-you.net
What makes a night special? It isn't just the matches, the hype or the marketing. It is about the heart and the moment where everything comes together.
Right now, the WWE is on the verge of change, the tip of a revolution within the business beyond a simple label. We may already be the Reality Era, but that means nothing without direction.
The champions in the WWE today are a part of that change. Every champion is talented, and they all are more or less the future of the company. Now they need to prove why they should be watched when the majority of the main event scene at 'Mania is filled with past stars.
If next Sunday is great, it could very well turn the company around and allow it to become the most successful it has ever been.
That alone adds impact and importance to the night that very few other 'Manias have had.
It all lends itself to the possibility for a moment, an iconic spot that will be remembered forever, and it is those sort of moments that turn a good WrestleMania into a phenomenal one, even a legendary one.
The timing itself is perfect in that it needs to be huge and must be the best it can possibly be.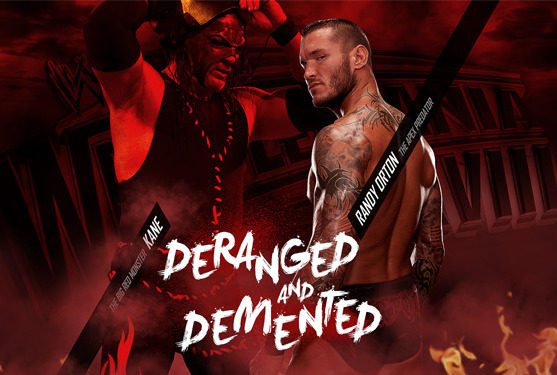 Image Courtesy of: kupywrestlingwallpapers.info
What is wrong with the card that could ruin all this momentum, cause WrestleMania 28 to not be the best of all time, perhaps not even be in consideration for that title?
Well, the main event could fail with so much hype, but that probably won't be as big an issue as most would think. It just seems unlikely that everything that has been built up so well would fail.
What could very well hurt this 'Mania more than anything else is its undercard. The biggest matches right now outside of the four main event contests are a poorly-built veteran contest between Randy Orton and Kane, an Intercontinental Championship match that has more potential as a story than a match and a 12-man tag team match made just to get a bunch of stars on the card.
Orton and Kane are veterans who could very well put on a great match, but how many people are really going to care? This feud has gone nowhere fast, and it feels too put together to mean anything.
Cody Rhodes vs. Big Show should be a decent match, but it could also just be a way for a cheap pop as Show ruins the phenomenal reign of the villainous Rhodes. Even if Rhodes wins, these two don't have any proven chemistry, which could be a horrible sign.
Finally, the 12-man tag match with one fall may have great stars involved and a huge circumstance in play, but it can only be overdone, too short or a mess.
While all of this doesn't look great, and I've completely ignored the horribly put together Divas match, all this means is that if any of these succeed, the whole night will look even better. Plus, even the best 'Manias have bad matches, and this one has four legendary contests on tap.
It is possible that WrestleMania XXVIII will fail. It is possible that nothing will come together, and it will end up being a fairly bland night that could have been phenomenal.
However, it cannot be ignored just how big this WrestleMania could be.
Cena/Rock will bring in fans. Jericho/Punk will captivate them. Triple H/Taker will pull out one final callback to an era that will finally be put to rest in a brutal match with pure storytelling at its heart. And finally, Bryan/Sheamus will show off just what WWE has in store for us for years to come from the younger talent.
With all of that and maybe a few surprise successes with the undercard, this could very well be the greatest 'Mania of all time and possibly the greatest WWE PPV of all time.
Are you ready?
I know I am.
Thanks for reading! Comment below! And...I'm out.