NCAA Scores 2012: Perry Jones III Will Be Reason Baylor Falls to Kentucky
March 24, 2012

Kevin C. Cox/Getty Images
Baylor sophomore Perry Jones III will be the goat of the No. 3-seeded Bears' South Regional Final loss to the NCAA Tournament's top-seeded Kentucky Wildcats on Sunday.
The 6'11" forward is a legitimate NBA draft prospect and expected to be in demand for his size, length and athleticism, but has yet to develop a killer instinct. 
Jones had his first double-digit scoring output in the 2012 NCAA tournament in Baylor's Friday night win over No. 10 Xavier in Atlanta, scoring 14 points on 7-of-8 shooting from the field. The only concern: Why did he only attempt eight shots?
Whether his teammates stopped looking for him, or he just shied away on the offensive end, Jones should have taken twice as many shots considering how hot he was early on against the Musketeers.
But Jones' inability to develop consistency on the glass will also doom the Bears this weekend as they attempt to overcome the height of Kentucky's gargantuan rotation, which features a scary rebounder and shot-blocker in freshman Player of the Year candidate Anthony Davis.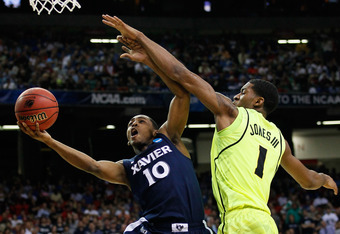 Kevin C. Cox/Getty Images
Jones is averaging just 6.7 rebounds per game through three NCAA Tournament games, compared to 7.7 boards per contest during the regular season.
Even worse, however, is Jones' current trend. After snagging 11 rebounds against No. 14 South Dakota State in the opening round, he posted four and five against No. 11 Colorado and No. 10 Xavier respectively.
What's so hard to believe about Jones' struggles is that just two weeks ago during the Big 12 tournament, he was leading Baylor as an offensive force and rebounding machine. In three Big 12 tourney games, Jones averaged 21.7 points and 9.7 rebounds. He has 23 points total in three NCAA tourney games with the Bears this March.
But thanks to some incredible lights-out shooting from Brady Heslip (15 made three-pointers in NCAA tournament) and the dominant play of senior big man Quincy Acy inside (9.3 RPG in NCAA tournament), Baylor is still dancing and just 40 minutes away from the Final Four.
However, the truth is that the Bears couldn't be farther from New Orleans with Kentucky on their radar this Sunday. The South Region's top seed and the nation's best team has looked downright rabid for a championship over the past two weekends, and that bodes terribly for a Baylor team that has merely survived rather than flourished.
Not if, but when Baylor falls to Kentucky on Sunday, Perry Jones III will take the blame and carry it all the way back to Waco, Texas and perhaps to the 2012 NBA draft (where his "motor" will no doubt be called into question by scouts and experts).
Up until Friday night Jones had been an under-performing role player at best, but can now be considered an underachieving superstar, otherwise known as a goat.