NBA Draft: Anthony Davis/Sacramento Kings Pairing Is Match Made in Heaven
March 24, 2012

Kevin C. Cox/Getty Images
With the end of the NBA regular season fast approaching, and possessing one of the worst records in the NBA, the Sacramento Kings fans are gearing up for one of the most talented drafts in NBA history. From Michael Kidd-Gilchrist to Jared Sullinger, this year's class is nothing short of spectacular.
However, there is one grand prize in this year's festivities: Anthony Davis.
Davis, a 6'10" freshman forward out of the University of Kentucky may be the most hyped player of the last five years. Simply put, the kid can do it all. From running the floor in transition to swatting shots out of this atmosphere, Anthony Davis has the potential to be a true superstar in this league.
Obviously, Davis' best quality is his ridiculous wingspan. The lanky forward has the ability to block any ball hurled at the rim due to his incredible physical attributes. But, it is just not his long arms that allows him to be such a presence on defense. His timing is impeccable when he goes to block, as he is always in the air at the perfect time. This season, Davis is terrorizing opposing college teams with 4.6 blocks per game. 
Davis can also guard a plethora of position due to his athleticism and quick feet. From small forward to center, insert Davis anywhere you like in a lineup and one can be sure he will have a positive effect on the defensive side of the ball.
His offensive game isn't too shabby either, as the Kentucky star is a threat to score anywhere on the hardwood. From possessing a refined post-game to having the ability to knock down mid-range jumpers, Davis already has the tools to be a elite scorer at the professional level. After all, Davis is already scoring 14 points per game on a Kentucky team stacked with offensive options.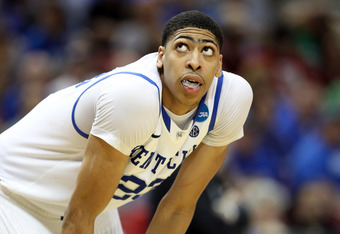 Andy Lyons/Getty Images
It is laughable that ping-pong balls will determine which NBA franchise will be gifted this potential-filled NBA prospect.
But, with a little bit of luck, the Sacramento Kings may find themselves reaping the benefits of owning a terrible roster.
Sure, there are still numerous organizations that are in the running for the number one overall pick. The Charlotte Bobcats, New Orleans Hornets, Washington Wizards, Portland Trail Blazers and Toronto Raptors all have high chances in securing the number one selection in this year's lottery.
However, even if the Kings lose they still have the pieces to trade for Davis. From Marcus Thornton, a high-octane scorer at the shooting guard position, to Jason Thompson, a power forward who has made significant improvements during the course of this season, the Sacramento Kings have tons of valuable trading assets. None bigger, however, than former NBA Rookie of the Year Award recipient Tyreke Evans.
Since his miraculous rookie campaign, Evans' numbers have declined significantly. This season, Evans' is having his worst season as a pro, as he doesn't even have a position. At the beginning of the year, Evans was a point guard. Now, he has slid all the way to small forward.
A package of a few young prospects and a couple first-round picks may be enough to steal the first overall pick. But, there is no doubt that any team with the number one selection will be reluctant to trade the pick due to Davis' talent.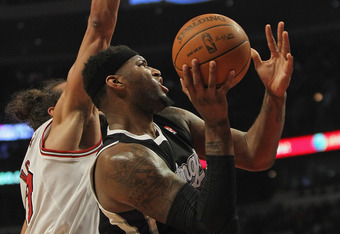 Jonathan Daniel/Getty Images
In the end, any player besides DeMarcus Cousins should be considered a trade asset.
Why DeMarcus Cousins?
Over the past two seasons, Cousins' improvement has been overshadowed due to his poor work ethic and prima donna attitude. However, Cousins has developed into arguably the third best center in the NBA. The former Kentucky star is a double-double threat every night.
But, Cousins does struggle with some aspects of the game. On defense, Cousins is a poor shot-blocker, where, on offense, the 6'11" lacks a mid-range game.
Wait! Did you just say?...Yes! Anthony Davis would be a perfect complement to DeMarcus Cousins. 
Both Cousins' and Davis' games are so different that they are perfectly compatible. Davis is a shot-blocking fiend, who has a refined and punishing offensive game. Cousins, on the other hand, is a behemoth under the basket and a better defender verse the more physical centers.
What team would have a more talented young big man duo than the Sacramento Kings?
In fact, this pairing may lift the Kings to a luxury not experienced in the last ten years: playoff basketball. The last time the Kings were competitive, Vlade Divac, Peja Stojakovic, Mike Bibby, Chris Webber and Doug Christie was the starting five. Ouch.
With a loyal fanbase, young guard prospects and a formidable big man pairing, the Sacramento Kings would be on the fact track back to relevancy in the deep Western Conference.