NCAA Tournament 2012: Guaranteed Elite 8 Winners and Losers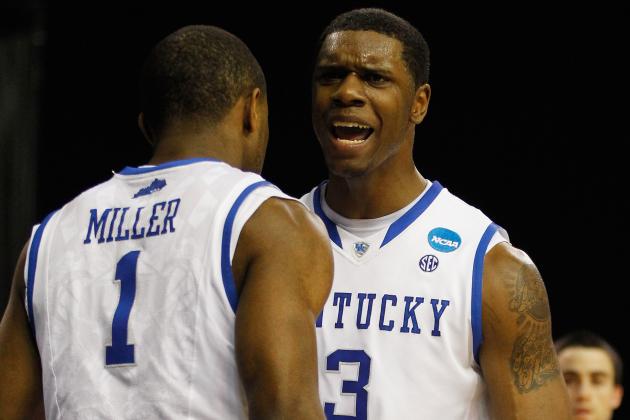 Streeter Lecka/Getty Images

The Sweet 16 has concluded, and the Elite Eight matchups for the 2012 NCAA tournament are set.
This year's tournament action has not disappointed. Observers have witnessed scintillating moments inside dramatic contests, and there are more to come.
The Elite Eight will pit eight teams in battle. Four of these teams will punch their ticket to New Orleans. The other four will watch the Final Four from their couch.
Stakes could not be higher. Talent, intrigue and title hopes will make this Elite Eight another one to remember.
Before Saturday's action tips off, I figured I should attempt the impossible.
Here are the guaranteed winners of the Elite Eight contests:
Begin Slideshow

»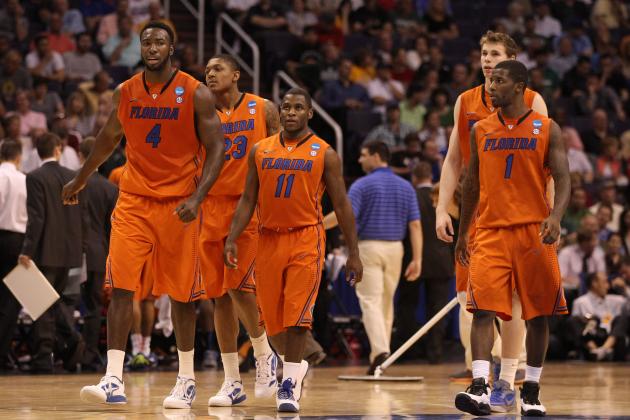 Christian Petersen/Getty Images

Winner: Florida, 71-62
The Florida Gators will end Louisville's run and advance to the Final Four in New Orleans.
The Gators have arguably the best backcourt in the nation. Starters Erving Walker, Kenny Boynton and Bradley Beal are all explosive scorers with big-shot ability. Former Rutgers starter Mike Rosario comes off of the bench, but he would start for most teams.
These four guards all shoot the three, penetrate and play defense. Beal also provides exceptional rebounding from the backcourt.
I am actually surprised Louisville is still around, but the Cardinals have found a way to get it done. Rick Pitino's squad lacks explosiveness on offense, but they are a great defensive team.
The Cardinals must chop this game up, and force Florida to take it possession by possession. I do not think they can do that against Florida's dynamic offense. The Gators spread opponents out with their dynamic backcourt, and allow Patric Young's muscular frame to hold down the paint.
Gorgui Dieng had a wonderful performance against Michigan State in the Sweet 16, with seven blocks. Young will neutralize Dieng's length with his exceptional strength.
The Gators have too much firepower for the Cardinals. Florida is not the better defensive team, but the Cardinals do not have many weapons to defend.
Perimeter shots will be flying left and right in this one. Florida will hit more than Louisville, and punch their ticket to New Orleans.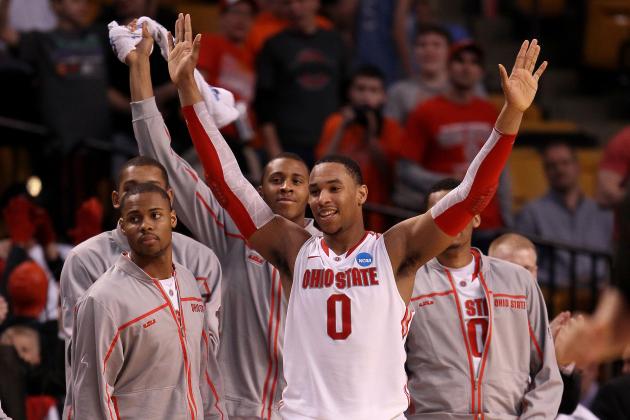 Elsa/Getty Images

Winner: Ohio State, 65-60
The Ohio State Buckeyes will send the Syracuse Orange packing in their Elite Eight contest. Both teams have played well in the NCAA tournament, but the Buckeyes have the pieces to exploit Syracuse's weaknesses.
Jared Sullinger and Deshaun Thomas will work well together against the Syracuse zone.
Sullinger is unstoppable if you let him establish position. He has soft touch around the basket, and has developed a solid face-up game. He will have Syracuse faithful pining for suspended center Fab Melo's presence in the paint.
Thomas complements Sullinger's low-post repertoire. He is a big body, but he also plays on the perimeter. Thomas is averaging 25 points per game so far in the tournament. His ability to slash or knock down open looks will stretch Syracuse's 2-3 alignment.
The Orange will struggle to score against Ohio State's feisty man-to-man defense. Syracuse has not established a go-to scorer this season. They will need that player in this game, but his presence is not there.
This game will stay close because both teams are solid across the board. Ohio State has the shooters to make Syracuse pay for their zone tendencies, and the frontcourt to point out Melo's absence.
Both teams had Final Four aspirations coming into the season, but only Ohio State will get to realize theirs.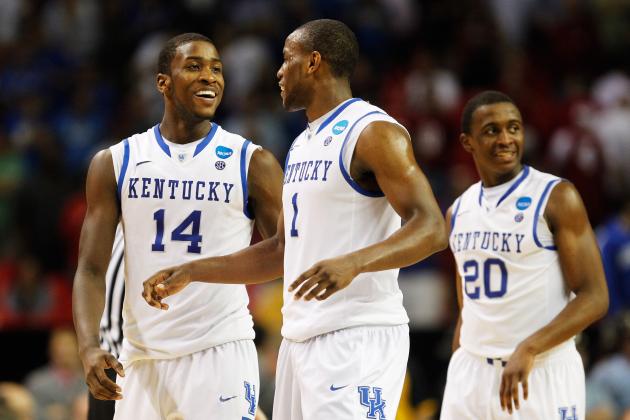 Streeter Lecka/Getty Images

Winner: Kentucky, 72-68
Kentucky's national title hopes will live on with an Elite Eight victory over Baylor.
This may be the most intriguing Elite Eight matchup. Both teams are extremely athletic with the ability to score points in bunches.
The Wildcats are not used to playing teams able to match their combination of size and athleticism. Baylor's frontcourt has the size and skill to do so, but they must play more consistent.
Perry Jones III and Quincy Miller drift on offense, and have not reached their full potential. The Bears will need their two dynamic talents to realize their abilities in a hurry.
Kentucky does not have Baylor's frontcourt depth, but they do have Anthony Davis. Davis is a game-changer on both ends of the floor. Matchup nightmare does not even begin to describe Davis' frightening abilities.
Davis has a developing post game. He can also step out and knock down jumpers over smaller defenders. He has incredible length, and plays within himself. Defensively, he is the best defensive player left in the tournament. He changes every possession with his ability to protect the paint.
The Bears have the bodies to slow Davis down, but they are not ready for this Wildcat team.
Kentucky has played with a glint in their eye all season, and Baylor lacks the mental toughness to end that run.
Baylor is tough to beat when they play 40 good minutes, but they rarely do. Falling asleep against Davis and the Wildcats will cost you a run you will not recover from.
Wildcats win a tough one. Baylor will hang around, but they will have too many head-scratching moments.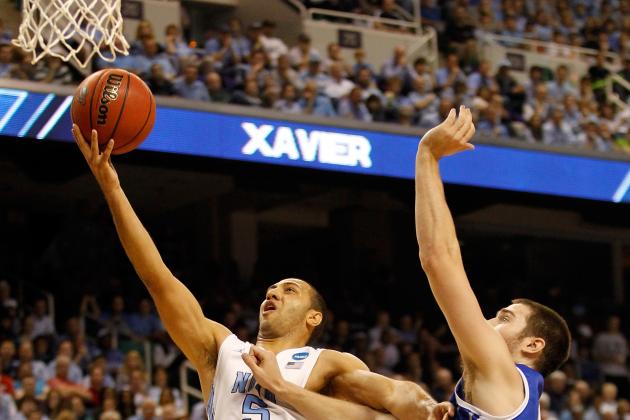 Streeter Lecka/Getty Images

Winner: Kansas, 66-61
The Kansas Jayhawks will oust No. 1 seed North Carolina for a trip to the Final Four.
The outcome of this Elite Eight matchup rests solely on Kendall Marshall's right wrist.
If Marshall plays effectively, the Tar Heels will come away with the victory.
According to Roy Williams' postgame press conference Friday night, he does not expect Marshall to play on Sunday. We have to assume Williams knows best, so the outcome swings in Kansas' favor.
The Tar Heels barely squeaked by Ohio without their floor general. North Carolina's massive frontcourt did not get easy looks, and Harrison Barnes was virtually nonexistent.
If North Carolina could not handle Marshall's absence against Ohio, what do you expect them to do against Kansas?
Stillman White will be swallowed up by Tyshawn Taylor's lanky, athletic frame. Justin Watts seemed lost running the point, and no Tar Heel guard wants to take the game over when it matters most.
The Jayhawks play stifling defense. Every player defends his position, and understands the team concept. Barnes' dismal Sweet 16 performance does not bode well for the Tar Heels' hopes of cracking the Jayhawk defense.
Offensively, Thomas Robinson is money. The Tar Heels have more than enough size to combat his production, but Robinson will give them all they can handle.
Without Marshall, the Tar Heel offense will sputter. They played without a purpose on the offensive end against Ohio, and that simply will not cut it against an elite team.
Marshall's presence is vital to the Tar Heels' Final Four hopes. Many remain optimistic about his playing status, but you have to question how effective he could be even if he did play.
Robinson and his supporting cast will get the job done, and continue dancing.