Joba Chamberlain's Broken Ankle and 6 Most Freakish All-Time Yankees' Injuries
March 24, 2012
Nick Laham/Getty Images
When will professional athletes—especially those wearing pinstripes—learn to practice safety off the diamond?
Joba Chamberlain's off-field injury got me thinking about other freak injuries sustained by Yankees' players in recent memory.
For those who haven't heard by now, Chamberlain suffered an open dislocation of his right ankle—AKA compound fracture—AKA the bone broke the skin—while playing with his son this past Thursday, resulting in him most likely missing the entire season.
So what sort of dangerous, non-contractual activity was Chamberlain engaging in with his son?
Well, as Yankee's GM Brian Cashman says,
"As we understand, they were at, they have these kids' places where you jump on trampolines and stuff like that,"  
"And stuff like that." Doesn't it seem like even Cashman is baffled by the turn of events?
I understand that Joba is trying to be a good father to his son, but honestly. A trampoline?
If I'm getting paid more than $1 million to pitch a few times a week for the New York Yankees, I'm not leaving my house.
But in all seriousness, my heart goes out to Chamberlain,and I wish him a speedy recovery. He was coming off Tommy John Surgery and was supposed to be back in the Yankees' bullpen by the All-Star break.
Doug Pensinger/Getty Images
Getting back on track, let's take a look at some other freakishly notable injuries suffered by Yankees' players.
Aaron Boone
After collecting the biggest hit of his career (and there weren't many)—the 11th-inning home run against the Boston Red Sox in Game 7 of the AL Championship that sent New York to the World Series—Boone tore his ACL while playing a friendly game of pickup basketball.
And as if sustaining a serious injury wasn't enough for Boone, he lost his starting job to Alex Rodriguez, who the Yankees went out and signed shortly after Boone ended his basketball career and wasn't awarded the $5.75 million he had agreed to, as he breached his contract.
David Robertson
It was just a couple of weeks ago that Yankees' relief pitcher and Mariano Rivera setup man David Robertson injured his foot at his home, missing a step while moving boxes down a flight of stairs.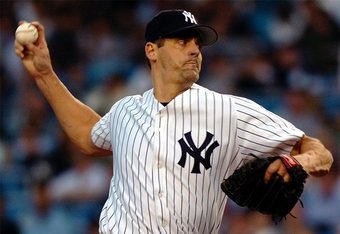 And the kicker? The boxes were empty.
Luckily for Robertson and the Yankees, X-Rays came back negative. 
Kevin Brown
The always cantankerous Kevin Brown—who could never handle the bright lights of New York City—punched a wall in frustration and broke his non-pitching hand after being removed from a 2004 start.
Brown would eventually be abused by the rival Red Sox in Game 7 of the ALCS, which is a lasting memory in most Yankee fans' minds—or at least mine.

A.J. Burnett
Like Kevin Brown, A.J. Burnett—who spent most of his time struggling in the Big Apple—took out his aggression on a pair of swinging doors.
The result?
Burnett cut his fingers so badly that he was unable to pitch the rest of the game.
Actually, my mistake. He did return but was yanked after drilling one batter and throwing a wild pitch to another.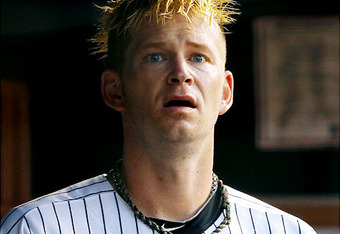 Kudos, A.J.
David Cone
He was one of the classiest and most dependable hurlers in Yankees' history.
But David Cone was forced to miss a start in June 1998 after being bitten on the ring finger of his pitching hand by his mother's Jack Russell terrier.
Now that's what I call a freak injury.
Follow Pete Schauer on Twitter @Pete_Schauer