NCAA Tournament 2012: Louisville and Most Dangerous Elite Eight Teams
March 24, 2012

Christian Petersen/Getty Images
With the Elite Eight set to begin on Saturday, there is only one more challenge to overcome before teams' celebrate a regional title and march to New Orleans for the Final Four.
With some talented, lower-seeded making unexpected runs to the Elite Eight, the top seeds cannot take anything for granted over the weekend.
Let's look at the three most dangerous teams in the Elite Eight.
No. 4 Louisville
The Cardinals will play Florida in the South region's Elite Eight matchup, and will be a very difficult opponent for the Gators.
Louisville center Gorqui Dieng has seven blocks in the team's Sweet 16 win over No. 1 seed Michigan State, and is a defensive force in the paint.
Rick Pitino's team also has several quality shooters and a bench that can score. If the Gators don't execute offensively, the swarming Louisville press will force turnovers and create scoring chances on the fast break.
No. 2 Ohio State
The Buckeyes are a deep team that can excel in any style of play. Star forward Jared Sullinger is one of the premier big men in college basketball and a difficult player to defend in the low-post.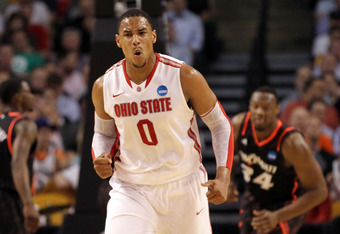 Jim Rogash/Getty Images
Aaron Craft and William Buford are two talented guards who play excellent defense for Ohio State and are good outside shooters.
If the Buckeyes are hitting their three-point shots, they are very tough to beat. Even if they are struggling from beyond the arc, Sullinger is capable of carrying the team's scoring load.
Ohio State is one of the best teams left in the tournament because of their strong defense and frontcourt depth.
No. 3 Baylor
Baylor has so much talent and depth in the frontcourt, making them tough to out rebound at both ends of the floor.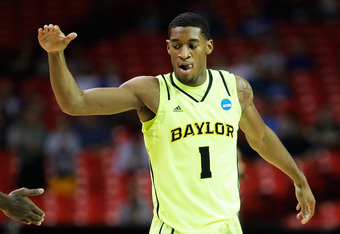 Streeter Lecka/Getty Images
Perry Jones III and Quincy Acy are tremendous offensive players in the paint and move very well without the ball. Jones has a ton of athleticism and is one of the best low-post scorers in the country.
The Bears also have a several quality outside shooters, including guard Brady Heslip who shot 14-22 through the first three rounds from behind the arc.
With a high-scoring offense that is effective in the paint and from the outside, Baylor will be a tough out for Kentucky in the Elite Eight.