NCAA Tournament Schedule 2012: Things to Watch for in Indiana vs. Kentucky
March 23, 2012

Andy Lyons/Getty Images
As soon as the bracket was revealed way back on Selection Sunday, you could see Friday's showdown between Indiana and Kentucky coming.
Because of what transpired back in December, it's fair to say everyone was rooting for this matchup to happen. Well, here it is.
In the event that you missed what happened on December 10th, 2011, all you need to know is that the Hoosiers and Wildcats played one hell of a basketball game that ended with a buzzer-beating three for the ages. It was the best game of the regular season. Hands down.
So what can we expect to see in the rematch? Quite a few things, really. For now, here's a list of things that should draw you to your television tonight.
Note: the game tips at 9:45 ET and will be shown on CBS.
How Much Will Indiana Test Anthony Davis?
The Hoosiers are an above-average shooting team, but things would be a lot harder for them if they didn't have Cody Zeller in the middle of it all to draw the defense.
Zeller is one of the top centers in the country, and he ended up leading the Hoosiers in both scoring and rebounding this season. There are very few bigs in the country who can match up against him.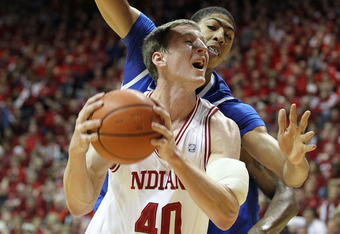 Andy Lyons/Getty Images
It just so happens Anthony Davis is one of them. Davis is long, athletic and an excellent defensive player, and he made life pretty tough for Zeller way back in December. Zeller was held to just 11 points and seven rebounds. This was despite the fact Davis got in early foul trouble.
Zeller didn't light up the stat sheet in large part because he didn't have the ball in his hands a whole lot. He only took eight shots all game, a relatively low number for him.
It's a good bet Zeller won't get any more shots than that on Friday. Indiana knows Zeller doesn't have any kind of edge against Davis, so it won't push its luck.
Will the Hoosiers Get Hot from Distance?
Indiana doesn't upset Kentucky without hot shooting from beyond the three-point line. The Hoosiers made nine of their 15 three-pointers in that game, including the big one from Christian Watford as time expired.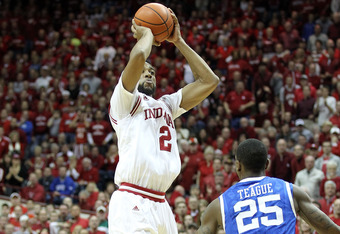 Andy Lyons/Getty Images
That Indiana got so hot from distance in that game should come as a surprise to nobody. Indiana does not typically shoot an abundance of threes in a given game, but it is very efficient with the threes it does take. The Hoosiers shot better than 43 percent from beyond the arc as a team during the regular season.
Indiana will likely make a point of shooting the three again on Friday night. Extra three-point attempts will allow the Hoosiers the chance to run up the score, and it will allow them to avoid Davis as much as possible.
But will they get hot enough to stay in the game and have a shot at another upset? That's what we're going to find out.
Will Kentucky Try Something Different?
Kentucky is an excellent defensive team, but it did not play particularly great defense against the Hoosiers in December. Many of the threes Indiana made came a little too easy.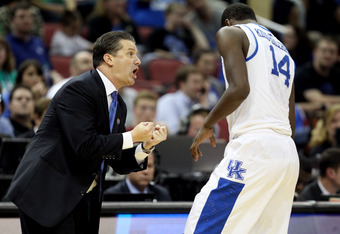 Andy Lyons/Getty Images
The Wildcats aren't going to let that happen again. They're a team that makes other teams work very hard for buckets, and they can get away with a lot of things other teams can't because of Davis' presence in the middle.
But since Indiana was able to overcome Kentucky the first time around, you wonder if John Calipari might give Tom Crean and the Hoosiers something they're not expecting. Kentucky generally sticks in a man-to-man defense that thrives on the team's collective athleticism, but this is as good a time as any for Calipari to throw Indiana a curveball.
Nothing can be ruled out. Calipari may never get a better chance to win a national title, so don't be surprised if he digs deep into his bag of tricks.
Who Wants It More?
All things being equal, Kentucky is the better team. The Wildcats should win this game.
But we found out in the SEC tournament that Kentucky is far from unbeatable. The Wildcats are extremely talented and dominant on a good day, but they're a young team that will look human in the face of a stiff challenge.
We know for a fact that Indiana can challenge Kentucky, but the Hoosiers will have to play as well as they did in December to actually do so. If they don't, Kentucky will roll right over them.
It will all come down to who wants this game more: the team that should win it all this year or the team that is looking to make the most of its first tournament appearance since 2008?
All questions will be answered in a few short hours.