Fantasy Baseball 2012: Starting Pitcher Weekly Post-Draft Pickups
March 23, 2012

Elsa/Getty Images
Welcome to the second edition of Starting Pitcher Weekly! 
Fantasy baseball drafts can be peculiar things.  They can be fast and furious and often times owners mess up. 
Maybe you got tunnel vision and forgot stolen bases as a stat. 
Maybe you were stuck picking at the turn and any closers worth having were gone before it got back around to you. 
Maybe you just went in and winged it and now have some major issues with your pitching staff. 
Whatever the case may be, we all make mistakes.
If your mistake was ending up with a horrid pitching staff with no depth, then this edition of Starting Pitcher Weekly is for you. 
We'll look at the starting pitchers owned in less than half of the fantasy leagues just after the draft. 
These players are far from sure things, but if it comes down to playing one of these hurlers or a Pirates middle reliever, this is probably the safer bet. 
All of these players at least have the ability to post serviceable fantasy stats for your upcoming season and are sorted by effectiveness for your fantasy roster for the coming season.  On to the list...
Daniel Bard 49% owned
Bard is making a transition from the bullpen to the Red Sox starting rotation this season.  As the team stretches him out, expect a lot of five and six inning outings from the young right-hander. 
As a positive note, Bard struck out over a batter per inning as a reliever and held opposing batters to under a .200 average for the last two seasons.  Expect these numbers to regress somewhat with more innings, but strong stuffed mixed with starting for a perennial contender make Bard a no-brainer.
PROJECTION: 11 W 3.61 ERA 1.26 WHIP 155 K
Gavin Floyd 35% owned
Floyd is a big part of the White Sox rotation and has primarily been the victim of playing on a bad team for the last few seasons. 
Unfortunately for Floyd, things don't look a whole lot better for the coming season.  Floyd possesses above-average stuff and good control which are the keys to his success. 
Last season's 4.37 ERA was a bit unlucky as he sported a very attractive 1.16 WHIP.  Look for Floyd to break out and challenge to be the ace of Chicago's lack luster rotation.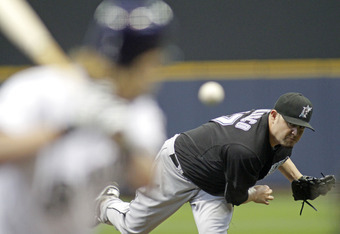 Darren Hauck/Getty Images
PROJECTION: 12W 4.06 ERA 1.26 WHIP 156 K
Ricky Nolasco 30% owned
The first thing to understand about Nolasco is that he is an absolute terror to own being one of the most inconsistent players to ever put on a major league uniform. 
He is perfectly capable of throwing a three hit shut out, and following it up by not making it out of the first inning in his next appearance.  The end of the year box scores over the last few years have not been pretty, but there is always a chance that he could finally break out and become fantasy gold, especially considering the Marlins' upgraded roster.
PROJECTION: 12 W 4.20 ERA 1.29 WHIP 156 K
Jonathon Niese 23% owned
The Met's 25-year-old lefty has some things working against him this season. 
He plays for a bad team in a good division, so wins will be scarce this season.  He also has given up a fair amount of hits over his career sporting a 1.46 career WHIP.  However, he has a secure spot in the New York rotation and pitches in what still projects to be a pitcher's park. 
Joe Robbins/Getty Images
Don't get your hopes up too much on this one, but expect improvement over the last couple of seasons.
PROJECTION: 10 W 3.85 ERA 1.37 WHIP 153 K
Mike Leake 17% owned
Mike Leake should be owned in more than 17 percent of fantasy leagues.  He pitches for what is many people's favorite to win the NL Central and is coming off a season where he won 12 games with a 3.86 ERA and 1.17 WHIP. 
He does pitch in a beast of a home ball park but should get more than enough run support to consistently win games. 
Johnny Cueto and Matt Latos get all of the press, but this guy is a very solid number three.
PROJECTION: 12 W 3.98 ERA 1.25 WHIP 129 K
Other Long Shots Available
Mike Minor (47%), Carlos Zambrano (40%), Matt Harrison (35%), Kyle Lohse (26%), Jake Peavy (17%), R.A. Dickey (15%), Julio Teheran (11%), Homer Bailey (7%), Lance Lynn (3%), Felipe Paulino (2%), Jacob Turner (2%)
Have a great season!  Till next week…
First edition of Starting Pitcher Weekly here.